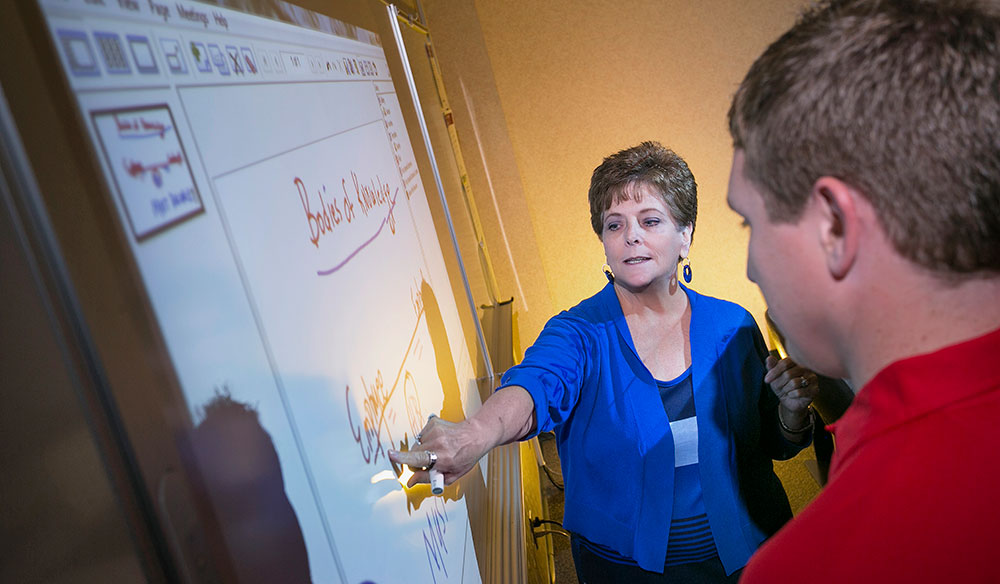 The bachelor of business administration in human resource management degree prepares adult students for careers in any number of industries. Friends University strives to serve the needs of human resource professionals by providing the most current and comprehensive resources and to advance the profession by promoting the essential, strategic role of human resources in profit and nonprofit settings. One advantage of the human resource management degree is that it is not industry specific. Once a student has completed the program of study, he or she is prepared to enter the profession of human resources in any industry
The degree focuses on theories and practices essential for a successful career in human resources. Students have opportunities to develop knowledge and skills to critically examine human resource issues. Human resource management training provides opportunities to prepare for an entry-level human resource position, graduate education or future management positions. And, Friends University was recently named as the #1 Best Human Resources College in Kansas by Universities.com!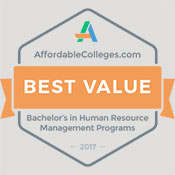 Each school's ranking is based on the compilation of data from reliable government sources, student surveys, college graduate interviews, and editorial review. We were also ranked #1 in Kansas and #11 in the nation by AffordableColleges.com for both quality and affordability! And speaking of data, here's a great website where you can get even more information on the human resource occupation.
Human Resource Management Degree Brochure
I do not think I could make this journey without the amazing staff at Friends… The academic success coaches have been vital in helping me make wise decisions. They also truly care about my journey and are a constant source of encouragement and help.

Tracey Hubbard, Human Resource Management
After graduation, I did get the chance to move into the HR manager role at the Newton Medical Center from 2013 – 2017. Fortunately, that career growth and experience led me to my new position with Kansas Spine & Specialty Hospital in August 2017 as the new HR Manager of a great organization in Wichita.

Angela Anderson, Human Resource Management, Graduate, 2012
SHRM Endorsement
The Society for Human Resource Management (SHRM) has acknowledged that Friends University's human resource management program fully aligns with SHRM's HR Curriculum Guidebook and Templates. This alignment is recognized by SHRM through December 2023.
Worldwide, 447 programs in 336 educational institutions have been acknowledged by SHRM as being in alignment with its suggested guides and templates. The HR curriculum guidebook and templates were developed by SHRM to define the minimum HR content areas that should be studied by HR students at the undergraduate and graduate levels.
They are part of SHRM's Academic Initiative created in 2006 to help the society define HR education standards taught in university business schools across the nation and to help universities develop degree programs that follow these standards.
Friends University was the first educational institution in the state to have a program endorsed by SHRM.
Bachelor of Business Administration in Human Resource Management Student Opportunities
The Society for Human Resource Management's students program was created in 1965 to promote mutually beneficial interaction between HRM students and practitioners. Since the first chapter was chartered almost 40 years ago, the student program has experienced tremendous growth. The program now includes more than 430 affiliated student chapters and almost 11,000 student members. In partnership with other area schools, Friends University is chartering a student organization that will allow student members a discounted rate to belong to a premier professional organization, offering opportunities to network with a wide variety of industries and professionals during their tenure as a student.
Adult-focused bachelor's degrees are offered in Wichita, Topeka and online. Not all courses and programs are available in all locations or in both online and on-campus formats. Please contact an Admissions Counselor at 316-295-5300 or learn@friends.edu for more details.
Program Outcomes
Identify the internal and external organizational environment and predict the organization's impact on human resources.
Develop effective human resource strategies and plan for innovation in a global environment.
Demonstrate application of the common body of knowledge in Human Resource Management.
Create a competitive advantage by attracting, retaining and motivating talented employees.
Evaluate ethical, social, civic, cultural and political issues as they relate to the environment of Human Resource Management.
Course Requirements
View the courses required for a degree in Human Resource Management.
View Course Catalog
Career Options
A degree in Human Resource Management can be used in more ways than you may think. Take a look at some of the potential careers that can result from this area of study.
Learn More
Adult Undergraduate Career Development Plan
The path to your future career starts long before graduation. Learn what steps you need to take along the way to put you a step ahead.
Read More
Career Services
We're here to help. Get in touch with our Career Services team to prepare and plan for your future profession.
Get in Touch