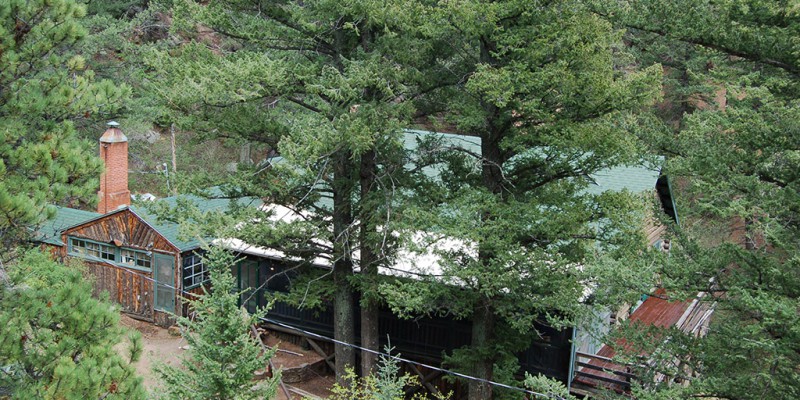 One-week field trips are regularly offered at Rockcleft as part of a Friends University spring or summer course. Students are not only treated to a unique learning setting, but Bill Allan also brings experience to the group dynamics of participating in daily camp life, such as preparing meals and enjoying conversation around the fireplace in the evening.
Friends University Psychology Professor Bill Allan annually takes his Group Dynamics class to Rockcleft.
"The setting provides a unique time for the students to get away from their usual routine. A new environment helps facilitate thinking 'outside the box' about issues. Also, they experience first-hand group dynamics as the group moves through the processes of getting to know one another, assigning chores, holding each other accountable, participating in group discussions and deepening relationships," Allan said.
Friends University Biology Professor Dr. Alan D. Maccarone has also led several classes at Rockcleft.
"Since 1991, I have led groups of students to the Pike's Peak area of Colorado, where we complete a week of field study of the natural history of this area. We have found our time at Rockcleft Camp to be an enriching part of these trips. The location of the camp allows for easy travel to a variety of local natural history sites, as well as sightseeing and shopping; even the 90-minute trip to Denver and its abundant resources is manageable.
If the study of the natural history of the area is not on your agenda, you would still find the camp to be quiet and peaceful, and the property full of well-marked trails and natural areas that are wonderful for personal reflection and solitude. The remoteness of the camp, along with a notable lack of distractions such as a television or reliable cellphone reception, fosters a sense of togetherness and allows for strong bonds to form.
Natural bonds form between student and faculty, but especially among students, who share large well-maintained cabins at night. The Great Room inside the Lodge has ample, comfortable seating, a huge fireplace that serves as a focal point, and makes for an excellent place to lead class discussions and offer presentations.
I can easily recommend this facility to any instructor who is looking for an interesting alternative to the university classroom setting. My suggestion is to make reservations as early as possible, since the camp books quickly," Dr. Maccarone said.
One college regularly brings students in their Outdoor Recreation Management program for training at Rockcleft.
Athletic teams have used the camp as a remote training location, since it's a great place to establish team bonding as they work out in high altitude, have fun and live together for a few days.
Friends University student and faculty leadership groups have also used Rockcleft for a remote training facility.
Academic programs and non-institutional support programs of Friends University may be eligible for discounted group rates. Please visit myFriends for details.
Rockcleft is owned and operated by Friends University, Wichita, Kans.