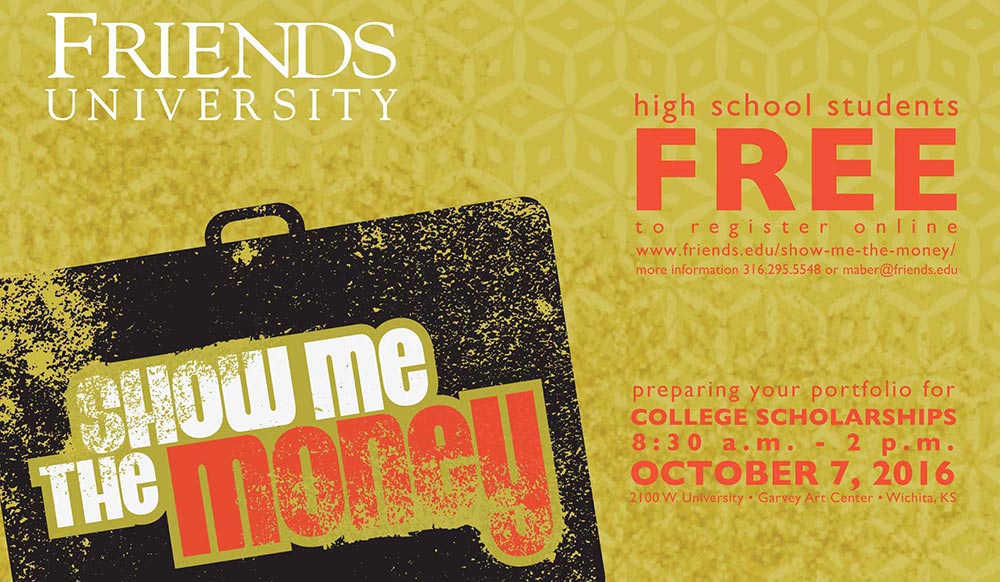 Dear instructors and students,
You are invited to attend Friends University's "Show Me the Money" portfolio day from 8:30 a.m. to 2 p.m., Friday, Oct. 7, 2016. This event is free and lunch will be provided.
Students will learn how to prepare their portfolio when applying to college for scholarships in the following areas: studio art, graphic design, computer graphics, art education and media. They will also have an opportunity to have their portfolio critiqued by the professors at Friends University. The critique sessions will be 10 minutes and a limited number of students will be able to participate. Critiques will be handled on a first-come, first-served basis.
The Friends University admission staff will be available for campus tours and to answer questions.
Registration
Registration is required to attend this free event and for the portfolio critiques. The deadline for registration is 5 p.m., Friday, Sept. 30, 2016.
Visit the registration form to register for this event and to sign up for a portfolio critique.
Event Schedule
8:30 a.m. – 9 a.m.
Registration – Garvey Art Center
9 a.m. – 9:10 a.m.
Welcome – Dr. Amy Bragg Carey, University President
9:10 a.m. – 10:10 a.m.
Guest Speaker – Justin McClure
Justin McClure, Owner
10:10 a.m. – 11:45 a.m.
Demonstrations for preparing portfolio
Break up into groups
Group 1: studio art, graphic design, computer graphics, art education
Group 2: television/digital multimedia
11:45 a.m. – Noon
Wrap-up session
Noon – 1 p.m.
Lunch and panel discussion
(current Friends University students will be speaking)
1 p.m. – 2 p.m. Student portfolio critique
(You must sign up by 5 p.m., Friday, Sept. 30, 2016)
Express Decision
When you participate in Show Me the Money, you can bring a copy of your high school transcript and ACT/SAT scores to the event and receive an on-the-spot admission decision. If you are a qualified "Express Decision" student, you will receive a letter of admission and institutional merit letter before the end of the event. We encourage applying online prior to the event and we will waive your $35 application fee for attending. You can also apply while you are here that day and get your application fee waived.
Registration is required to attend this free event and for the portfolio critiques. Visit the Show Me The Money registration form to register. Registration ends Friday, 5 p.m., Sept. 30, 2016.
Justin McClure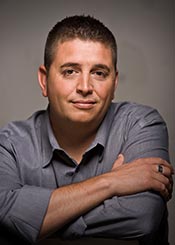 Justin McClure is an entrepreneur, inventor and creative director with over 15 years of experience in the fields of advertising, motion graphics and broadcast television. An alumnus of both Butler Community College and Fort Hays State University, McClure worked for advertising agencies, Leo Burnett (Chicago) and Barkley in Kansas City. He has worked for Country Music Television part of MTV Networks as a lead designer and animator.
While at Barkley, McClure developed, implemented and led the agency's first motion graphics department. In 2007, while still holding down a more than full-time position at Barkley, McClure started the first online marketplace to purchase After Effects files. The idea grew and the site was called Rerendered.com. After Effects artists were now able to collaborate by buying, selling and sharing files that would help save time or inspire creativity during the production process. The company was purchased by Envato (Melbourne, Australia) nearly one year after launching and now has over 4,000,000 members.
The entrepreneurial spirit didn't stop there. In 2008, after honing his skills at CMT and continuing to freelance when possible, he decided to move back to Kansas to start his own company. Today, McClure is the owner and executive creative director at Justin McClure Creative, a motion graphics and video production studio located in Wichita, Kansas. His group has recently launched a new social media tool called Title Farm. The platform is both a web and mobile application that allows users to super-charge their social media by converting any photo into a five second animated video. Title Farm even allows users to post their own custom animated titles to the Farm and share their brand, sale, promo, or message with the world.
McClure's experiences have allowed him to work with major television networks such as ABC, CMT, Syfy, Discovery Channel, National Geographic, Disney, and the Science Channel. He has also worked for national consumer brands such as Cessna, Dell, Payless, Sonic, Coca-Cola, Sprint, Old Navy, Major League Baseball and Whole Foods Market.
His work with national level clients, as well as being the creator of Rerendered.com, has led him to become one of the most recognized motion design artists in the industry. Recognitions include the Graphex Competition, PromaxBDA, Omni Awards, multiple Gold, Silver and Bronze ADDY Awards as well as the 2010 Wichita ADDYs Rising Star award, Kansas City's Cut & Paste competition, and multiple features in the online publication Motionographer.com. In addition, Justin can now also add the cover design of a New York Times Best-Seller to his list of accomplishments as well as the 2012 Rising Entrepreneur of the Year recognized by Mid-America Entrepreneur Hall of Fame and a recipient of Wichita Business Journal's 40 under 40 class of 2013. In 2015, Justin was awarded Wichita's AMA Marketer of the Year and spoke at his first TEDx event.
As an advocate for giving back to the community, he has donated his time and creative talents to several local and national non-profit organizations including: Numana, Big Brothers Big Sisters, KPTS, Butler Community College, KidzCope, Rainbows United, Layla Grace Foundation, Abby's Gift, Kyrie Foundation, Habitat for Humanity, Catholic Charities and Meridian 6. McClure previously served on the board of the Layla Grace Foundation. He is also a member of the Wichita Chamber of Commerce, Wichita Advertising Federation and AIGA Wichita.
For more information contact:
Robyn Mabe, Administrative Assistant – Fine Arts
maber@friends.edu
316-295-5548 • 800-794-6945, ext. 5548