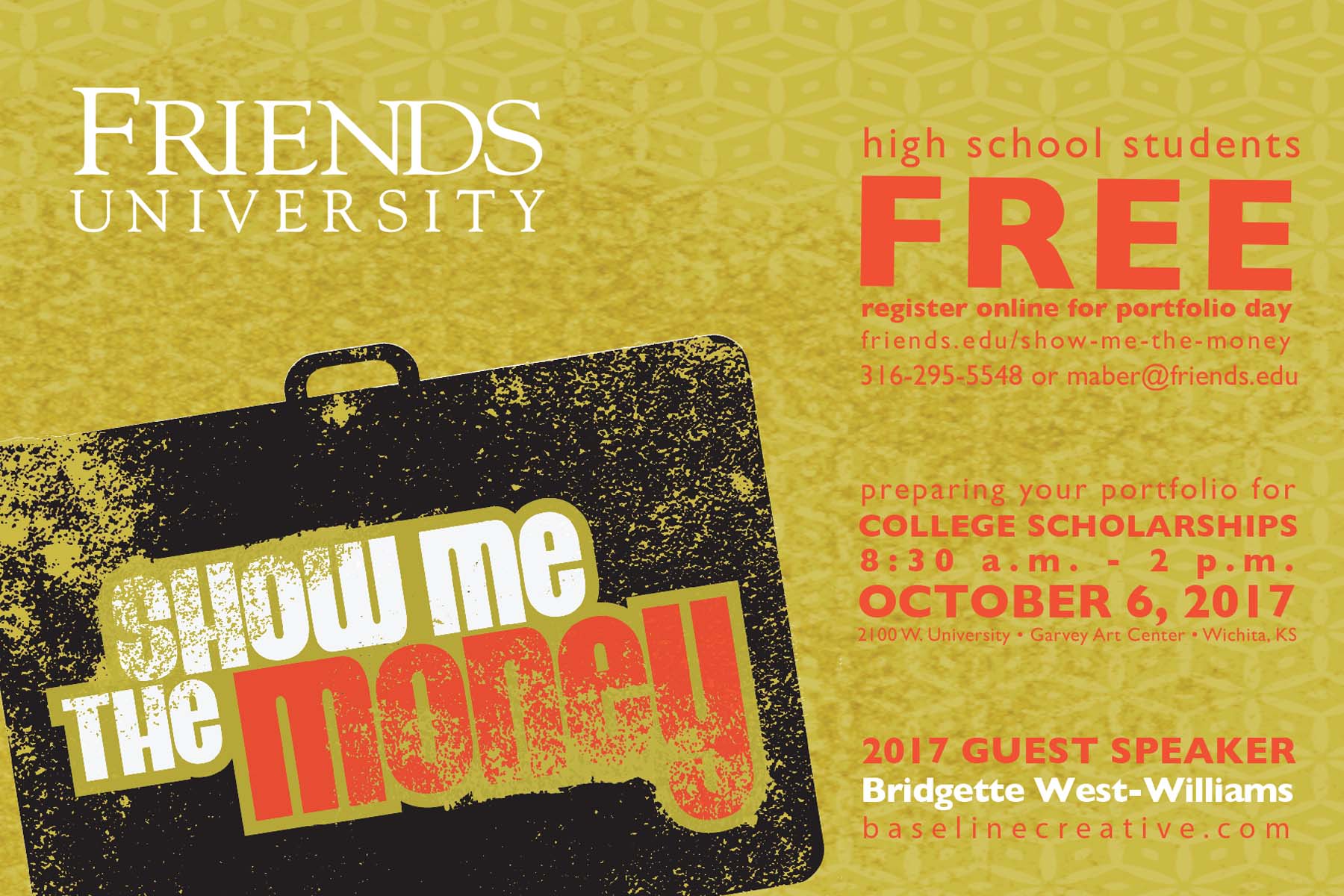 Dear instructors and students,
You are invited to attend Friends University's "Show Me the Money" portfolio day from 8:30 a.m. to 2 p.m., Friday, Oct. 7, 2017. This event is free and lunch will be provided.
Students will learn how to prepare their portfolio when applying to college for scholarships in the following areas: studio art, graphic design, computer graphics, art education and media. They will also have an opportunity to have their portfolio critiqued by the professors at Friends University. The critique sessions will be 10 minutes and a limited number of students will be able to participate. Critiques will be handled on a first-come, first-served basis.
The Friends University admission staff will be available for campus tours and to answer questions.
Registration
Registration is required to attend this free event and for the portfolio critiques. The deadline for registration is 5 p.m., Monday, October 2, 2017.
Visit the registration form to register for this event and to sign up for a portfolio critique.
Event Schedule
8:30 a.m. – 9 a.m.
Registration – Garvey Art Center
9 a.m. – 9:10 a.m.
Welcome – Dr. Amy Bragg Carey, University President
9:10 a.m. – 10:10 a.m.
Guest Speaker – Bridgette West-Williams
Director of Operations + Project Management, Baseline Creative
10:10 a.m. – 11:45 a.m.
Demonstrations for preparing portfolio
Break up into groups
Group 1: studio art, graphic design, computer graphics, art education
Group 2: television/digital multimedia
11:45 a.m. – Noon
Wrap-up session
Noon – 1 p.m.
Lunch and panel discussion
(current Friends University students will be speaking)
1 p.m. – 2 p.m. Student portfolio critique
(You must sign up by 5 p.m., Monday, October 2, 2017)
Express Decision
When you participate in Show Me the Money, you can bring a copy of your high school transcript and ACT/SAT scores to the event and receive an on-the-spot admission decision. If you are a qualified "Express Decision" student, you will receive a letter of admission and institutional merit letter before the end of the event. We encourage applying online prior to the event and we will waive your $35 application fee for attending. You can also apply while you are here that day and get your application fee waived.
Registration is required to attend this free event and for the portfolio critiques. Visit the Show Me The Money registration form to register. Registration ends Monday, October 2, 2017
For more information contact:
Robyn Mabe, Administrative Assistant – Fine Arts
maber@friends.edu
316-295-5548 • 800-794-6945, ext. 5548