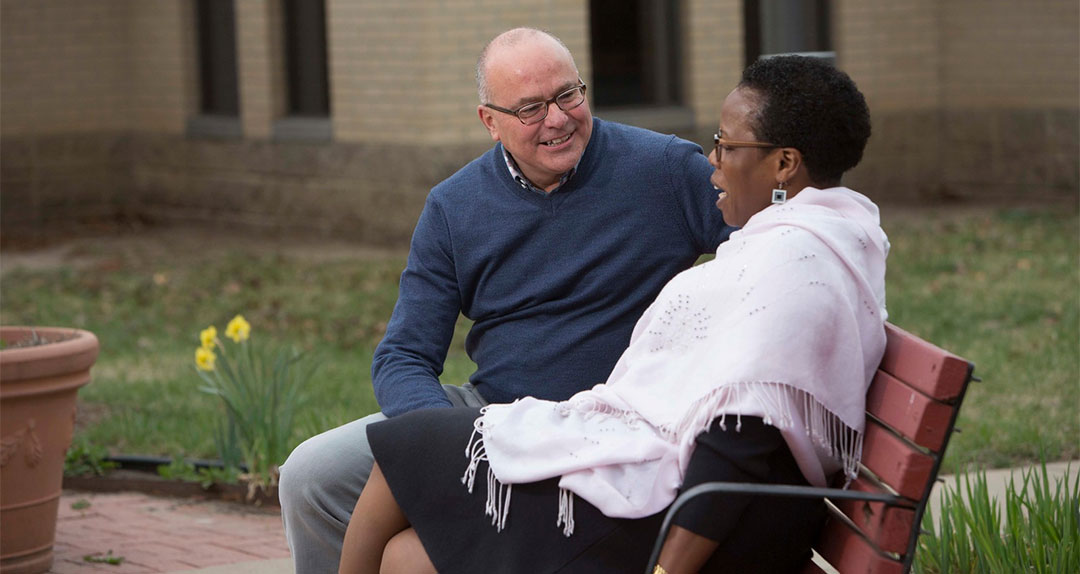 Program Description
The Master of Arts in Christian Spiritual Formation and Leadership (CSFL) is designed as a personal growth, academic and professional program for both lay people and people in professional ministry. You will receive the tools and resources for developing a framework for spiritual formation, while building a stronger theological foundation.
As an intensive, integrative program within the Apprentice Institute for Christian spiritual formation at Friends University, you will have the opportunity to learn from some of the brightest minds in the field of Christian spiritual formation. Distinguished faculty members researching and authoring in the field include James Bryan Smith, Scot McKnight, Jan Johnson, Keith Matthews, Keas Keasler, A.J. Swoboda, J.R. Briggs, and Tim Keel.
The CSFL is a 33-credit program that follows a hybrid design (18 credits online, 15 credits via residency) and is founded on the teachings of Dallas Willard, and James Bryan Smith's Triangle of Transformation. The curriculum is delivered through cohort groups of students who progress through the degree requirements sequentially, which includes online coursework, retreats, seminars and workshops.
Learning Environment
This program is committed to a high Christology within an orthodox theological framework. We strive to encourage formation into a Christ-centered way of life, with a view to cultivate spiritual habits and virtues. Our faculty and instructors have high respect for our common heritage and ancient Christian tradition.
It's not all head knowledge with us. You will experience a program with academic rigor and excellence, yet practical and experiential at all levels of instruction. Each student will have access to a spiritual director during residency, and on an ongoing basis throughout the entire program.
One of the greatest components of the CSFL program is the relationships. The closed cohort format facilitates a deep sense of community and accountability. Students don't just learn together – they "do life" together. This happens through a variety of approaches, including on-site retreats, small groups, conference events and online discussion forums.
This program is designed to fit into your life, but will require significant time in your weekly schedule. You will learn the dynamics of the Online Learning Community and the systems needed for success in the program. We are accepting applications for the Fall 2019 cohort. The general application deadline is April 15th.
Christian Spiritual Formation and Leadership Degree Brochure
Not only does the Master's in Christian Spiritual Formation and Leadership program take seriously our dire need for deeper discipleship practices, as a bi-vocational pastor, I can also attest that it delivers high-level instruction combined with exceptional value and a realistic pace that can fit even into a busy schedule. This was the program I was waiting for.

Neal Whitlow, Current CSFL Student
The Magnificent Story
For more information about The Magnificent Story by James Bryan Smith, read our news release.
For more information about the Apprentice Institute, please visit www.friends.edu/about/apprentice-institute.
Outcomes
Demonstrate a deeper understanding of Christian spiritual formation through rhythms and practices leading to a Christ-centered, with-God life.
Demonstrate an approach to building vibrant, sustainable spiritual formation in various ministry contexts.
Demonstrate the ability to cultivate community with people from various backgrounds through real, long-term relationships.
Course Requirements
View the courses required for a Master's degree in Master of Arts in Christian Spiritual Formation and Leadership.
View Course Catalog
Career Options
A degree in Master of Arts in Christian Spiritual Formation and Leadership can be used in more ways than you may think. Take a look at some of the potential careers that can result from this area of study.
Learn More
Graduate Student Career Development Plan
The path to your future career starts long before graduation. Learn what steps you need to take along the way to put you a step ahead.
Read More