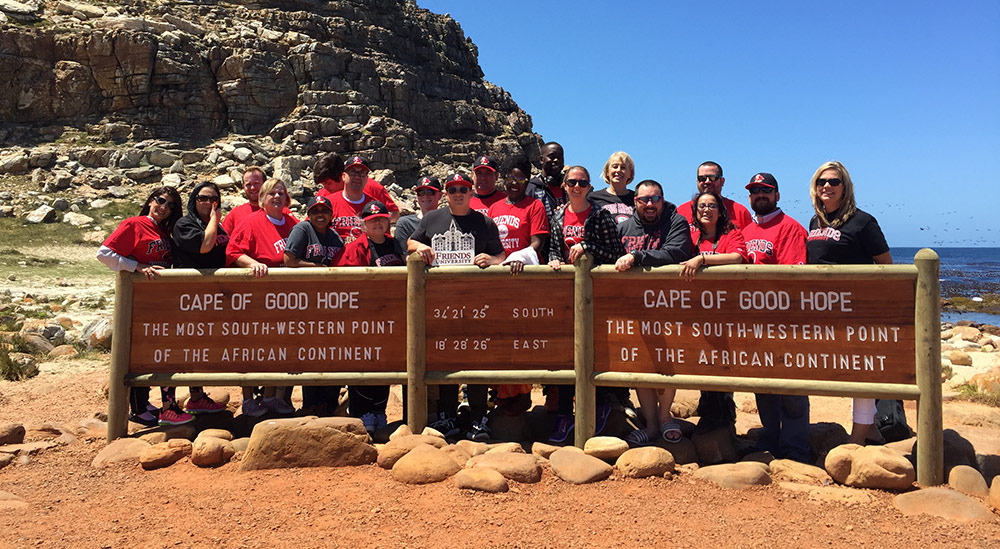 Pictured: Global MBA students at Cape of Good Hope during 2016's Global Business Experience trip to South Africa.
Global Business Experience
Business residency abroad is included in the MGMT 691 Capstone. The Global MBA degree incorporates Friends University's core Christian values of respect and equality and develops students' expertise in international business practices required for successful performance in domestic companies. The capstone enhances interdependence of companies around the world as a major success factor for local business. Listening to executive presentations, participating in round-table discussions and learning about the competitive advantage of companies in the countries of destination contributes to students' competitiveness in the domestic business market. The capstone is taught by the graduate school faculty and adds value to the business portfolio students develop while pursuing the Global MBA degree. For more information please contact valentina@friends.edu.
Previous Trips
Click on each to view photos from each Business Residency Abroad trip.
Global MBA Program
The global MBA degree, provided at the Wichita campus and online, provides you with a unique mix of academic courses, professional contacts and personal development experiences. It also helps to develop your expertise in international business practices and enhance competency in decision-making and cross-cultural communication and negotiations – incorporating Friends core Christian values of respect and equality. The program is committed to teaching major competencies in leadership, ethics and complex business skills required for gaining a sustainable competitive advantage in a global business environment. The global MBA is a case study-based program that lays the foundation for the business residency abroad.
The business residency abroad is one of the core courses in the program. The business residency allows you to compare concepts of global supply chain, business negotiations, managerial decision-making and ethics with implementation in a foreign company. It prepares you to be efficient and competitive in the global market. The residency is supervised by the graduate school faculty and adds value to the global portfolio our students develop while pursuing the global MBA degree.
Global MBA requires 16 credit hours of core courses:
Global Business
Cross-Cultural Communication and Negotiations
Global Finance
International Marketing
Global Strategy
Global Business Experience (1 credit hour)
In addition to the great business opportunities and personal growth I have enjoyed as a result of my degree program, I recently received a significant promotion which will allow me to work in the role that I have desired for years, as well as travel the world!

Tina Swink, Global MBA
Program Concentrations
To complete your master's degree, the graduate school offers four concentrations. You can select one of the concentrations as a package or pick up courses (15 credit hours) from each of them to comply with a degree completion requirement of 31-37 credit hours.
Friends University offers an Accounting concentration as part of the Professional MBA and Global MBA programs. These professional degrees have a concentration in accounting designed to prepare students for leadership positions in business. The purpose of this Professional MBA or Global MBA in Accounting concentration is to develop your skills in the functional areas of for-profit and not-for-profit organizations, while accommodating students wishing to continue accounting degrees in Kansas beyond the bachelor's degree level. Students who have taken all courses required by the Kansas State Board of Accountancy (KSBOA) successfully accomplishing 150 or more credits are qualified to sit for the CPA exam. Additionally, students who have at least two continuous years of professional experience in management accounting or financial management can also sit for the Certified Management Accounting (CMA) exam.Friends MBA in Accounting is ranked #17 on the list of Top 50 Online MBA Programs in Accounting by OnlineMBAToday.com and #22 in the list of top online master's in accounting programs by TheBestColleges.org. This is definitely a program you will want to check out! It is also ranked #16 on the list of the 2018 Most Affordable Online Colleges for a Master's in Accounting by OnlineU.org and #11 on the list of the 2018 Top Online Master's in Accounting Programs by GuideToOnlineSchools.com.
We are excited to announce a new Change Management concentration as part of the Professional MBA and Global MBA programs. The concentration brings like-minded students together through a series of four courses to possess the expertise to implement and manage strategic change. The interdisciplinary curriculum develops your capacity to create transition strategies and to manage for-profit and not-for-profit organizations using a variety of organization development tools and techniques designed for today's complex national and international business environments, respective to the MBA program selected.
The Finance concentration will enable you to combine your broad MBA education with specialized skills necessary to compete regionally and beyond. You will explore ethics in finance and public policy, evaluate an organization's overall financial health, work with financial instruments and tools to construct and manage a global portfolio and assess risk associated with investing in international markets.
Cyber Security threats are real and happening every day. Adding the Cyber Security concentration to your MBA program will set you apart in the job market and provide you with the tools to identify and mitigate vulnerabilities in your work environment. You will be introduced to the fundamentals of cyber security and learn important legal and ethical matters with practical application for written cyber security policies within organizations. You will gain an effective working knowledge in security risk analysis and the risk management framework.
We are excited to announce a new concentration in Health Care Leadership as part of the Professional MBA and Global MBA programs. This concentration brings like-minded students together through a series of four courses to better prepare you for a professional administrator role. This advanced program is designed to help you develop the management and finance knowledge that builds on your existing background to develop knowledge and skills you can apply immediately to create innovative solutions and to adapt and lead in ever-changing national and global health care systems. Plus, the Friends online Master of Business Administration with a Health Care Leadership concentration ranks No. 27 in the nation as assessed by onlinembatoday.com. It's the only Kansas program listed in the top 50!
We are excited to announce a new concentration in Supply Chain Management and Logistics as part of the Professional MBA and Global MBA programs. The concentration brings like-minded students together through a series of four courses to develop your expertise in knowing and using important features of ERP systems, conducting lean manufacturing reviews and developing a supply chain to obtain a competitive advantage. Friends University has also been ranked 5th for Master's Degrees in Supply Chain Management in the 2018 Top Online Colleges ranking which is based on value and 12th for Master's Degrees in Supply Chain Management in the 2018 Most Affordable Online Colleges by SR Education Group.
Master of Global MBA Program Outcomes
Graduates of the Global MBA program will:
Demonstrate knowledge and awareness of business and cultural similarities and differences with other countries.
Analyze company current and/or potential operations and strategy for consistency with international business practices and requirements, e.g. monetary policy, capital markets, labor markets, transport of goods, tariffs and international law.
Master the models for analyzing foreign cultures and apply cross-cultural communication skills in the international business environment.
Understand the ethical behaviors and issues relevant to the business community (including international).
Exhibit critical thinking by identifying business problems, using appropriate tools for data analysis, form and deliver conclusions within the business context.
Course Requirements
View the courses required for a degree in Global MBA.
View Course Catalog
Career Options
A degree in Global MBA can be used in more ways than you may think. Take a look at some of the potential careers that can result from this area of study.
Learn More
Graduate Student Career Development Plan
The path to your future career starts long before graduation. Learn what steps you need to take along the way to put you a step ahead.
Read More
Career Services
We're here to help. Get in touch with our Career Services team to prepare and plan for your future profession.
Get in Touch
Global Masters of Business Administration Degree Brochure
National Association of Women MBAs
Friends University is pleased to have the first chapter of the National Association of Women MBAs (NAWMBA) at a private university in Kansas. The NAWMBA Friends University Chapter will host local and regional events throughout the year to provide opportunities for professional women to build knowledge and leadership skills.
Global MBA Advisory Board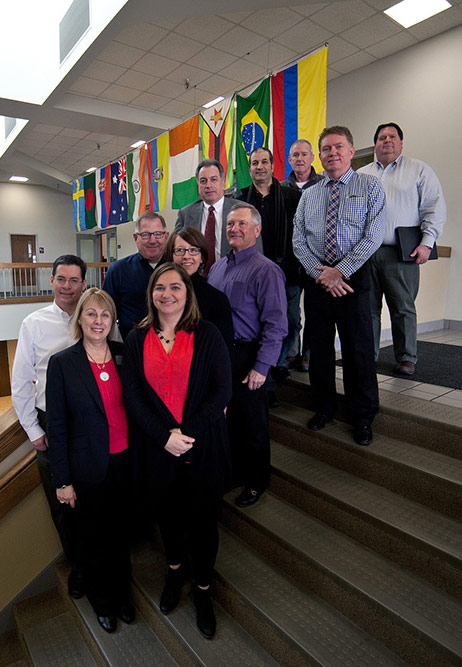 The advisory board was instrumental in establishing the Masters of International Business major at Friends University. The board members regularly visit classes and share their business experience with Global MBA students as guest speakers. They also serve as external advisors for final projects and global business residences abroad.
GLOBAL MBA ADVISORY BOARD. Front row, left –right: Dr. Valentina Chappell, Global MBA Director; Ellie Antova, ICM, International Regional Manager; Sarah Braden, Intrust Bank, Senior International Banking Specialist; Bob Kice, Kice Industries, VP (retired); Ray Garvey, The Grasshopper Company, Export Manager; A.J. Anderson, Wichita U.S. Export Center, Director. Second row, left –right: Tim Shanfelt, Koch Industries, Inc. Operations Enabler Leader; Joel B. Davis, Bombardier Aerospace, Director, Facilities Development; Jim Wilkerson, Product Safety and Certification, Textron Aviation, Manager; Bassam (Sammy) Jaradat, Cargill Meat Solutions Corporation, SAP Senior Business Analyst; Steve Shaad, BG Products, Int'l Trade Division, Market Manager. Absent: Karyn Page, Kansas Global Services, Inc. , CEO and President; Monica Trochim, Markus Food, International Sales manager; Woody Swain, Invista, Koch Industries, Inc. Business Development, Director (retired)