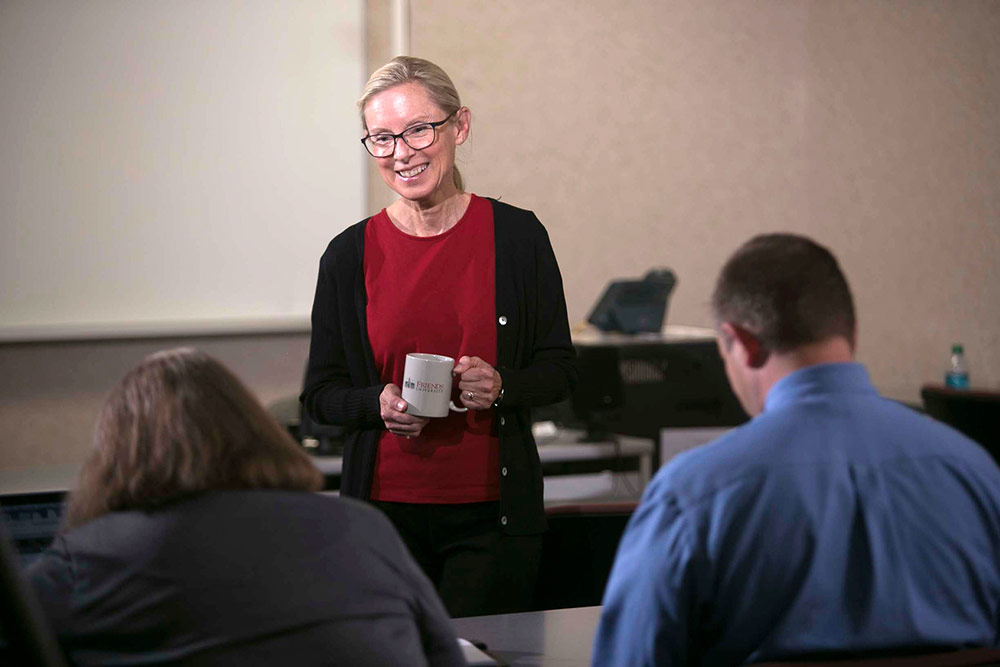 The Graduate School at Friends University is happy to announce that we now have two tracks to choose from as part of our Master of Education degree. Both tracks focus on practical application of effective classroom learning-teaching skills, student advocacy, meeting the learning and assessment needs of all students, and educational leadership in an increasingly complex global society.
Completing your master's degree can be accomplished in 12-14 months across six courses that will be delivered online and on campus. In addition, the degree requires 12 hours of Friends University graduate workshop credits.
Teaching & Learning
The METL specialization includes a revised, cutting-edge core focused on the common core, learning, performance and assessment. It focuses on the practical application of classroom learning-teaching skills, utilizing the best of theory and practice. Each student, with a faculty advisor, designs an individualized plan for a research study that is targeted, relevant and immediately applicable. Most courses are offered in eight-week time frames with two formats: hybrid and online.
Program Outcomes
Plan and prepare appropriate learning experiences for a diverse student population.
Implement appropriate classroom assessment.
Facilitate and inspire student learning and creativity through effective use of technology.
Design and implement an action research project.
Demonstrate positive impact of graduates on P‐12 student learning.
Demonstrate skill in classroom instruction.
Document satisfaction of graduates with the relevance and effectiveness of their preparation.
Master of Education in Teaching and Learning
View master of education in teaching and learning courses.
Special Education High Incidence (P-12)
This licensure program will prepare students to adapt curriculum to fit the needs of all students and to complete the Kansas Department of Education licensure requirements. The program is designed for individuals who already possess a teaching license and who want to teach preschool through twelfth-grade students with high-incidence disabilities (e.g., learning disabilities, mild or moderate mental retardation, communication disorders, and behavior or emotional disorders).
The program, approved by the Kansas Department of Education, will prepare graduates to address disabled students; construct individualized instructional strategies; create positive social and environmental interactions; and communicate and collaborate with professionals, family members and community members.
Over the past 10 years, the number of students receiving special education services has risen by 30 percent, according to the National Education Association; and currently, a shortage of special education teachers exists in 49 states, including Kansas, according to the U.S. Department of Education.
Program Outcomes
Articulate the philosophical, historical and legal foundations of special education as well as characteristics of special needs learners.
Collaborate with various school personnel, community, colleagues, diverse families and students.
Conduct formal and informal assessments of learning, behavior and environment.
Design appropriate instruction in all academic content areas.
Organize and manage the classroom environment to support academic and social/emotional growth, equality and learning of diverse students.
Use a variety of research-based techniques as well as assistive technology to enhance communication.
Choosing to enroll in Friends University's Master of Education degree program will open to you a world of educational and professional experiences and opportunities, including one workshop that occurs in London as part of the program.
An additional aspect that makes Friends University unique is the relationship between the students and the faculty. The faculty are truly committed to students, teaching and scholarship, and they possess a vast number of years of public school teaching experience. We recognize that our primary mission is to encourage our graduate students to excel as teachers who are highly effective professionals for today's and tomorrow's P-12 students.