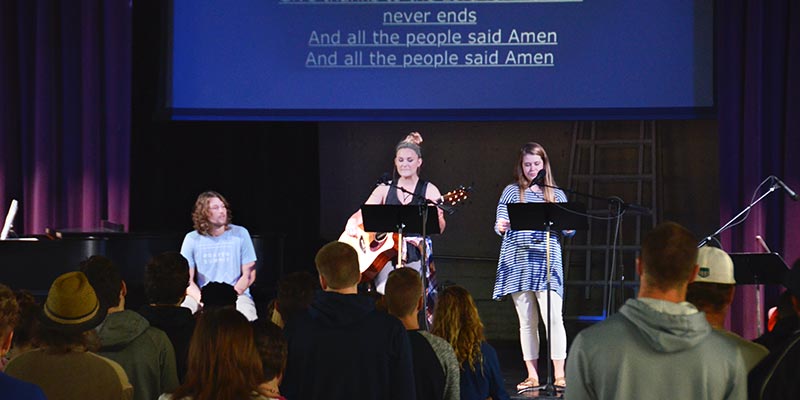 This year, Friends University is excited to launch a new ministry initiative that will 1) give a small group of students an incredible opportunity to grow and learn through serving in a wide-variety of capacities at different churches and camps, and 2) bless different churches and camps through providing a well-trained team of students that can help them accomplish their mission of loving and serving students in the name of Jesus.
This Summer Ministry Team will spend 8-10 weeks traveling the U.S., spending anywhere from 2-10 days at a location, and will be trained and equipped to take the lead in ministry areas like:
Speaking/teaching
Leading worship
Leading small groups
Leading games, skits, crafts, etc.
Serving as camp/cabin counselors
This team of students will go through an in-depth application and interview process, a semester-long training and mentoring module, and will be in regular contact with the Campus Ministries office back at Friends University throughout the summer for pastoral care and support.
As a Host Church or Host Camp, we would ask that all meals and lodging be taken care of for the team while they are on site. We would also ask that any additional expenses (e.g. – going to play laser tag, etc.) that are a part of the church/camp activities for the week would also be covered.
Frequently Asked Questions
How much does it cost to bring in the Summer Ministry Team?
There is no cost for hosting the Summer Ministry Team, other than providing food and lodging for the team while they are with you. A "love offering" to help cover some of the travel expenses is welcomed but not required for hosting a team.
What does the Host Church or Camp need to provide for the Summer Ministry Team?
All meals, lodging and any additional expenses related to doing ministry with the group, while onsite.
Does the team have to do all of the ministry activities listed above?
No. Depending on the needs of the ministry site, the team will be prepared to do all or some of what is listed above.
How is the Summer Ministry Team itinerary set?
The itinerary for the Summer Ministry Team is set on a first come, first serve basis. The itinerary must also take into account the time that is required to travel from one ministry site to another, and out of a desire to be "good stewards" will also try to make sure we aren't traveling back and forth across the U.S. every week.
If you have any questions or are interested in requesting a team for your camp or church event this summer, please contact Dr. Guy Chmieleski, Campus Pastor and Dean of Campus Ministries at Friends University, at guy_chmieleski@friends.edu.