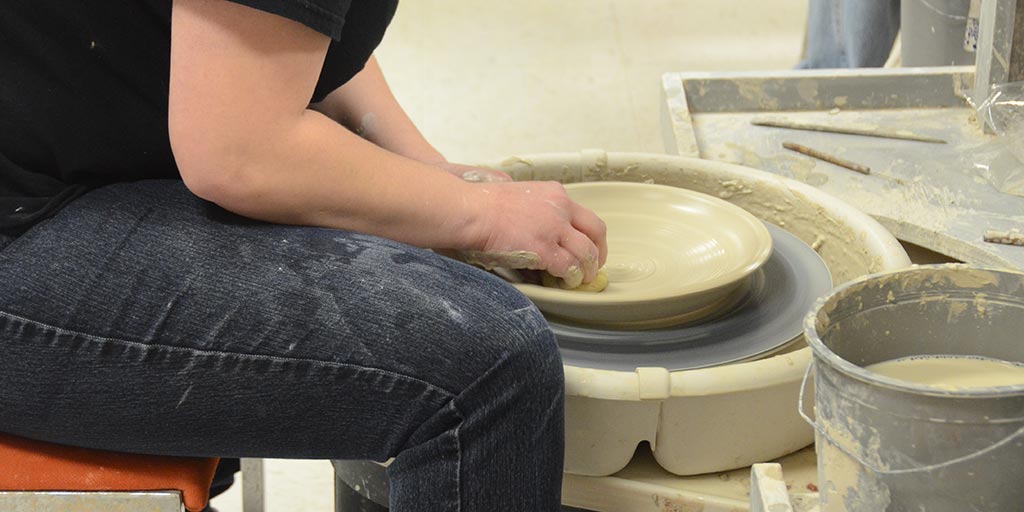 Artists are storytellers, and the world is full of stories to be told. Students who wish to tell their stories through painting, sculpture, ceramics or photography may choose to explore a traditional art degree. Students also have the opportunity to utilize emerging technologies, which continue to alter the output and manner of consumption of art, and choose to pursue a more high-tech approach to visual communications.
Friends University art students have ample opportunities to take advantage of the university's location in a bustling metropolitan area. Students enjoy internship opportunities with profit and non-profit organizations, as well as the ability to tour and network with ad agencies, in-house creative groups, video and animation production studios, television stations, radio stations, print shops and many other businesses. And students can attend the gatherings of professional organizations and events such as AIGA (American Institute of Graphic Arts), Creative Rush, MakeICT, Harvester Arts and Wichita Art Museum Art Chatter just to name a few.
Students can get involved in Final Fridays, during which art galleries, museums, restaurants and retail shops around Wichita stay open late and welcome exhibitors and visitors interested in the arts. Students have the opportunity to participate in group shows with other artists, and some students have had solo shows.
Student assignments include a variety of projects that help non-profit organizations further their efforts. Currently, students are working with ArtPartners to produce fliers, postcards and social media banners.
The art department at Friends University offers bachelor's degrees and/or concentrations in art, art education, computer graphics, graphic design, studio art and communications/publications. Each degree and each area of concentration has specific requirements.
Portfolio Requirements
A degree from Friends University will get you a job interview. Your portfolio will help get you a job.
All art and communications/publications majors and minors are required to keep a portfolio of work. These portfolios must include examples of the range and quality of work you have produced for your classes. As a central focus in your studies, a process portfolio will serve these functions:
To develop personal identity with and pride in your work
To provide the most effective critical tool to use in the development of your work
To demonstrate the progress in your studies and help determine future directions in your studio work
To use as a vital instructional tool by presenting it to your instructors at the beginning of new courses, so that the instructors can most effectively direct instruction
A progress portfolio is your best work from each of your classes. It should represent your comprehensive development and demonstrate your varied art skills.
A class portfolio is a compilation of your best and most comprehensive examples of works done within a particular discipline or class.
A targeted portfolio should include work from the progress portfolio (to be replaced by professional work following employment) selected to meet a particular need or demonstrate a particular skill.
A professional portfolio is a selection of work targeted for use in professional career interviews. It is only the very best work from each area and represents the highest level of achievement.
Art education students should keep a progress portfolio like other art majors. The works in this portfolio will be used for assessment of your progress in the program, and just as importantly, as personal resource materials for your teaching careers.
Here is a testimonial from a recent Folio class on work done for Substance Abuse Center of Kansas (SACK):

I would like to say that I was very pleased with the process and the completed product(s). The students were professional, attentive, quick to correct any problems or concerns. We are using or developing use of each of the products developed by the students. I would recommend the program to other non-profit companies and encourage that they take advantage of the opportunity. Thank you for all your assistance. Harold

Feedback from CEO of SACK, Harold Casey
Senior Exhibit
Graduating seniors in art, art education and communications/publications will be required to display their works in an exhibit, which is a gallery-style exhibition. The exhibition will take place in December of your senior year.
I wanted to study under instructors who cared about my artistic and intellectual development, and I felt I had found that at Friends.

Dustin Parker, Graphic Designer
Program Outcomes
Demonstrate the use of content in the context of creativity, the use of unique one-of-a-kind images and the importance of the idea, as it applies to the visual arts.
Demonstrate formal order concepts, as they apply to the elements of composition and design principles, relating to visual expression.
Demonstrate delivery concepts, which include understanding materials, process and presentation of the finished work as it relates to the visual arts.
Demonstrate knowledge of the history of art as it relates to your discipline.
Potential Areas of Employment
Art studios and galleries
Design studios
Private instruction
Informal educational institutions, such as community centers
Advertising and marketing firms
Freelance creative services
4-Year Career Plan
Explore. Prepare. Connect. Keep the target in your sights with our helpful four-year career plan.
Read More
Career Services
There are so many questions related to career planning and the job search process. We're here to help with career assessments, workshops, internships and more.
Get Started
Degrees