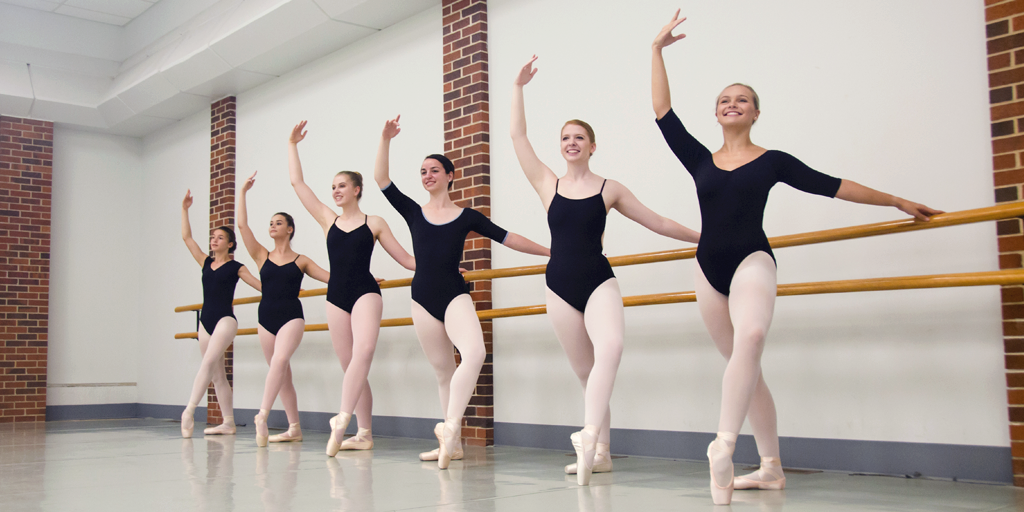 Design a degree that's right for you! Friends University fosters excellence in preparation for a professional career in the world of ballet with opportunities for additional studies in studio operations, music & theatre and sacred dance. But ballet classes are only part of the curriculum. Each ballet degree can be uniquely designed for individual students depending on interest, ability and goals.
Our purpose is to offer a ballet education that creates talented performing artists so they may achieve their individual goals and become confident leaders in their chosen professions. We offer both a Bachelor's in Fine Arts degree program and a Bachelor of Arts degree program including your choice of three unique concentrations: studio operations, music & theatre and sacred dance. Friends University certainly offers more variety and options than you can find anywhere else!
A nurturing and supportive environment, combined with professional ballet training, enables dancers to reach their full potential as their passion for arts education thrives. We also help with long term planning and lifelong learning as students transition from performance to new career pathways.
The Friends University Ballet Department invites world-class guest choreographers, artists and teachers to visit the campus each year. Our repertoire includes ballets by George Balanchine, Twyla Tharp, Dominic Walsh, Shawn Stevens and many others. We are committed to introducing our dancers to current artists throughout the world of dance. Recent artists include dancers from the New York City Ballet, Denver Ballet and choreographers from Houston and Los Angeles. And the Friends University Ballet Department has toured in Orleans, France, and Cancun, Mexico, as well as participated in ongoing exchange programs with both sister cities.
The Friends Ballet program is fostering my growth as an artist while propelling me toward my dreams.

Madeleine Roe, Ballet
Program Outcomes
Demonstrate a performance technique that is applicable to your body.
Meet the required repertoire requirement of performance course work.
Demonstrate the ability to analyze rhythm, special design, the elements of dance, and the methods of constructing dances.
Demonstrate the ability to choreograph and present a staged group piece.
Gain an appreciation and knowledge of dance: its history, purpose, forms, types and contributions to the arts and humanities.
Course Requirements
Select a Ballet and Dance degree to see the required courses.
Academic Plan
Wondering where to start? This recommended schedule will help keep you on track, from your first semester to graduation.
Get Started
Career Options
A degree in Ballet and Dance can be used in more ways than you may think. Take a look at some of the potential careers that can result from this area of study.
Learn More
4-Year Career Plan
The path to your future career starts long before graduation. Learn what steps you need to take along the way to put you a step ahead.
Read More
Career Services
We're here to help. Get in touch with our Career Services team to prepare and plan for your future profession.
Get in Touch
Schedule an audition
To audition for our ballet program and scholarships, you are encouraged to attend one of four Fine Arts Showcase Days. If you cannot come to our Wichita campus on any of these dates, you may make arrangements for a special date and time by contacting Visiting Lecturer of Dance, Andrea Vazquez Aguirre at 316-295-5408 or email at andrea_vazquez_aguir@friends.edu.
Fall Ballet
Watch Friends University Student rehearse for James Wallace's contemporary piece, Terminal, that was performed at the Fall Ballet 2016.