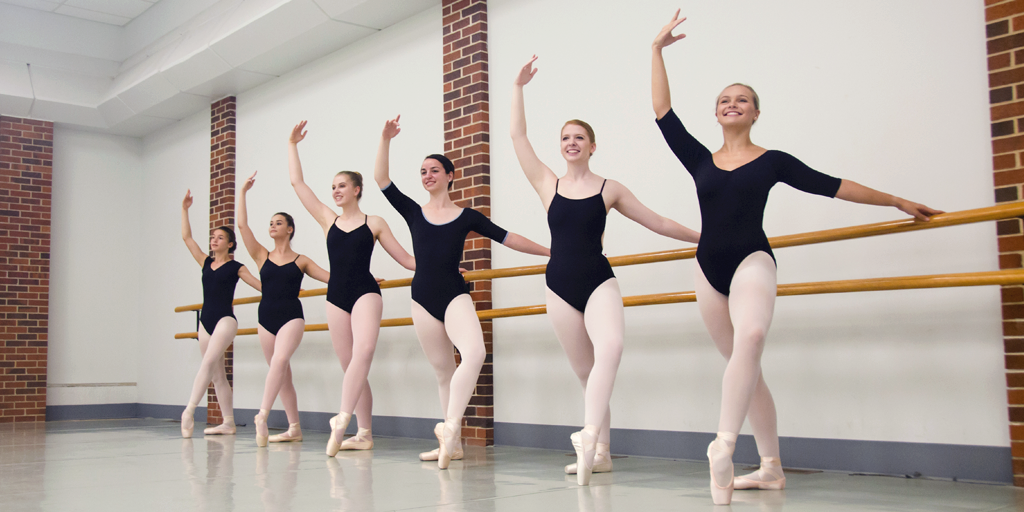 In the Ballet Program at Friends University you can reach your full potential in a nourishing Christian environment.
Our ballet program is committed to developing dance artists as potential experts in the field who can observe, reflect, speak, listen and dance with passion and knowledge. The integration of our Christian faith supports students in their journey as artists and humans. We offer both a Bachelor of Fine Arts degree and a Bachelor of Arts degree including the choice of three unique concentrations: studio operations, music & theater and sacred dance. Each ballet degree can be uniquely designed for individual students depending on their interest, ability and goals. Faculty members are invested in helping students with long-term planning and lifelong learning skills to help them thrive as performers, teachers, choreographers or in other chosen professional pathways. We have outstanding facilities that include two spacious ballet studios with dressing rooms. One of our studios is now home to our new Pilates studio. Our students also have access to a large costume collection.
Dancers are nurtured in an environment that immerses them in an embodied experience by training self-perception along with deep understanding of movement theory and integration of personal expression. Our curriculum is designed to address technique and artistry. Friends is the first ballet program in the USA to integrate the innovative Award-Winning SAFE® BARRE method into its training. SAFE® BARRE is a method that interconnects biomechanics & ballet, it was founded by former Principal ballet dancer Alexandre Munz. Performance opportunities are varied and include participation in regional and national dance venues and conferences such as Kansas Dance Festival and the American College Dance Association.
Friends University Ballet Program invites world-class guest choreographers, artists and teachers to work with our students each year. The students are exposed to current pedagogies and aesthetics throughout the world of dance. Past guest teachers have taught repertoire of George Balanchine and Twyla Tharp. Guest artists include: Dominic Walsh, Shawn Stevens, Kathryn Alter, Nanako Horikawa, and Jermey Edmonson. Dancers from New York City Ballet, Denver Ballet and Ballet Hispanico have participated in our annual Nutcracker production.  Students have toured to Orleans, France and Cancun, Mexico and will now have the opportunity to study over the summer in Florence, Italy.
The Friends Ballet program is fostering my growth as an artist while propelling me toward my dreams.

Madeleine Roe, Ballet
Our Dancers:
Demonstrate command of advanced ballet technique, theoretical understanding and artistic quality.
Embody and perform traditional and new repertoire within diverse movement vocabularies.
Demonstrate the ability to analyze movement in its basic elements: body, dynamics, shape and space, as well as a thorough understanding of compositional elements of both structure and meaning-making possibilities.
Identify elements of technical production and apply them to her/his choreographic work.
Nurture spiritual investigations through the art of dance within her/himself, others, and her/his environment.
Facilitate community dance experiences for all ages and abilities.
Course Requirements
Select a Ballet and Dance degree to see the required courses.
Academic Plan
Wondering where to start? This recommended schedule will help keep you on track, from your first semester to graduation.
Get Started
Career Options
A degree in Ballet and Dance can be used in more ways than you may think. Take a look at some of the potential careers that can result from this area of study.
Learn More
4-Year Career Plan
The path to your future career starts long before graduation. Learn what steps you need to take along the way to put you a step ahead.
Read More
Career Services
We're here to help. Get in touch with our Career Services team to prepare and plan for your future profession.
Get in Touch
Schedule an audition
To audition for our ballet program and scholarships, you are encouraged to attend one of four Fine Arts Showcase Days. If you cannot come to our Wichita campus on any of these dates, you may make arrangements for a special date and time by contacting Visiting Lecturer of Dance, Andrea Vazquez Aguirre at 316-295-5408 or email at andrea_vazquez_aguir@friends.edu.