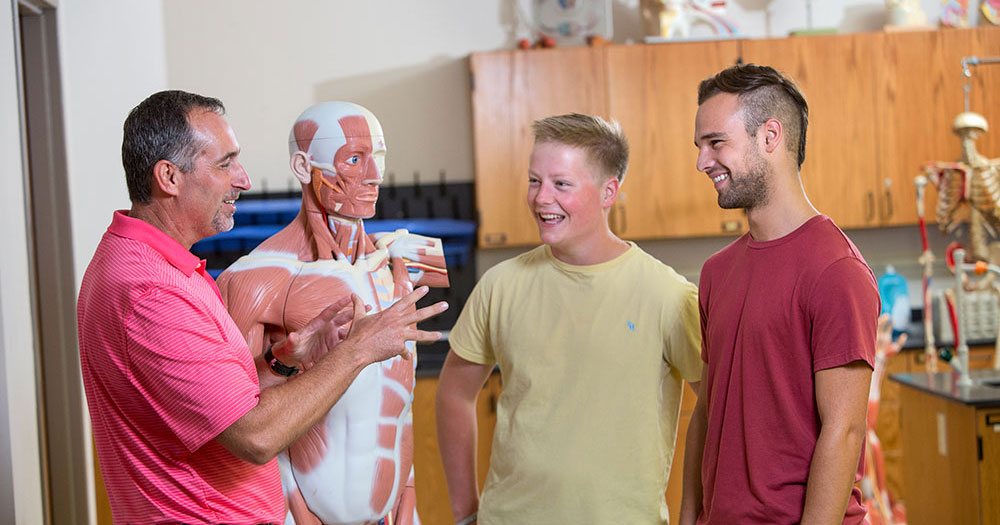 Bachelor of Science in Biochemistry! Start your pathway to a profession in one of the fastest growing careers! This on-campus degree program will prepare you for graduate school and for careers in forensic science, biochemical and medical research, genetics and medicine.
The biochemistry degree program at Friends University has multiple experienced faculty, supports undergraduate research and will prepare you to continue your education. And the median annual pay of biochemists is around $82,000 according to the Bureau of Labor Statistics (BLS). Employment of biochemists and biophysicists is expected to increase eight percent from 2014 to 2024 according to the BLS.
The Friends University Chemistry Department includes chemistry, physics and now biochemistry and is located on the second and third floors of the William Penn Science Building. The lab has instrumentation for gel electrophoresis, atomic absorption spectroscopy, gas chromatography, mass spectroscopy, Fourier transform infrared spectroscopy, UV-Visible spectroscopy, and proton/carbon nuclear magnetic resonance spectroscopy.
Program Outcomes
A graduate from Friends University with a Bachelor of Science degree in Biochemistry will:
Have attained an understanding of the major concepts in the chemistry of biological interactions and processes and an awareness of how these concepts apply to all life forms.
Have developed the necessary critical thinking and quantitative reasoning skills required to identify and solve biochemical problems and the ability to apply those skills at the molecular, cellular and structural levels.
Have acquired effective communication skills oral and written, allowing the graduate to describe key scientific findings in biochemistry to academic and non-academic audiences.
Have attained a level of scientific achievement and knowledge that will provide the graduate with a basis to become a lifetime learner and a valuable participant in modern society.
Have developed a strong foundation of ethics that will provide the underpinnings for a life of interactions with all members of society, both in the sciences and in all other interactions.
Course Requirements
View the courses required for a Bachelor's degree in Biochemistry.
View Course Catalog
Academic Plan
Wondering where to start? This recommended schedule will help keep you on track, from your first semester to graduation.
Get Started
Career Options
A degree in Biochemistry can be used in more ways than you may think. Take a look at some of the potential careers that can result from this area of study.
Learn More
4-Year Career Plan
The path to your future career starts long before graduation. Learn what steps you need to take along the way to put you a step ahead.
Read More
Career Services
We're here to help. Get in touch with our Career Services team to prepare and plan for your future profession.
Get in Touch