Friends University's 27th Annual Friends University Jazz Festival runs February 14 and 15, 2020. Below is more information about the featured concert and activities.
All events will take place within Friends University's Riney Fine Arts Center on Feb. 14-15, 2020.
FEBRUARY 14, 2020
Friends University Jazz Ensemble I 
With a guest appearance from Bobby Shew, trumpet
Friday, Feb. 14, 12 p.m.
Sebits Auditorium – Riney Fine Arts Center
Free
Friends University Jazz Vocal Ensemble and Jazz Ensemble II
Featuring Dr. Jordan VanHemert, alto saxophone; Dr. Andy Wheelock, drums; Ben Carrasquillo, trombone; and Adam Larson, tenor saxophone.
Friday, Feb. 14, 7:30 p.m.
Sebits Auditorium – Riney Fine Arts Center
Tickets – Adults: $12,  Students & Seniors: $9
FEBRUARY 15, 2020
Friends University Feature Concert with Bobby Shew, trumpet
Featuring the Friends University Faculty Jazz Quartet and Jazz Ensemble I
Saturday, Feb. 15, 7:30 p.m.
Sebits Auditorium – Riney Fine Arts Center
Tickets – Adults: $16,  Students & Seniors: $12
BIOGRAPHIES
Bobby Shew
Bobby Shew was born in Albuquerque, NM where he started playing guitar at age eight but switched to trumpet at age ten and was asked to play in a local "dance band" for weddings and dance gigs by the age of twelve. This is where Bobby discovered improvisation at his first rehearsal, and the love affair with jazz started there and has become the driving force in Bobby's life.
Shew spent his summers after high school in New York City, listening to the great jazz masters. He attended the first two years of Stan Kenton Summer Jazz Clinics in Bloomington, Indiana in 1959 and 1960 where he was able to study under jazz greats such as Don Jacoby, Conte Candoli, Johnny Richards, Sam Donahue, John LaPorta, Shelly Manne, Russ Garcia,  etc.
Shew then attended University of New Mexico for two years studying Architecture and Commercial Art. He was then drafted into the Army where he was assigned as jazz soloist to Norad Band in Colorado Springs. After service, Shew moved to New York City and joined the Tommy Dorsey Orchestra where he roomed and played with the legendary Charlie Shavers. After Dorsey, he went to Woody Herman, Buddy Rich, Maynard Ferguson, Si Zentner, and Benny Goodman where he settled in Las Vegas for 7 years playing in top show bands in casinos. He toured as lead trumpeter for Elvis Presley, Barbra Streisand, Robert Goulet, Steve Allen, Paul Anka, Connie Stevens, and Tom Jones. In 1972, he moved to Los Angeles and became a first-call studio musician as well as continuing to play on big bands of Bill Holman, Bob Florence, Louie Bellson, Toshiko Akiyoshi, Ed Shaughnessy, Bill Berry, and Nat Pierce-Frank Capp Juggernaut. In addition, Bobby played and recorded with combos of Bud Shank, Horace Silver, Art Pepper, and his own highly regarded quintet and sextet.
Bobby Shew is Co-Designer / developer of SHEW model Yamaha 6310Z & 8310Z trumpets and 6310Z & 8310Z flugelhorns and designer of the SOLOIST mute, Yamaha SHEW series trumpet and flugelhorn mouthpieces, and SHEW series mouthpieces for the Marcinkiewicz Company and for Kelly Mouthpieces ( Lexan  mouthpieces ).
He is also the author of "Etudes and Exercises for Jazz And Classical Player" and "Basic Study Guide for Trumpet. Shew was the Associate Professor of Trumpet at University of Southern California for 11 years, California State in Northridge for 18 years, and California Institute of the Arts for 3 years. He has been the Artist-in-Residence for many groups in Germany, Netherlands, Belgium, Japan, Canada, and Austria.
Bobby Shew was elected into the New Mexico Music Hall Of Fame, received three Grammy nominations, and in 1982 Received Jazz Album of the Year award from RIANZ in New Zealand. In 2014, he was awarded the Lifetime Achievement Award for Performance and Education from the International Trumpet Guild as well as the Lifetime Jazz LeJENd Award from the Jazz Educators Network.  Shew was also awarded an Honorary Doctorate Degree from Elmhurst College in Elmhurst, Illinois.
The Friends University Jazz Vocal Ensemble
The Friends University Jazz Vocal Ensemble is excited to perform at this year's Jazz Festival. This highly talented 12-voice ensemble is celebrating their 11th birthday as an established group. The Jazz Vocal Ensemble is led by director, Dr. Dale Heidebrecht.
The Friends University Ensemble I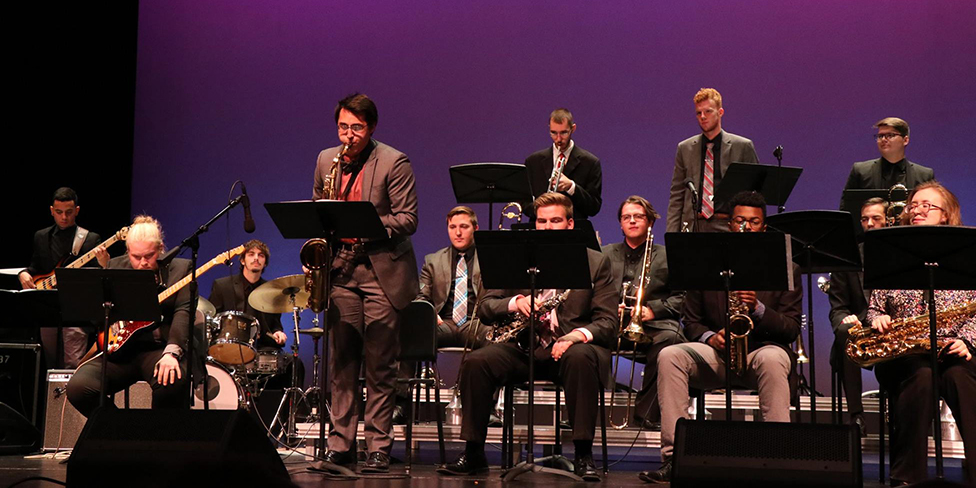 The Friends University Jazz Ensemble I is excited to share the stage with Bobby Shew at this year's Jazz Festival. Jazz Ensemble I is the premier jazz ensemble at Friends University consisting of the best jazz students in the department.