Friends University's 26th Annual Friends University Jazz Festival runs February 15 and 16, 2019. Below are the ticketed events, a full schedule of events and a poster.
Concerts | Poster | Schedule | Bios

MAIN EVENT CONCERT
Featuring The Four Freshmen
Also including the Friends University Alumni Big Band
and the Friends University Jazz Vocal Ensemble
Feb. 16, 2019 at 7:30 p.m.
Crown Uptown Theatre
Tickets: $10-$50
All other daytime events are free and open to the public.
They will take place within Friends University's Riney Fine Arts Center on Feb. 15-16, 2019.
The schedule will posted mid January.
Poster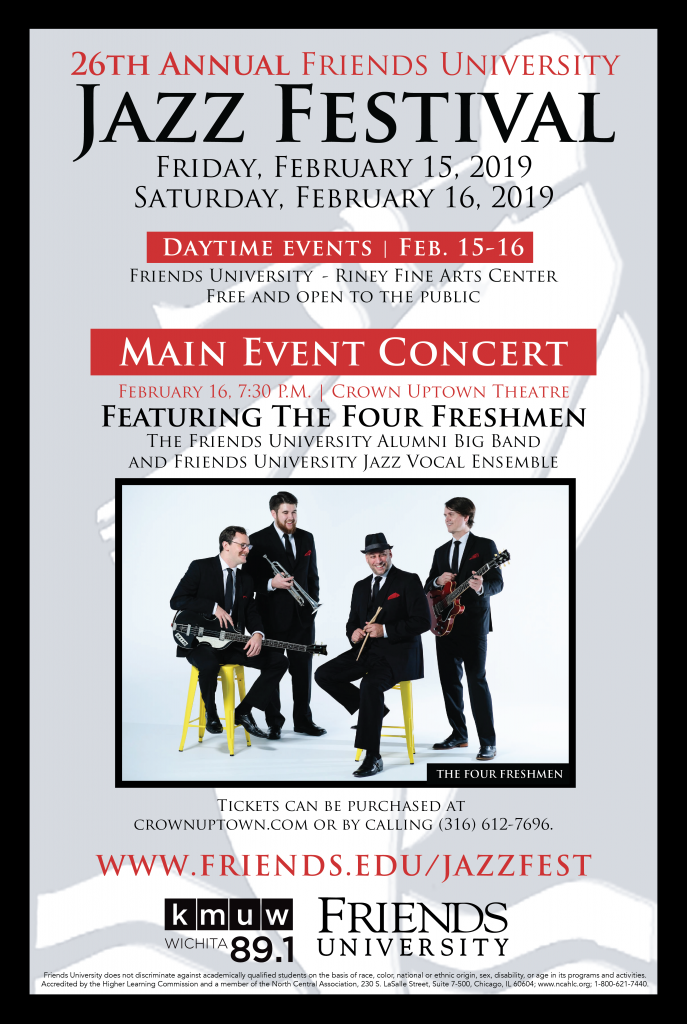 Full Schedule of Events
FRIDAY FEB 15
Time
Sebits Auditorium
Time
Room E-3
Room C-6
8:00-8:45 a.m.
Goddard HS Jazz Ensemble I
8:15-9:00 a.m.
Andover Central HS
Clearwater HS
8:45-9:30 a.m.
Eisenhower HS (Goddard)
9:00-9:45 a.m.
Southeast HS (#1)
Andover Central MS
9:30-10:15 a.m.
Wichita South HS
9:45-10:30 a.m.
Circle HS (Towanda)
Southeast HS (#2)
10:15-11:00 a.m.
Great Bend HS
10:30-11:15 a.m.
Prairie Hills MS #1
Andover Central JV
11:00-11:45 a.m.
Butler HS
11:15 a.m.-Noon
Augusta HS
Prairie Hills MS #2
Noon – 1 p.m.
Concert by Friends University Jazz Ensembles I and II
1:00-1:45 p.m.
Ponca City HS
1:00-1:45 p.m.
Wichita Heights HS
Goddard MS
1:45-2:30 p.m.
Liberal HS
1:45-2:30 p.m.
Robinson MS
2:30-3:15 p.m.
Derby HS
2:30-3:15 p.m.
SATURDAY, FEB 17
Time
Sebits Auditorium
Room E-3
Room C-6
10:00-10:45 a.m.
Nickerson HS
Friends University Wednesday Combo
10:45-11:30 a.m.
Mulvane HS
Friends University Soulstice
Friends University Monday Combo
11:30 a.m. - 12:15 p.m.
HCC #1
Wichita Trinity HS
Comanche MS (Dodge City)
12:30-1:15 p.m.
Concert by Friends University Jazz Ensembles I and II
1:30-2:15 p.m.
Wichita Collegiate HS
Dodge City MS
2:15-3:00 p.m.
Dodge City HS
HCC #2
Bios
Main Event Concert:
The Four Freshmen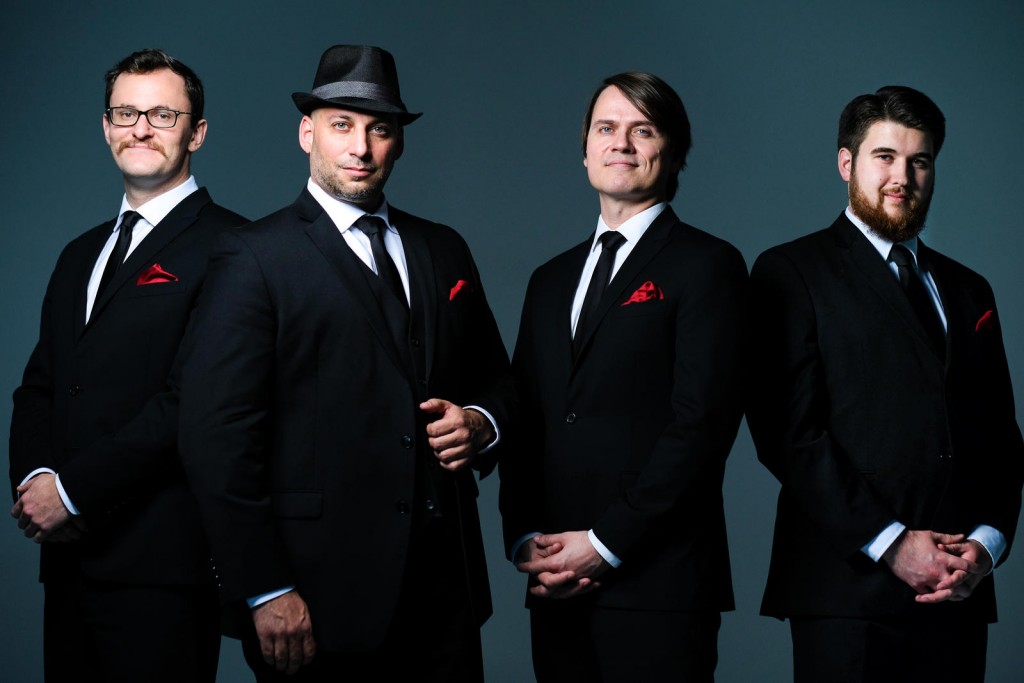 The Four Freshmen are America's most enduring vocal group. From the moment they step on stage The Four Freshmen will get your heart pounding and your feet moving. With pure energy and great songs from the past and present. The Four Freshmen deliver a world of music that will take listeners back to the bygone era of their youth while introducing others to a brand of vocal harmony entertainment unique to the legendary Four Freshmen. A Four Freshmen concert is one you will never forget! One might think that after 69 years, a multitude of recordings, 6 grammy nominations to their credit, they would just ride the wave of success through nostalgic renderings of hits like "It's A Blue World" and "Graduation Day", but you would be sorely mistaken.
One thing The Four Freshmen do as the celebrated vocal group has done since its inception in 1948 has been to forge ahead; constantly redefining their sound  all the while maintaining the core integrity of their unique and innovative vocal harmonies that have inspired such iconic groups as The Manhattan Transfer, The Lettermen, and the legendary Beach Boys. While The Four Freshmen happily pay tribute to the history and evolution of the Freshmen sound by way of performing the hits of their predecessors they are unafraid to break new ground through songs that strike a chord with listeners of any generation. Whether it be a reimagining of such classic standards as "Come Fly With Me" and "Stompin' At the Savoy"; profoundly evocative and energetic interpretations of Antonio Carlos Jobim's seminal hits "The Girl From Ipanema" and "So Danco Samba"; or the introduction of heart-wrenching originals like "A Little While", the listener will be taken on a musical journey via the greatest song writers ever to set pen to paper and four accomplished musicians who, from the stage, exude nothing less than the energy, sincerity, and passion deserving of the great music they perform.
The Friends University Alumni Big Band
Lisa Hittle has been the Director of Jazz Programs at Friends University for 30 years, and will be retiring in May. She is assembling a big band, made up of some of the best players to come out of Friends University during her tenure there. The Friends University Alumni Big Band will be featured on the 2nd half of the program, as well as performing a few tunes to close the concert with the Four Freshmen.
The Friends University Jazz Vocal Ensemble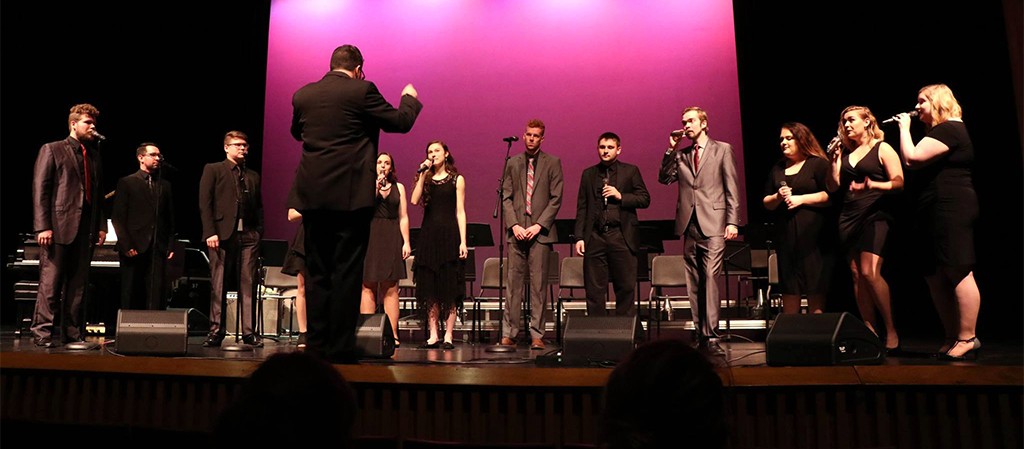 The Friends University Jazz Vocal Ensemble is excited to share the stage with The Four Freshmen at this year's Jazz Festival. This highly talented 12-voice ensemble is celebrating their 10th birthday as an established group. The Jazz Vocal Ensemble, led by well-known director and composer Craig Curry, performs throughout the state and region.