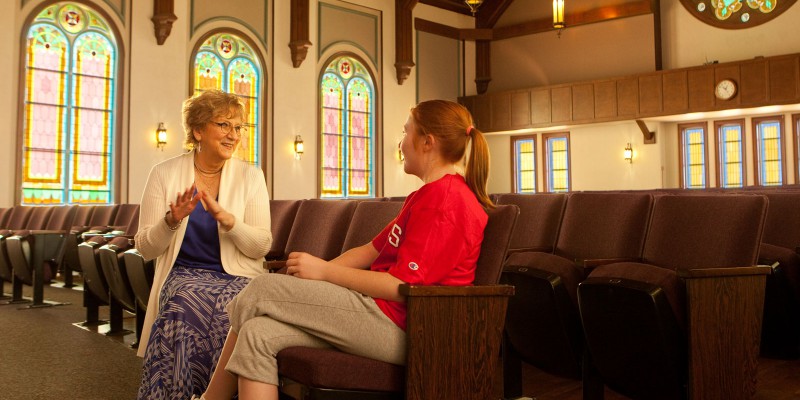 At Campus Ministries, our mission is to build community and growth within Friends University by leading and encouraging students to live transformed lives in the grace of God.
As a student who chooses to be involved in Campus Ministries, we encourage you to re-imagine your faith in the context of your college experience. This means identifying some of your core narratives, learning how to tell your story and considering who you are becoming. We provide an environment for you to lean into God's love and goodness, and grow into the person you want to be as a follower of Jesus.
View the Campus Ministries brochure.
Recharge
Affirming that God is good, we take time to take care of our bodies, minds, hearts and souls.
Repurpose
Looking at the people and world around us, we see through new lenses the beauty in the ordinary.
Reconnect
Believing in the strength of community to heal and transform us, we intentionally build connections with others.
Re-engage
As followers of Jesus, we are invited to participate with God in the world with generosity and hospitality.
Advent
I am pleased to present the second annual Advent Guide for the Friends University community. This is a tradition I bring from my previous work on other campuses, and pray that it will prove to be a meaningful part of your Advent season.
Make sure to download our first 40 days devotional guide for 2018.
Cornerstone
Join students, staff, faculty and the community for intimate times of worship with teaching and student-led worship music. Snacks and time for conversation follow the worship service. Fall 2015 Cornerstone events take place on Sunday evenings at 8 p.m. in the Casado Dining Hall.
Or you can listen to the Cornerstone sermons online at friends.edu/cmblog.
Summer Ministry Team
Learn more about the Summer Ministry Team and how they serve on the Summer Ministry Team page.
Chapel
Chapel is a time for the community to gather for worship, prayer and to explore what it means to be a follower of Jesus. Students, parents, faculty, staff, alumni, friends of the University and the Wichita community are invited to join us on Thursdays from 9:30 to 10:20 a.m. in the Alumni Auditorium of the Davis Administration Building.
Learn more and view a list of events on the Chapel page.
Bible Studies
Reconnect with the Bible and learn how to see the world as God sees it. Contact the Campus Ministries office for study dates and times.
Local Service Projects
Impact the community with service projects like serving Thanksgiving dinner to those in need, and partnering with the Race for Freedom 5K, hosted by ICTSOS, an organization that works to end domestic minor sex trafficking in Wichita.
Mission Trips
Work alongside various outreach programs located in Kansas City that serve those who are homeless, refugees, in poverty or recovering from trauma.
Retreats
Recharge away from campus with a fun time of learning and resting while growing in your faith.
Individual Pastoral Care and Spiritual Direction
Our full-time Campus Chaplain and Campus Ministries staff members provide a safe and supportive environment to help you navigate life's challenges. Regardless of where you are on your faith journey, our doors are open to meet with you to explore and expand your understanding of who God is, how are you, and what you and God are doing together in the world.
Prayer
Have a prayer request? Our Campus Ministries staff is committed to praying for the needs of the campus, and invite you to share your requests with us by emailing prayerrequest@friends.edu.
Campus Ministries is located in Room 214 of the Davis Administration Building. To learn about our various campus and community activities, contact:
Campus Pastor & Dean of Campus Ministries, Guy Chmieleski at guy_chmieleski@friends.edu or 316-295-5488.
Associate Campus Pastor, Haley Alloway, at haley_alloway@friends.edu or 316-295-5746.