2023 Awards
---
Sigma Delta Pi | Aug. 7, 2023
---
2022 Awards
---
MBA Central | July 29, 2022
---
2021 Awards
---
Study.com | May 26, 2021
---
Friends' ranked #7 in Education Survey's 2022 Best Master's in Family Counseling Programs
Education-survey.org | April 28, 2021
---
Intelligent.com | April 28, 2021
---
Intelligent.com | April 20, 2021
---
Homeschoolingparent.com | March 12, 2021
---
Intelligent.com | Feb. 26, 2021
---
Military Friendly Schools | Feb. 18, 2021
---
U.S. News Best Online Programs | Jan. 27, 2021
---
U.S. News | Sept. 15, 2020
---
2020 Awards
Best Value Schools | Dec. 18, 2020
---
Friends University ranked #34 in nation and #1 in Kansas for best Health Care Administration programs
Read the Article | RNtoBSNprogram.com/ | Sept. 1, 2020
---
Niche.com | Aug. 25, 2020
---
Military Friendly | Announced Feb. 11, 2020
---
Intelligent.com | Jan. 16, 2020
Master's in Health Services Degree Programs | Ranked #4
MBA in Healthcare Management Degree Programs | Ranked #4
Cyber Security Degree Programs | Ranked #5
Master's in Healthcare Administration Degree Programs | Ranked #14
MBA Degree Programs | Ranked #24
Master's in Education Degree Programs | Ranked #34
---
USNews.com | Jan. 14, 2020
---
2019 Awards
Onlinecollegeplan.com | Announced Oct. 17, 2019
---
Announced Sept. 11, 2019
---
MBACentral.org | Announced May 15, 2019
---
OnlineMasters.com | Announced Feb. 18, 2019
---
MBACentral.org | Announced Feb. 18, 2019
OnlineMasters.com | Announced Feb. 18, 2019
OnlineMasters.com | Announced Feb. 18, 2019
Military Friendly | Announced Jan. 22, 2019
USNews.com | Jan. 15, 2019
2018 Awards
Intelligent.com | Dec. 6, 2018
OnlineMasters.com | Announced Nov. 7, 2018
---
ValueColleges.com | Oct. 26, 2018
---
Grad School Hub | Announced Oct. 9, 2018
---
Best Value Schools | Announced April 10, 2018
---
The Best Colleges | Announced March 29, 2018
---
Phi Theta Kappa | March 27, 2018
---
ValueColleges.com | Feb. 13, 2018
---
USNews.com | Jan. 10, 2018
---
USNews.com | Jan. 10, 2018
---
2017 Awards
TopMastersInHealthCare.com | Dec. 21, 2017
---
The Best Colleges | Dec. 20, 2017
---
GuideToOnlineSchools.com | Dec. 7, 2017
---
OnlineU.org | Dec. 7, 2017
---
Guide To Online Schools | Oct. 10, 2017
---
OnlineU.org | Oct. 10, 2017
---
The Best Colleges | Announced Aug. 29, 2017
---
OnlineMBAToday | Announced Aug. 23, 2017
---
AffordableColleges.com (Healthcare Management Masters Degrees) | Announced June 28, 2017
---
AffordableColleges.com (HR Management Bachelors Degrees) | Announced June 21, 2017
---
Universities.com | Announced May 9, 2017
---
CollegeChoice.com | Announced May 2, 2017
---
TopCounselingSchools.org | April 18, 2017
---
Onlinecolleges.net | March 9, 2017
---
onlinembatoday.com | Announced March 8, 2017
2016 Awards
Friends University ranked #3 most affordable online master's degree in Supply Chain or Operations Management
Bestcollegevalues.com | April 27, 2016
---
April 4, 2016
---
March 31, 2016
---
Niche.com | Announced Feb. 23, 2016
---
Other Distinctions
A College of Distinction is:
Nationally recognized by education professionals as an excellent school.
Strongly focused on teaching undergraduates.
Home to a wide variety of innovative learning experiences.
An active campus with many opportunities for personal development.
Highly valued by graduate schools and employers for its outstanding preparation.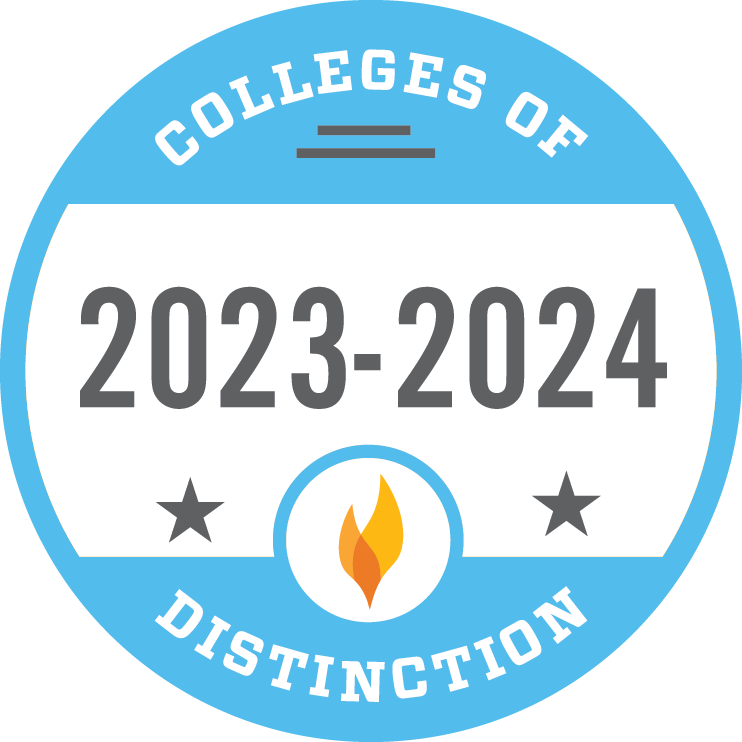 ---
The Council for Christian Colleges & Universities (CCCU) is a higher education association of 180 Christian institutions around the world. The 120 member campuses in North America are all fully accredited, comprehensive colleges and universities with curricula rooted in the arts and sciences.
---
The John N. Gardner Institute is a national leader in efforts to improve undergraduate learning and retention at institutional, regional and national levels. It assists institutions in creating campus-wide collaborative policies, processes and programs that enhance the experience of first-year and transfer students. These enhancements help ensure students' success in their academic and co-curricular pursuits. Friends University is among the four-year universities to participate in the Foundations of Excellence program.