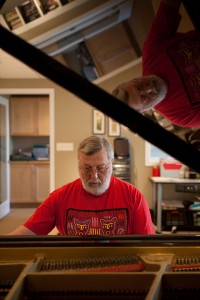 Wichita, Kan. – The Dan Haerle Quintet will take the stage at Friends University Monday, Sept. 25, at 7:30 p.m. in Alumni Auditorium in Davis Administration Building.
Members of the quintet include: Dan Haerle, piano; Bob Bowman, bass; Brad Leali, saxophone; Fred Hamilton, guitar; and Ed Soph, drummer. Haerle, Soph and Hamilton taught in the storied jazz program at the University of North Texas for decades and are joined by legendary bassist Bowman, and Leali, current jazz saxophone teacher at UNT.
Along with a performance in the evening, a master class is open to all Sept. 25 from 2-4 p.m.
"Friends University is honored to have these incredible jazz musicians and educators on our campus for master classes and a performance," said Lisa Hittle, assistant professor or music and director of the jazz program.
Ticket prices are $6 for adults and $3 for students and seniors (60+). The performance will take place in Alumni Auditorium in Davis Administration Building on the Friends University campus at 2100 W. University Ave., Wichita, Kan.
For more information on this event or other Fine Arts events, please contact the Fine Arts Box Office at 316-295-5677 or finearts@friends.edu.
Friends University, a Christian University of Quaker heritage, equips students to honor God and serve others by integrating their intellectual, spiritual and professional lives.