Commencement 2022
Contact Registrar
Commencement for 2022 will take place on Saturday, May 7, 2022 at 2 p.m. at INTRUST Bank Arena in Wichita, Kansas. We've compiled more information about commencement below to help guide you to your big day!
Browse 2022 commencement photo gallery
Dates & Times
Spring 2022 Ceremony
Saturday, May 7, 2022 at 2 p.m.
INTRUST Bank Arena
500 E. Waterman Street
Wichita, Kansas 67202
View the Livestream
Special Accommodations
Graduates need to inform the University Registrar's Office of any special needs they have so proper arrangements can be made to cross the stage and participate in the processional and recessional. Please email registrar@friends.edu with details of any special accommodations needed before May 1.
On-Campus Commencement Celebration
All graduates, family, and friends are invited to attend a celebration on the Friends University campus starting at 10:00 am. This is an opportunity to meet the President, faculty, and staff members and show family and friends around the campus. Take a moment to take your picture in front of Davis Hall too!
Light refreshments will be served in Davis Hall and the Friends Bookstore, located in the Casado Campus Center, will be open to purchase Friends memorabilia and graduation gifts.
More details will be available closer to Commencement.
Ceremony Photography
Graduates will be photographed as they walk across the stage and again after they have received their diploma just off of the stage by GradImages.
There will be a designated photography area for family and friends to take pictures in Section 118.
Order Photography
Photograph proofs and pricing will be emailed to the graduates a few weeks after the event. If you wish to order your photographs over the phone, please call GradImages at 1-800-261-2576, or you can visit their website at www.gradimages.com
Commencement Hooding Ceremonies
Business | Saturday, May 7 in Sebits Auditorium at 9:30 a.m.
Business Administration, MBA
Global Master of Business Administration, GMBA
Health Care Leadership, MHCL
Management Information Systems, MMIS
Strategic Leadership, MSSL
Education | Saturday, May 7 in Alumni Auditorium at 9 a.m.
Master of Education
Marriage and Family Therapy | Kansas City Campus | Friday, July 29 at Heartland Community Church at 7 p.m.
Master of Science in Family Therapy
Marriage and Family Therapy | Wichita Campus | Saturday, July 30 in Sebits Auditorium at 6 p.m.
Master of Science in Family Therapy
Theology and Humanities | No official ceremony but students will be hooded on Saturday, May 7 at INTRUST Bank Arena before the Commencement Ceremony as they line up
Christian Spiritual Formation and Leadership, MACSFL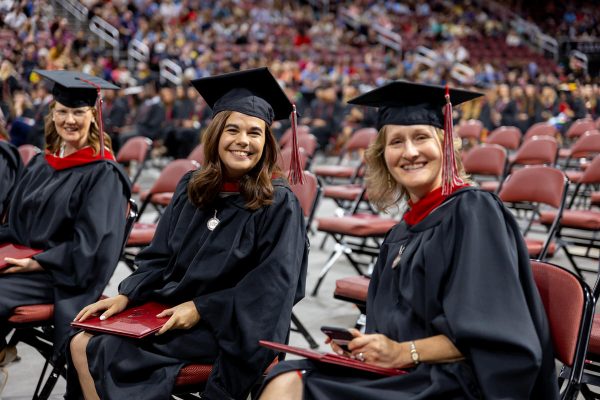 Photos of 2022 Friends University Commencement.