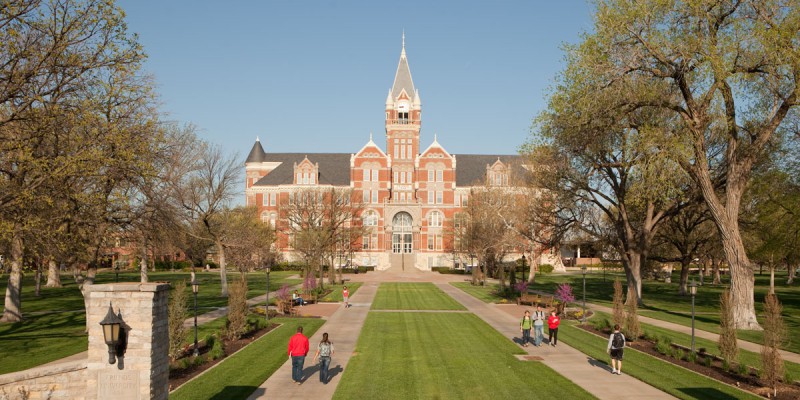 Friends University is pleased to offer 2019 Summer School courses for only $100 a credit hour! These classes will help accelerate your degree plan, will give you early college credits if you are just beginning your college career, and are being offered at an extremely reasonable price!
Please note that financial aid and scholarships are not available for summer school courses. General Education Requirements can be viewed on the General Education page.
Register
To register for summer school courses, visit Self Service Banner if you are a current Friends University student. You should also speak to your advisor.
If you are a new student, please contact our admissions department at  admissions@friends.edu or call 800-577-2233 or 316-295-5100.
Summer School Course Offerings
Below is a list of courses offered for Friends University's 2019 Summer School. Adult undergraduate courses are listed at the bottom.

Course
Cr Hr
Day
Time
Instructor
4 Weeks June 3 to June 28
FLDB 302
Karst Ecosystems **
3
MTWR
9:00 a.m. to 12:00 p.m.
Patrick Matthews
POLS 100
American Government
3
M T W R
9:00 a.m. to 12:00 p.m.
Russell Fox
GRFX 250 *
Photography 1
3
M R On Campus
T W Online
9:00 a.m. to 12:00 p.m.
Shelly Salley
REL 111
New Testament Survey
3
M T W R
9:00 a.m. to 12:00 p.m.
Philip Wood
8 Weeks June 3 to July 26
COMP 201 *
Writing 1
3
Online
Hannah Hornung
COMP 202 *
Writing 2
3
Online
Hannah Hornung
ECON 201 *
Macroeconomics
3
Online
Jim Long
EDUC 251 *
PSYC Applied to Teaching
3
Online
Crystal Pilcher-Archibold
EDUC 251 - PSYCH Applied to Teaching
ENGL 215 *
Introduction to Literature
3
Online
Raylyn Clark
FINA 113 *
Aesthetic Exp Through Drama
3
Online
Kurt Priebe
FINA 110 *
Aesthetic Exp Through Visual Arts
3
Online
Ann Krone
FINC 140 *
Personal Finance
3
Online
Nichole Pendleton
HLSC 210 *
Medical Terminology
3
Online
John Simmons
HPED 494 *
Internship 2
3
Online
Shelly Hoffman
MATH 111 *
College Algebra
3
Online
Joseph Myers
NATS 120 *
Biological Science
3
Online
John Simmons
NATS 120 *
Biological Science LAB
1
Online
John Simmons
PHIL 100 *
Introduction to Philosophy
3
Online
Evan Graber
PHIL 180 *
Introduction to Ethics
3
Online
Jeremy Gallegos
PSYC 100 *
Introduction to Psychology
3
Online
Robyn Haxton
Human Growth & Development
3
Online
Val Wall
PSYC 280 *
Social Psychology
3
Online
Dana Evans
PSYC 212 *
Positive Psychology
3
Online
Dana Evans
PSYC 460 *
Abnormal Psychology
3
Online
Katie Braeuer
PSYC 494
Internship
1-6
TBA
Internship
Bill Allan
REL 223 *
Basic Christian Beliefs
3
Online
Adam Gossman
SOCI 160 *
Social Problems
3
Online
Tor Wynn
SOCI 260 *
Cultural Anthropology
3
Online
Angela Demovic
Adult Undergraduate Courses
Course
Cr Hr
Day
Time
Instructor
1st 8 Weeks May 13 to July 6
CAPS 200 *
Principles & Skills of Adult Learning
3
Online
Michelle Brock
FINA 105 *
Aesthetics of Music
3
Online
Holly Taylor
REL 215 *
Developing a Devotional Life
3
Online
Jacob Allee
2nd 8 Weeks June 3 to July 27
CIS 110 *
Computer Information Systems
3
Online
Mark Boline
IDST 301 *
Colloquium II: Cultural Context
3
Online
Bobby Burcham
* $50 additional for online course
** $150 trip fee