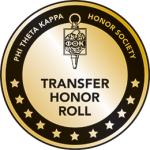 Friends University will accept post-secondary academic work completed for credit at other regionally-accredited institutions and recognized foreign universities. Friends University now accepts associate degrees (AA and AS) from any Kansas, regionally accredited institution as general education fulfillment with the exception of the Faith at Friends course and 6 credits of designated religion courses.
Phi Theta Kappa has recognized Friends University as one of 40 top colleges and universities nationally as members of the inaugural Excellence in Community College Transfer Honor Roll. This honor roll identifies the top four-year colleges and universities for creating dynamic pathways to support community college transfer. The colleges were judged on engagement, collaboration, impact and achievements related to the transfer of community college students as well as partnerships, support, admissions outreach, scholarship/financial aid, student engagement opportunities and institutional priorities. In addition, students who transfer to Friends University from another regionally accredited higher education institution can transfer up to 69 credit hours!
For me, Friends University has been the best investment I have made in my education. The personal growth I have seen in my time spent at Friends is astonishing. I have overcome challenges and obstacles that I would not have been able to if I had not attended Friends University. The community that surrounds this school is something I will never forget, and the relationships that have been built during my attendance here will last a lifetime.

Stacey Cox (transfer student), Bachelor of Science in Accounting
Reverse Transfer
Recognizing reverse transfer as an important element of a collaborative and successful educational system, Kansas community colleges and Friends University work together to assist students to complete coursework for and attain all certificates and degrees for which they are eligible. Kansas community college students who transfer to Friends University may satisfy the requirements for completing their associate degree while attending Friends University. These credits may be transferred back to the community college creating a seamless transfer process for those students.
Transfer Course Articulations
For a full list of transfer course articulations, download the transfer articulations spreadsheet.
General Education Transfer Guides
The links below provide transfer guides for general education requirements for each of the following colleges and academic institutions.
Articulation Agreements
Friends University is very happy to partner with several regional community colleges to accept their associate degrees (AAS, AA, AS, AGS) with junior standing at Friends University in the College of Adult and Professional Studies (CAPS). Some of our articulation agreements are listed on this page. In addition to this, Friends University academic success coaches would be happy to work with the advisors at these community colleges throughout the completion of your associate degree program in preparation for you to transfer to Friends to complete your bachelor's degree. If you are interested in this process, please see our Dual Advising Form for Transfer Students below. If you have any questions on this or whether Friends has a partnership with your community college, please contact us at 316-295-5300 or adultrecruitment@friends.edu.
Dual Advising
The purpose of the dual advising program is to give students enrolled at a community college the opportunity to access academic advising and/or academic success coaching with Friends University staff throughout the completion of their associate's program in preparation for transferring to Friends to complete a bachelor's degree. The goal of the program is to provide a seamless transition for students transferring from partner schools by providing support throughout a students' academic journey.
Process
Students must be enrolled at a partner community college
Students should complete the dual advising application at the time of enrollment at the community college of their choice. Students may complete the dual advising application prior to applying for admission to Friends University. A separate application will be required when students are ready to transfer.
Eligibility
Students must achieve a high school GPA or cumulative college GPA of 2.0 or higher.
Visit the Dual Advising page for more information and complete the form to get started in the dual advising program.