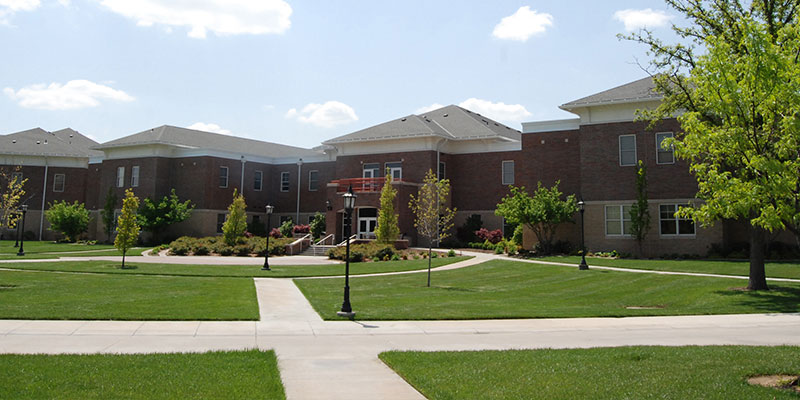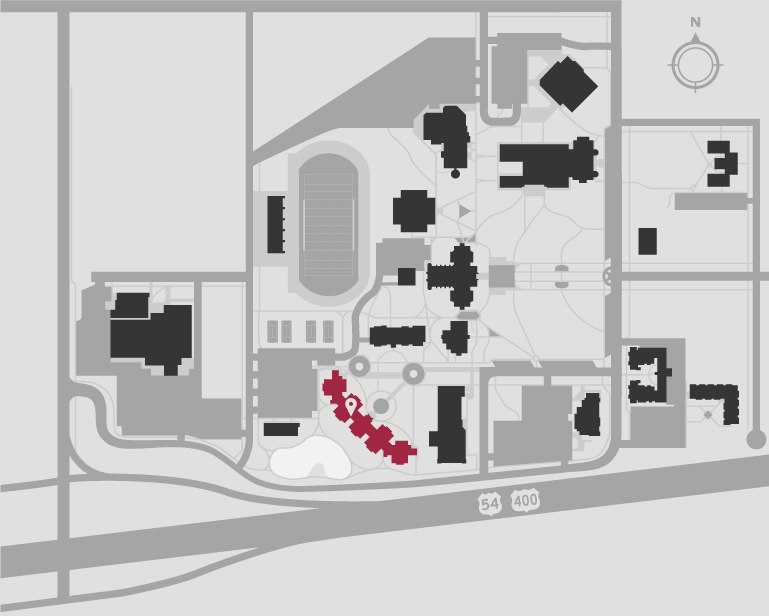 Green Residence Hall
Green Residence Hall's suite-style living facility has 16 three-bedroom suites on each floor, and all suites are fully furnished. Up to two students are assigned to each bedroom, and housing charges are charged individually to each person living in the suite. The Green Residence Hall contract is for the academic year and closes during certain school breaks and for the summer. Many programming activities are scheduled throughout the year including a Luau, Lip Sync Battles, Christmas Coffeehouse and a Block Party.
For the safety of our residents, all suites are equipped with a card-scanning system (in place of a traditional key-entry system). The building's exterior side doors remain locked at all times, as do the individual suites. Visitors are only admitted if accompanied by a resident, and the beautiful campus (including parking lots) is extremely well-lit.
Costs
Room
$2,390 per semester/person (Fall 2023/Spring 2024), includes electric, gas, water, garbage and Internet.
Meal Plan
All resident students are required to purchase a meal plan for dining on campus. Get more information about meal plans.
Billing
Green Residence Hall occupancy is charged individually. Thus, each resident is responsible for a payment plan, which lasts from the official move-in day in August through the official move-out day in May. Billing is set once at the beginning of the fall semester and once at the beginning of the spring semester. A student may pay the bill with one payment or, for a small fee, may make monthly payments in the Student Account Services office.
Features
Vinyl flooring in the kitchen
Blinds on all windows
Individual suite heating and air conditioning controls
Spacious closets
All-electric kitchens which feature a microwave, refrigerator and garbage disposal
Laundry facilities on each floor
Individual and centrally-located mailboxes
Roommates
Roommates are first assigned based on requests from the residents. If a resident has no preference, Residence Life will assign roommates based on factors of roommate compatibility.
Green Residence Hall is divided into 32 suites. A suite includes three bedrooms, two bathrooms, a living room and a kitchen, which includes a microwave and a full-sized refrigerator. Up to six individuals live in each suite, with two in each bedroom.
Green Hall is co-ed, however, female residents live on one floor of the building and male residents live on the other floor.
Furnishings and Decor
You may decorate your room in any way you like as long as your decorations conform to Community Life Standards and housing guidelines and do not damage any part of the apartment. Nails or anything else that may damage the walls are not allowed.
Furniture is provided in Green Residence Hall. Suite furniture includes:
6 beds with twin XL mattresses (80 inches long)
6 dressers
6 bookcases
6 desks
1 three-seat sofa
2 living room chairs
1 end table
1 kitchen table
4 kitchen chairs
1 microwave
1 refrigerator
Mailing Address
710 S. Saint Clair
Suite or Box #
Wichita, KS 67213