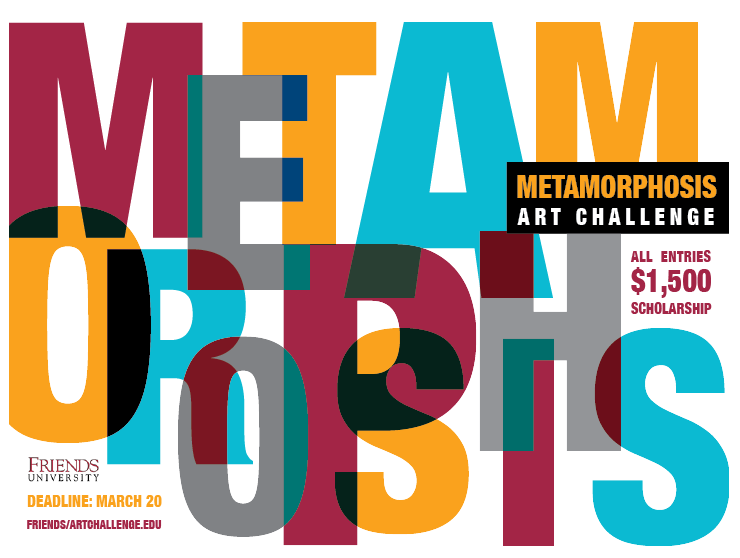 Friends University Art Challenge –2022
Metamorphosis: The Art of Transformation
As artists and individuals, we are in a constant state of transformation. Our lives continue to shift and evolve with every season, and the work we make tends to mirror these changes. For many of us, our art is a reflection of the lives we live, and often serves as a deeper extension of ourselves. Through art, we are able to visually communicate our transformative states of being.
Art Challenge this year will center on this theme through a juried art competition as well as creative in-class workshops brought to schools. Winners of the competition will be awarded Friends University scholarships of up to $8,000. All entries will be awarded $1,500 visual art scholarship.
Important Dates
March 20: Deadline for competition/exhibit entries. Upload a digital file of your entree to padlet.com/FriendsU.
April 20: Announce category winners by email and social media to both artist and teacher.
May 20: Deadline for original artwork of winners to be displayed in First Friday gallery show. Artwork must be exhibit quality with title card info: name, school, title, medium and date.
June 3: First Friday Art opening for exhibit. Winning pieces will be on display. Anyone can bring their portfolio to the opening and get free review by a Friends University art faculty member as well as a t-shirt and scholarship offer.
Contact
To schedule a workshop, questions or for more information please contact:
Donalyn Manion
Visiting Assistant Professor of Graphic Arts; Interim Program Director of Visual Arts
316-644-5994 (C) • 316-295-5646 (O)
donalyn_manion@friends.edu