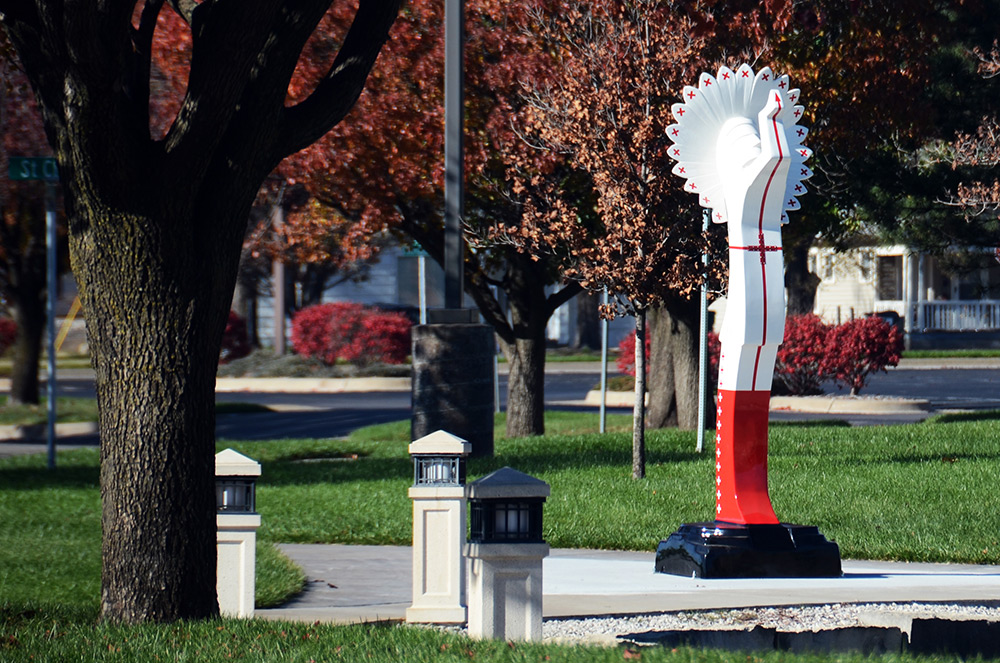 Friends University is pleased to announce the addition of a ten-foot tall fiberglass replica of the Keeper of the Plains. Friends University staff installed the statue on the south side of the campus Monday, Nov. 28, 2016, in connection with the Together Wichita project. Located north of Kellogg and east of Meridian, the statue can be seen from Kellogg.
The Keepers on Parade is a project of Together Wichita, a community-wide initiative comprised of businesses and organizations that showcase what makes Wichita special. Friends University's replica Keeper on Parade is the 19th Keeper installed around the city.
Steve Atwood, former adjunct professor at Friends University, designed and painted the exterior of the replica with assistance from Friends University's art students. Atwood's inspiration for the artwork came from the iconography of Native American tribes. He stenciled a variety of Native American tribal symbols onto the surface of the Keeper.
"Friends University is thrilled to have this statue on our campus," said Dr. Amy Bragg Carey, president of Friends University. "In addition to the Keeper contributing to the beauty and culture of Wichita, the Keeper reflects the legacy of Friends University as a dynamic and inclusive community. The title of our statue, 'Crossing Paths,' is particularly meaningful as it refers to both the crossing of paths between the region's original citizens and Wichita's later inhabitants and also the crossing of paths between our students and the mentors and educators on our campus. It is a fitting symbol of the paths of the many people who come together at Friends University."
Friends University, a Christian university of Quaker heritage, equips students to honor God and serve others by integrating their intellectual, spiritual and professional lives.