Wichita, Kan. – The Friends University Jazz Program is proud to present Kelley Hunt in concert, along with the university's Jazz Vocal Ensemble and Jazz Big Band. The performance will take place on Monday, Oct. 23, at 7:30 p.m. in Sebits Auditorium in Riney Fine Arts Center.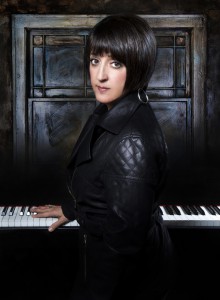 "Kelley Hunt has been a favorite musical artist on the Midwest scene for decades," said Lisa Hittle, assistant professor or music and director of the jazz program. "Her style combines her talents as a singer, songwriter and pianist with her love for blues, R and B and soul music.
Hunt will play a solo set, followed by several of her original songs set to jazz arrangements by Craig Curry, professor of vocal jazz, and others. For more information about Hunt, please visit www.kelleyhunt.com.
Ticket prices are $15 for adults and $12 for students and seniors (60+). The performance will take place in Sebits Auditorium in Riney Fine Arts Center on the Friends University campus at 2100 W. University Ave., Wichita, Kan.
For more information on this event or other Fine Arts events, please contact the Fine Arts Box Office at 316-295-5677 or finearts@friends.edu.
Friends University, a Christian University of Quaker heritage, equips students to honor God and serve others by integrating their intellectual, spiritual and professional lives.