Coronavirus (COVID-19)
This webpage has been established to act as the main location to update our Friends University community of any changes or pertinent information you need to know. It can be accessed at www.friends.edu/coronavirus. We encourage you to share this page and check it daily.
Below is a list of important information related to Friends University's COVID-19 response:
Older COVID-19 related news can be found on the COVID-19 news archive page.
For students who need ADA services, please view our ADA information below.
Take the Falcon Pledge to protect yourself and others and help stop the spread of COVID-19.
COVID-19 Statistics Dashboard
Statistics are updated every Friday. Current numbers are as of Oct. 23, 2020.
Positive Case Statistics
Students
Staff & Faculty
Current Positive Cases
44
2
Total Positive Cases*
57
6
Quarantine Statistics
Students
Staff & Faculty
Current Quarantines
196
10
Total Quarantines*
303
39
*Total positive cases and total quarantine statistics since August 12, 2020.
Travel Restrictions & Mandates
Friends University students, faculty and staff will adhere to new KDHE travel mandates
KDHE has issued the following new guidelines regarding travel for individuals who have traveled on or after March 15 to hot-spot locations. These individuals are mandated to follow the 14-day home quarantine procedures. Friends University students, faculty or staff who have traveled to the wide-spread COVID-19 areas will not be allowed on campus or in residence halls until the 14-day quarantine has been completed. In the event a student is in quarantine during the specified move out days, they can contact Residence Life at reslife@friends.edu to schedule an alternative time to retrieve their belongings.
The following locations are considered hot-spot areas and require the 14-day quarantine:
Travel to or from North Dakota on or after October 21.
Travel to or from the country of Andorra on or after October 21.
Attendance at any out-of-state mass gatherings of 500 or more where you did not socially distance (6 feet) and wear a mask. Mass gatherings are defined as any event or convening that brings together 500 or more persons in a single room or space at the same time such as an auditorium, stadium, arena, large conference room, meeting hall, theater or any other confined indoor or outdoor space. This includes parades, fairs and festivals. Mass gatherings does not include normal operations of airports, bus and train stations, medical facilities, libraries, shopping malls and centers, or other spaces where 500 or more persons may be in transit. It also does not include typical office environments, schools, restaurants, factories or retail/grocery stores where large numbers of people are present, but it is unusual for them to be within 6 feet of one another for more than 10 minutes.
Traveled on a cruise ship or river cruise on or after March 15.
International travelers from other countries will need to follow CDC re-entry protocol and subsequent quarantine guidance upon entry into the U.S. and Kansas. For more information on KDHE travel regulations and proper quarantine procedures, visit https://www.coronavirus.kdheks.gov/175/Travel-Exposure-Related-Isolation-Quaran.
Helpful Videos:
Helpful CDC Guidelines:
What to do if you are sick
Classroom guidelines and mask policy will be provided soon.
NAIA Guidelines and Recommendations
The NAIA released guidelines for fall sports returning to play. Visit https://www.naia.org/covid19/files/Fall_2020_Guidelines_7.10.20_v2.pdf for more information.
Important COVID-19 Updates
Oct 20, 2021 Covid Updates
Dear Students,
As of Oct. 20, 2020, we have been notified of one Friends University employee and 32 students who have tested positive for coronavirus that causes COVID-19. Individuals determined to be a close contact with any of these individuals have been notified if they need to be quarantined. In addition, we have over 150 students who are currently in quarantine and eight faculty/staff awaiting test results or in quarantine as well. If you do not receive a notification from Mike Witherspoon or the Sedgwick County Health Department, you are not being asked to quarantine at this time, nor does anyone in your household need to quarantine.
We are asking students who have tested positive and those in quarantine to attend class virtually. The increase in positive cases on campus serves as a reminder to follow the recommendations to help stop the spread of the virus. It is imperative that you stay home if you aren't feeling well, wear masks, and stay 6 feet apart. If you have concerns about being on campus, please talk to your professors.
What happens on campus because of the positive tests?
The Covid Response team will decide next steps with the Sedgwick County Health Department
All people on campus who are identified as close contacts will be contacted with specific quarantine instructions.
Students who are asked to quarantine will need to complete their academic work online or via zoom. These students need to notify their instructors and work out a plan to attend class remotely using one of these options.
Physical Plant shall clean and disinfect the areas of possible infection.
Individuals testing positive will not be allowed to return to campus for at least 10 days, or are clear of symptoms for at least 72 hours, whichever is longer.
How can I help stop the spread of COVID-19?
Wear a face mask
Maintain social distancing – 6 feet apart
Wash hands often with soap and water for at least 20 seconds
Use hand sanitizer with at least 60% alcohol if soap and water is not available
Stay home from school and social activities when you are sick or waiting for results of a COVID-19 test
Avoid close contact with people who are sick
If you have been identified as a household contact or close contact of a confirmed COVID case, please stay home and quarantine as directed
What are possible symptoms of COVID-19?
Cough
Shortness of breath or difficulty breathing
Fever of 100.4F or greater
Chills or shivering
Muscle or body aches
Headache
Sore throat
New loss of taste or smell
Diarrhea
Fatigue or feeling more tired than normal
If you, a family member, or a roommate develop symptoms, call your healthcare provider or the Sedgwick County Health Department at 316-660-7300. You can also call 2-1-1 to find a COVID testing site, and access additional COVID information online at https://www.sedgwickcounty.org/covid-19/covid-19-faqs-for-the-general-public/.
We are closely monitoring these situations and will provide you with updates as we know more. If you have any questions, please do not hesitate to contact me.
Guy Chmieleski
Oct. 12, 2020 Important Fall Semester Information and Dates
Dear Students:
Fall break is nearly here and we are thankful for the blessings the fall semester has brought thus far. As we approach the upcoming breaks and holidays, we would like to share some important information and dates with you.
For students who are traveling outside of the Wichita metropolitan area for the Thanksgiving holiday, we strongly encourage you to conclude the remainder of the semester, including one week of classes and finals week, in a remote format. We feel this is one way students and families can help continue to combat the spread of COVID-19 at Friends University.
Friends University offices and campus services will still be open and in-person classes will resume on Nov. 30 after the Thanksgiving holiday for students who did not travel outside the metro area or students who are required to be on campus. Food service will also remain open and available after the Thanksgiving break. Students such as athletes, student workers and international students who need to return to campus may do so. Please see your coach or supervisor if you have specific questions or concerns.
We appreciate the diligence of our Friends community for helping to keep our positive COVID cases low and our community safe, but we are not through COVID-19 yet. Please continue to be vigilant at fall break (Oct. 15-16), Thanksgiving break (Nov. 25-27) and during the Christmas holiday season (Dec. 12 – Jan. 10), as you interact with family and friends. Remember to wear your mask, practice social distancing protocols, wash your hands, and follow all other CDC safety guidelines.
We are looking ahead to the spring semester and will continue with the 2020-2021 Academic Calendar with classes resuming on Jan. 11, 2021. Let us continue to pray for God's blessing and protection for our Friends community as we finish the fall semester.
Sincerely,
Guy Chmieleski, D.Min
Vice President of Student Affairs and Dean of Campus Ministries
Friends University
Sept. 23, 2020 Center on Family Living
Beginning Monday, October 5th we will resume offering on ground therapy services. We will also continue to offer telemental health sessions to existing and new clients currently living in the state of Kansas. Sessions will be conducted using video through Zoom. In order to access Zoom, clients will need a smart phone, tablet, laptop or computer.
Students interested in on ground or telemental health services may go to the Center on Family Living webpage (insert this link https://www.friends.edu/cfl for the underlined words) to request services or call (316) 295-5638.
Students may also contact 2-1-1 for a current list of mental health resources or the main line at Comcare of Sedgwick County at (316) 660-7700. Employees may contact EMPAC at (316) 265-9922.
Sept. 18, 2020 COVID Update
Friends Students and Parents,
We hope this message finds you and your families doing well and keeping safe.
It's now about two weeks after the Labor Day weekend and we thought it was time to give you a quick Covid update regarding the virus on our campus. Once again, we continue to be pleased with how most of our students continue to wear masks, social distance, wash their hands and take our daily symptom checker.
Currently, throughout the entire Friends University community (students, faculty and staff) we have thirteen people in quarantine and two positive test cases. Contact tracing has taken place and anyone needing to quarantine has been notified and is included in these numbers.
Students – Do not let up! You are doing a great job with the daily symptom tracker and this needs to continue. Please, please disclose any symptoms through the tracker so we can continue to protect each other and help keep Friends University safe from the spread of this virus.
Here once again is the Pledge we have asked our community to live by. We love having you on our campus and with continued efforts from all of us, we will be able to learn, serve and grow together throughout the year.
We pray for your safety and for God's blessings and protection to surround all of us here at Friends University.
Have a great weekend!

Guy Chmieleski, D.Min.
Vice President of Student Affairs and Dean of Campus Ministries
Friends University
Sept. 9, 2020 Testing for COVID – Flow Chart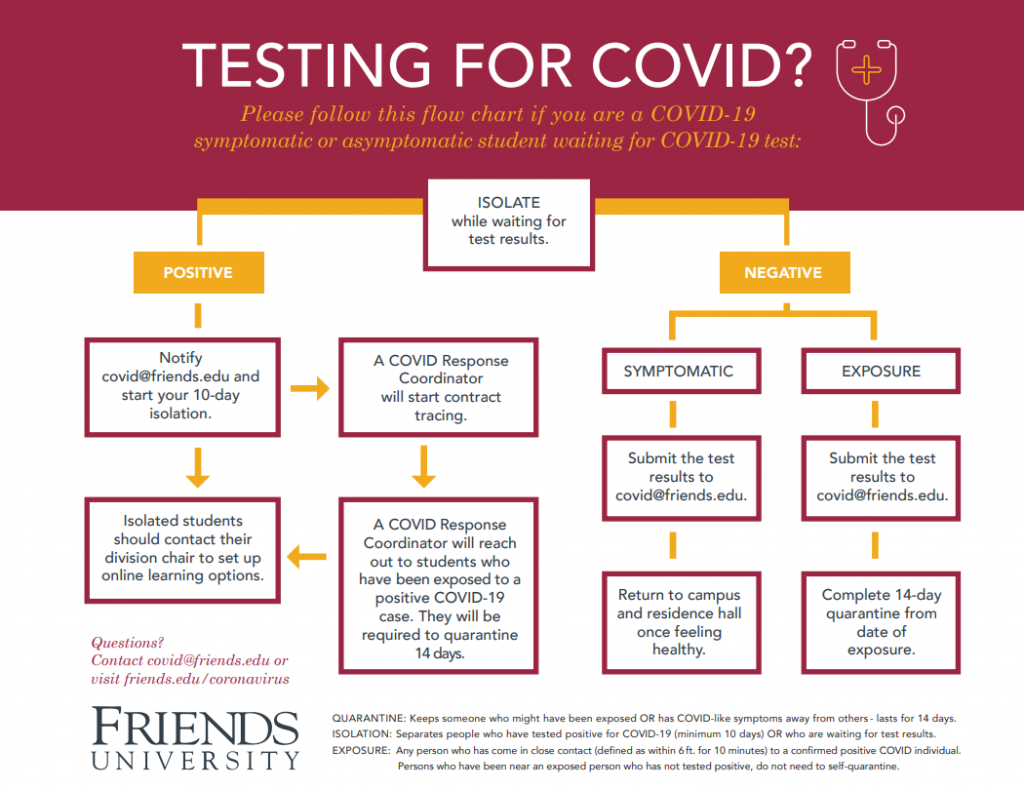 Students!
Please find attached a flow chart related to testing for COVID.
We continue to be encouraged by our numbers on campus, as well as all who are wearing masks and social distancing!
Should you find yourself feeling ill, in quarantine, needing a ride to a test, or needing to report a list of close contacts who may have been exposed to a positive test case – please reach out to Mike Witherspoon, from our COVID Response Team, at COVID@friends.edu or 316-295-5289.
Thanks,
Guy Chmieleski, D.Min.
Vice President of Student Affairs and Dean of Campus Ministries
Friends University
Aug. 28, 2020 COVID-19 Week 2 Update
Friends Students and Parents,
It is already the end of the second week of class here at Friends University and overall, we are very pleased with how our students are being vigilant with our required Covid-19 mitigation procedures of wearing masks, social distancing, washing hands, and taking our daily symptom checker. Since this is a very fluid situation, we think it's time to give you a more specific update regarding this virus.
Three Friends University students are currently in isolation after testing positive for Covid-19 and contact tracking has taken place. Due to this and also due to Covid exposure off-campus, we currently have 24 students in quarantine. As a reminder, if anyone tests positive at Friends (whether asymptomatic or symptomatic), they will isolate and contact our Covid-19 Response Team so contact tracing may begin. Our faculty will also work to make sure students are able to keep up with their assignments. At this time, we can quarantine all exposed students on campus. Meals are being delivered to them and they are being checked on daily. We have spent months working on our Covid-19 mitigation procedures and these protocols are now being implemented. We are thankful to the Lord for his protection and ask you to pray with us for our students in isolation or quarantine.
Now is the time to "double-down" on our own Covid-19 mitigation procedures. Students – Please be honest when filling out your daily symptom tracker. It is much better to disclose any symptoms you may have rather than hide this and risk infecting others besides yourself. And certainly, you may have symptoms that are NOT related to Covid-19. Remember, we all took a Pledge at the beginning of the year to "do my part and take responsibility for my own health, the protection of others and help keep the Friends community safe from the spread of Covid-19…"
Friends University is an amazing community of students, faculty and staff. Let's continue to work together, take care of each other and pray that the Lord will continue to walk with us and protect us during this time of pandemic.
Guy Chmieleski, D.Min.
Vice President of Student Affairs and Dean of Campus Ministries
Friends University
Aug. 6, 2020 Athletics Safety Guidelines and Policies Update
Coaches and Student-Athletes,
We will welcome fall athletes to campus in one week. We are excited to begin the new year and to have students back on campus. The purpose of this letter is to give an update of the recent NAIA and KCAC decisions and to inform you of institutional policies that will need to be followed to have a successful return to play.
We want to reiterate that we understand individuals have different levels of comfort with returning to school and participating in athletics. Any student-athlete that wishes to opt out of competition due to health concerns but wants to remain a student at Friends University will be allowed to retain their athletic scholarship.
Last week, the NAIA announced that all fall sports championships are moved to the spring. They are allowing conferences to have autonomy determining schedules for the fall. Currently, the KCAC Board of Presidents has asked our KCAC COVID Task Force to present options of playing a normal schedule in the fall and splitting the schedule between the fall and spring. We anticipate a decision being made within the next week.
Internally, we have developed numerous policies and protocols to develop as safe an environment as possible. All Friends University updates can be found at www.friends.edu/coronavirus.
Within athletics, we will be following all policies and procedures that are required of us. This includes, but is not limited to, city, county, state, KCAC, NAIA, and Friends University policies. The KCAC has released return to play protocols that were developed by the KCAC COVID Task Force in partnership with the KCAC Athletic Trainers. They have approval by the KCAC Board of Presidents and can be found at:
https://www.kcacsports.com/covid19-information
Within athletics, there are six basic guidelines that must be followed for us to have a successful year. They are as follows:
Complete the Athletic Training Software Symptom Checker every day beginning no later than August 7, 2020.
Masks are required on campus and in the Garvey Building.
Maintain social distancing whenever possible.
Wear masks until practice starts. There may be times during practice when masks are appropriate.
Enhanced cleaning protocols will continue.
Athletics will follow all Friends University, federal, state of Kansas, Sedgwick County, KCAC, and NAIA guidelines. www.friendsathletics.com 2100 West University Avenue Wichita, KS 67213 (316) 295-5700 Fax (316) 295-5030
Completing the daily symptom checker is essential to having a successful fall. It will be done through the Athletic Training Software. Coaches and our Athletic Training Staff have sent out information on how to sign up. All student-athletes, coaches and athletic staff should begin recording daily symptom checks no later than Friday, Aug. 7, 2020. Failure to begin completing the symptom checker by this date may result in not being allowed to practice.
In the event of a report of a positive test, we will follow guidelines provided by Friends University, the state of Kansas, Sedgwick County, and the KCAC. If these guidelines conflict, we will follow whatever guidelines are the strictest. Friends University is also providing a telehealth service to students with the cost covered by the University.
At this point, we are planning on having fans at games, but it will likely be limited due to county guidelines. However, we are not going to make an official decision yet as games do not start for another month and things can change.
During your first team meeting and new student-athlete orientation, we will have COVID educational sessions to discuss these policies in more depth. It will take all of us being accountable to one another and these policies to have a successful year.
Sincerely,
Dr. Rob Ramseyer
Athletic Director
Friends University
Aug. 3, 2020 Guidelines for Reporting Positive COVID-19 Test
Goals
Keep people physically safe.
Keep students academically safe.
Student reports having a positive Covid 19 test. Asymptomatic or symptomatic
Faculty member reports having a positive Covid 19 test. Asymptomatic or symptomatic
Staff member reports having Covid 19. Asymptomatic or symptomatic
In some cases, you may be contacted by HR if they determine that you were in close contact with a person who tested positive for Covid 19. Close contact is defined as being within 6 feet for more than 10 minutes, with or without a mask.
ADA Services
In compliance with Section 504 of the Rehabilitation Act of 1973 and the ADA Amendments Act of 2008, Friends University does not exclude otherwise qualified persons with disabilities solely by reason of the disability from participating in university programs and activities, nor are persons with disabilities denied the benefits of these programs or subjected to discrimination.
It is the responsibility of the student to bring to the university's attention the need for accommodation due to a qualifying disability. Requests for accommodation should be made to the Academic Resource Center. The Academic Resource Center will assist students in their request for accommodations and help them obtain other necessary support services. Once proper information has been received, the Academic Resource Center will notify appropriate faculty and/or staff of the student's specific requests. The Academic Resource Center will also make arrangements with outside agencies for any services needed (i.e., interpreters, audio books, etc.). An updated disclosure release form is required each academic term in order for new faculty and/or staff to be contacted regarding the student's requested accommodations. In addition, an updated application is required in order to meet any accommodation changes.