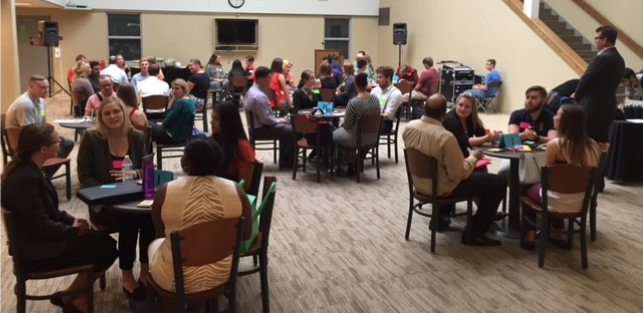 Pathway to Profession
Your professional career starts here! The Career Services Office provides students and alumni of Friends University with information, tools and resources to explore career pathways and the steps needed to achieve your career goals. Maximize your future with assistance from the Career Services team!
The office offers various career assessments, which can be administered both online and on campus. Assistance with resume writing, interview skills and networking is available. The center also maintains an online job posting system, which allows individuals to access job opportunities that have been posted with our institution by a multitude of employers.
Visit www.collegecentral.com/friends


Calendar of Events
Download a calendar of the 2017-2018 Career Services events.
Upcoming Events:
August 23rd: Ice Cream Social
September 7th: First Impressions Workshop
September 14th: Business & IT Career Fair

September 27th: Koch Internship Interview Day
October 18th: Networking Event
November 14th: Gaining Experience 101 Workshop
Career Planning
Identifying your values and interests can help you find a career area that is both lucrative and fulfilling. The following can assist you in finding your way through the career search process.
Individual Career Counseling
Sometimes you just need to talk to an expert! Whether your concern is about choosing a major, finding a job or internship, creating a resume or learning interview etiquette – we can help you.
Career Plans
It is much easier to reach your career goals if you have a plan! Let Career Services help you put together a plan that allows you to take small steps each semester or term, making your career goals much more attainable. Everyone's career path is going to be different, and your plan will be personalized to fit your skills, experience, goals, and schedule.
What Can I Do With This Major?
Explore multiple majors, search for information about your chosen field and connect majors to careers at What Can I Do With This Major. You will also find information about the typical career areas and the types of employers that hire people with each major, as well as strategies to make you a more marketable candidate.
Career Assessments
Career assessments are designed to assist individuals in deciding on a major, career or other vocational paths, and are available at no charge to Friends University students, alumni and staff members.
To begin a career assessment, contact the Career Services office, or take the Focus 2 Online Career Assessment by following these instructions.
If this is your first time to the site, you will need to create an account by clicking on the "Create An Account" tab in the top menu bar.
The access code is Falcons.
Your status is your intended graduation year.
Please use the e-mail address that you check often (does not have to be an @student.friends.edu address).
Take all five "Self Assessment" questionnaires. After each one, return to the main menu.
Then contact Career Services to schedule an appointment to review your results with a career counselor.
Career Preparation
Several resources are available to Friends students and alumni to assist with developing a resume, writing a cover letter, preparing for interviews and learning how to establish a professional network.
Freddy Falcon's Career Toolkit is one such resource that offers a variety of information and guidance from choosing a major to nailing the interview.
Resumes and Cover Letters
Developing a cover letter and resume that is clear and concise can be challenging. When sending a cover letter and resume to a company, the documents need to be tailored so that only relevant information is shared. The Career Services office recognizes the difficulty in creating a cover letter and resume that market all the experience and skills of an individual. Therefore, the center has developed the following resources and samples to create a resume that is effective. Check out the Resume and Cover Letter Tips in "Freddy Falcon's Career Tool Kit."
Interview Preparation
Interviewing for employment can be a stressful and difficult process, especially if one has never interviewed or has not interviewed for a few years. Check out the Interview Tips in "Freddy Falcon's Career Tool Kit."
Mock Interviews
Once students and alumni are ready to put their interviewing skills to the test, the Career Services office offers mock interviews both online and in-person sessions. If you are interested in an in-person mock interview, contact Career Services to set up a date and time. Within the confines of a simulated interview, our staff members can develop and ask real interview questions and then offer critiques.
If you are interested in a virtual mock interview, we offer a free training system that features a new and innovative way to help you prepare more effectively for a job interview. Big Interview is an online system that combines training AND practice to help improve your interview technique and build your confidence.
You have at your disposal a variety of tools including:
Challenging, virtual mock interviews for all experience levels and dozens of industries
A database of thousands of interview questions with tips on how to answer them
The ability to rate and share your interview answers for feedback
A comprehensive video training curriculum covering all aspects of landing a job
A step-by-step interview Answer Builder for crafting answers to behavioral questions
How To Register
Students:
Step 1: Go to friends.biginterview.com and click "Register".
Step 2: Complete the registration process. Students must use their Friends email address.
Step 3: You will receive a confirmation email for your registration, click "Verify" in the email and you will be able to start using Big Interview.
Alumni:
Step 1: Go to friendsalumni.biginterview.com and click "Register".
Step 2: Enter organization code 0561
Step 3: Complete the registration process.
Step 4: You will receive a confirmation email for your registration, click "Verify" in the email and you will be able to start using Big Interview.
If you have any trouble with your registration, please contact Career Services. You can also access the Big Interview Help Center for technical assistance.
Career Fairs, Workshop & Networking Events
The Career Services office provides workshops on career related topics, such as interviewing, networking, and resume and cover letter writing.  Fall 2017/Spring 2018 event schedule will be posted soon.
Internship & Job Search Assistance
Whether you are looking for an internship for college credit or just for the experience, Career Services can assist you in finding internship connections and resources to help you build marketable skills and gain professional work experience before and after graduation.
The Career Services office works to develop relationships with employers that will assist Friends University students and alumni in finding a great career fit. While Career Services does not provide job placement services, we do assist in creating opportunities for our constituents to dialogue with employers. Some of the services that are provided in the area of employer relations are listed below.
Career fairs and networking events to meet and network with potential employers and area professionals.
Employer visits to campus for interviews and recruiting tables.
Job postings are available to students and alumni through our online job database at Career Services Central.
Student Guide to Landing a Job
The Best Colleges Student Guide to Landing a Job walks novices through the best practices for applying for a professional job or internship, including: how to make the most of an internship opportunity, what to include on a resume, how to prepare for and have a successful interview, and a timeline for following up after an interview, including a checklist of action items.
Employer Resources
A large part of the education Friends University students receive is focused on putting newfound knowledge and skills to use in the workforce. This is one reason our students and alumni are excellent candidates for employment in a wide variety of industries.
We know it can be difficult to find the right candidates, which is why we offer a free service called Career Services Central where employers can post open part-time, full-time, internship or temporary/seasonal positions and students and alumni can search for positions that match their skills.
On-campus interview days also are available to be coordinated with the Career Services office. This is a great way for employers to meet with many of our exceptional candidates in one afternoon or day and select an individual that is the best fit for your organization.
Online Resources
CAREER ADVICE:
Best Careers for Biology Majors – http://www.bestcolleges.com/careers/biology-majors/
Career Magazine – http://www.careermag.com/
Career Resource Center – http://www.careers.org/
JIST Works, Inc. – http://jist.emcpublishingllc.com/page-jist/
Learn How to Become Job Search &  Career Resource Center:
http://www.learnhowtobecome.org
http://www.learnhowtobecome.org/career-resource-center/
The College Student's Guide to Pre-Professional Psychology Opportunities: http://www.learnpsychology.org/pre-professional-experience/
The Riley Guide: Employment Opportunities and Job Resources on the Internet – http://college.monster.com/?wt.mc_n=monstertrak
GRADUATE SCHOOL INFORMATION:
Preparing for Graduate School: http://www.gograd.org/graduate-school-guide-book/
JOB BOARDS:
Career Builder – http://www.careerbuilder.com/
CareerOneStop (U.S. Department of Labor): http://www.careeronestop.org/
Career Site – http://www.careersite.com/
Computer Engineering Careers: http://www.computerscienceonline.org/computer-engineering/
Federal Government Jobs: https://www.usajobs.gov/
IT Careers: http://www.computerscienceonline.org/information-technology/
KansasWorks Job Search: www.kansasworks.com
LinkedIn Job Website: https://www.linkedin.com/jobs/
Monster Online Career Center – http://www.monster.com/
Peace Corps – http://www.peacecorps.gov/
Software Engineering Careers: http://www.computerscienceonline.org/software-engineering/
Workforce Alliance of South Central Kansas: www.workforce-ks.com
INTERNSHIP BOARDS:
A Guide to Internships: http://www.learnhowtobecome.org/career-resource-center/internship-resources/
Internship Directory, Any Intern: www.anyintern.com
Your Rights as an MBA Intern: http://www.onlinemba.com/intern-rights/
OCCUPATIONAL AND LABOR INFORMATION:
Cost of Living Calculator: http://www.moneygeek.com/cost-of-living-calculator/
Kansas Labor Information Center: https://klic.dol.ks.gov/gsipub/index.asp?docid=442
U.S. Department of Labor Occupational Outlook: http://www.bls.gov/ooh/
LinkedIn Salary Information: https://www.linkedin.com/salary/
PROFESSIONAL ASSOCIATIONS:
Council for Adult and Experiential Learning – http://www.cael.org/home
Society for Human Resources Management – http://www.shrm.org/Pages/default.aspx
Contact or Visit the Career Services Office
316-295-5885, 800-794-6945 ext. 5885
career@friends.edu
Davis Administration Building, Suite 216
Fall and Spring Office Hours: 8 a.m. to 5 p.m., Monday through Friday
Summer Office Hours: 8 a.m. to 5 p.m., Monday through Thursday and 8 a.m. to noon on Friday