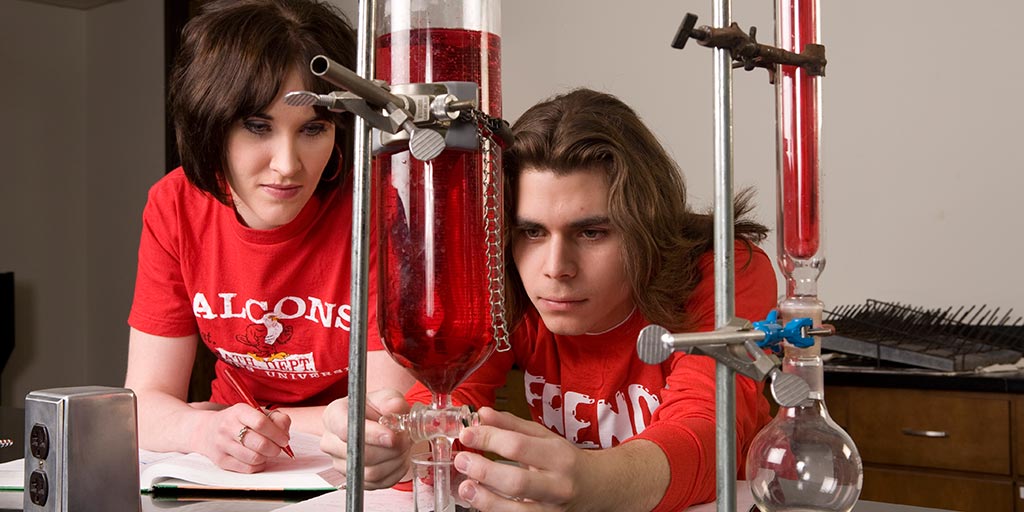 Chemistry has a direct bearing on most any aspect of our modern society. Chemistry majors study the structure, composition and properties of matter, including the changes in matter, the rate of change and the energy involved in those changes.
A degree in chemistry provides many career opportunities. These include employment in the chemical industry and graduate work in chemistry or health-related professions. Junior- and senior-level students are frequently able to fund a portion of their education and earn college credit through chemistry internships.
The Friends University Chemistry Department includes both chemistry and physics and is located on the second and third floors of the William Penn Science Building. The lab has instrumentation for atomic absorption, gas chromatography, Fourier transformation infrared, UV-Visible spectrophotometry, and proton/carbon nuclear magnetic resonance spectrometry.
While at Friends University, I participated in a major research project, where I synthesized chloroquine, the drug most commonly used to treat malaria. I also have great memories of winning the homecoming float contest and performing with the drama club. I even met the woman I would marry and proposed to her on campus.

Eric Whetmore, Chemistry
Friends University's chemistry students are currently employed at Hospira, Cargill, Invista (a subsidiary of Koch Industries), Hampel Oil, and many other companies throughout the region.
Program Outcomes
Demonstrate knowledge of principles of organic, inorganic, physical and analytical/instrumental chemistries.
Demonstrate knowledge and technical expertise to pursue one of the many career opportunities available with a chemistry degree and/or pursue a graduate program in chemistry.
Course Requirements
View the courses required for a Bachelor's degree in Chemistry.
View Course Catalog
Academic Plan
Wondering where to start? This recommended schedule will help keep you on track, from your first semester to graduation.
Get Started
Career Options
A degree in Chemistry can be used in more ways than you may think. Take a look at some of the potential careers that can result from this area of study.
Learn More
4-Year Career Plan
The path to your future career starts long before graduation. Learn what steps you need to take along the way to put you a step ahead.
Read More
Career Services
We're here to help. Get in touch with our Career Services team to prepare and plan for your future profession.
Get in Touch