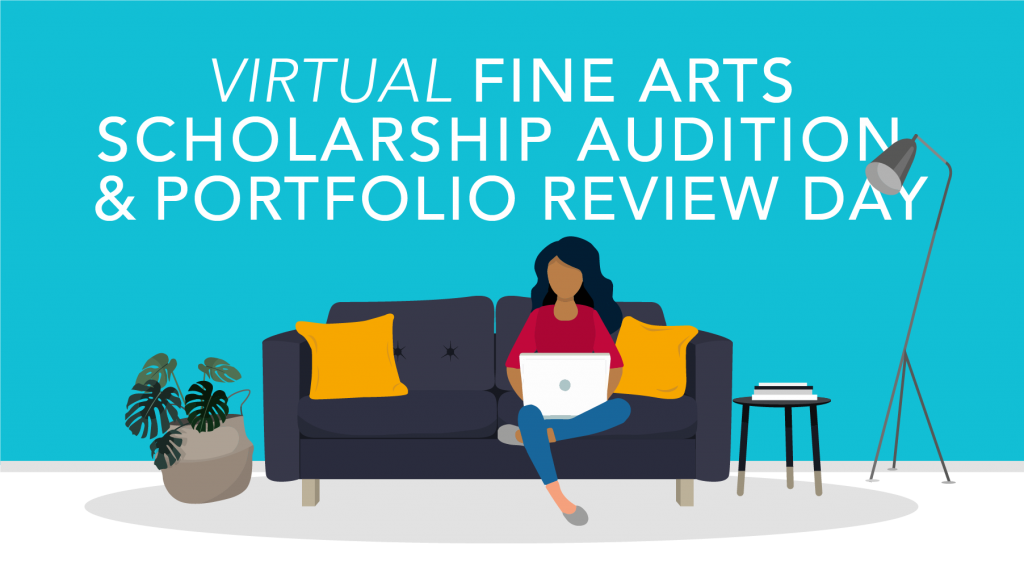 In abiding with current KDHE and government health and safety guidelines, we have decided to make a way to have a virtual Scholarship Audition & Portfolio Review Day experience! Robust scholarships will be awarded to both in-person and virtual applications.
Quick Answers:
WHAT?
It's like our Scholarship Audition & Portfolio Review Day but virtual!
WHEN?
Anytime. Early-risers and night-owls are welcome.
WHERE?
In the comfort of your home.
WHY?
To get free money for your education.
HOW?
Fill out our scholarship application form and audition/send your portfolio to us virtually
---
So let's kick off this virtual Scholarship Audition & Portfolio Review Day!
WELCOME
Meet the Fine Arts admission counselor, Grant, as he gives you a Friends Falcon's welcome and overview of how to apply 100% virtually.
FINANCIAL AID
Paying for school can be a high anxiety topic but Sue always does a great job explaining how you can get scholarships, loans, and free money called "grants." Feel free to email her any questions you might have.
CAMPUS TOUR
Did you know that our campus is one of the most beautiful campuses in the region?
SHOWCASE
Check out a sneak peek of a showcase performance where talented vocal, instrumental, theatre and ballet students all perform.
STUDENT PANEL
After the performance, students speak to why they chose to come to Friends and why you should too! If you would like to talk directly with a current student or recent grad, we are happy to arrange that for you.
CLASS & FACULTY VISIT
We don't have any classes for you to attend at this time. However, we'd love to arrange a one-on-one virtual conversation for you with any of our amazing faculty.
AUDITION/PORTFOLIO REVIEW
Don't stress too much about this. We want to give you an idea of how much scholarship money we can award you! Auditions can be set up to be live over a video call or you can send electronic recordings/portfolio files to finearts@friends.edu. Be sure to also fill out our scholarship application form.
Thanks so much for coming to our virtual Scholarship Audition & Portfolio Review Day! Change your mind and want to come to our in-person event? There will be a place you can indicate this on your scholarship application form. We'd love to meet you face-to-face and treat you to coffee. We serve Starbucks!
Please don't hesitate to reach out for any reason. We are here and excited to hear from you!
Fine Arts Team
---
Accredited by the Higher Learning Commission and a member of the North Central Association, 230 S. LaSalle Street, Suite 7-500, Chicago, IL 60604; www.ncahlc.org; 1-800-621-7440.