Start your future in cyber security.
Program Highlights
Real-world knowledge. Supportive learning.
The Bachelor's Degree in Cyber Security (BSCS) is offered in a hybrid model with both evening, on-campus and online classes and is designed to prepare you to pursue a career in cyber security by developing a comprehensive understanding of the cyberspace environment.
Top Ranked Cyber Security Program in Kansas
Developed to help professionals into a wide range of Cyber Security careers.
Interactive Classrooms
Collaborative instruction in interactive classroom environments
Passionate Faculty
Accessible educators with real-world experience and expertise
State-of-the-art Lab
Hands-on experience protecting against real-time threats
Networking
Networking opportunities with alumni and technology professionals
Career Services
Helpful career guidance
Top ranked Cyber Security program in Kansas!
Cyber Security Certifications
Friends' Cyber Security degree program will prepare you for a wide variety of Cyber Security related certification exams including the following:
CompTia Security+ Included in the cyber degree program
CompTia Network+
CompTIA Linux+
Distinctive Features
Our Cyber Security Bachelor of Science degree is the only program of its kind offered in Kansas. Students in our program focus on practical application experiences, not just theoretical exposure to concepts.
Intrust Bank Cyber Security Laboratory
Our state-of-the-art Cyber Security Lab is one of only three of its kind at universities nationwide. The Lab utilizes the most comprehensive cyber defense training platform available, and allows students to learn and practice real-time attack and defense methods.
Friends University Partnership with Butler Community College
Students at Butler Community College can complete Butler's Computer Science pathway program or get their Associate of Applied Science in cyber security, then transfer into the cyber security adult undergraduate program at Friends University.
BCC Computer Science Partnership | BCC Cyber Security Partnership
Cyber security degree program now includes CompTIA Security+ certificate
The Friends University cyber security degree program prepares students with the skills needed to protect people, systems, applications and technologies. Beginning this fall, the CompTIA Security+ certificate is included with the degree program.
Equipment Requirements for Students
Students in the Cyber Security Program should have a personal computer with the following minimum capabilities.
(Higher capability is recommended.)
Quad-core processor operating at ~2 GHz (Intel core i5 or better)
64-bit OS compatible with/capable of hosting VMware Workstation Player
8 Gb of RAM
500 Gb of HDD or SDD disk space
USB 3.x capable
Running Windows 7 or newer
Featured Faculty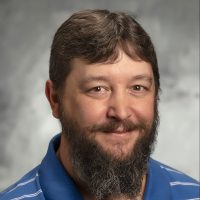 Assistant Professor of Computer Science; Program Director: Cyber Security
Science, Technology, Engineering and Mathematics