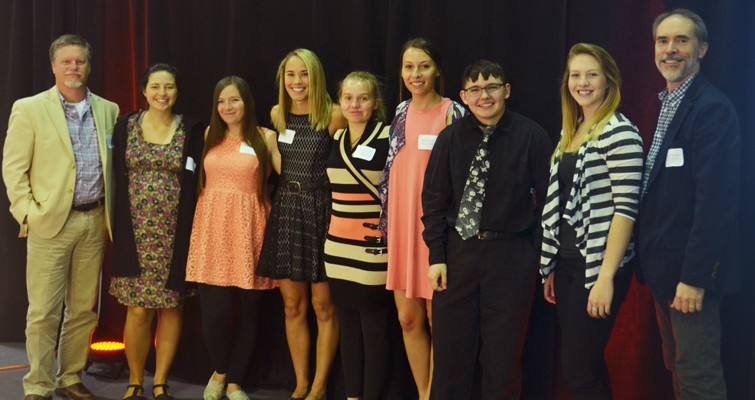 Celebrating Passion, Curiosity, and Giving
More than 150 Friends University scholarship donors and representatives and student scholarship recipients spent time together at an annual luncheon Tuesday, April 11, 2017. This event allows students to meet and thank their scholarship supporters and allows donors to make a face-to-face connection with the students they support. The luncheon was kicked off by Dr. Jasper Lesage, vice president of Academic Affairs, who discussed the importance of seeking God's calling in our lives. He encouraged students and donors to discuss the question "What is God's plan for me at Friends University and beyond?" Following a prayer by Dr. Guy Chmieleski, dean of Campus Ministries, students and donors enjoyed a time of good food and fellowship.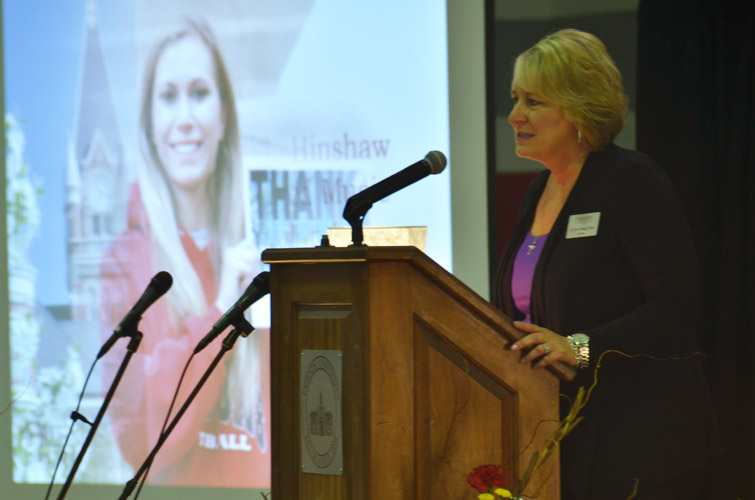 The day's program also featured musical entertainment by the freshman quintet "The Chordsmen." University President Dr. Amy Carey expounded on the academic meaning of the word "scholarship." Scholarship, she said, is comprised of two facets: passion and curiosity. Through passion, individuals obtain the drive "to dig in, to study, and to know more." This kind of enthusiasm for learning and for life is not just about dreaming big but about following-through. Curiosity is what encourages the individual to be a good steward of the world. Combined, these elements are the "ingredients of a dynamic life." In closing, Dr. Carey thanked the donors for their generous support and challenged the students to make the most of their time at Friends.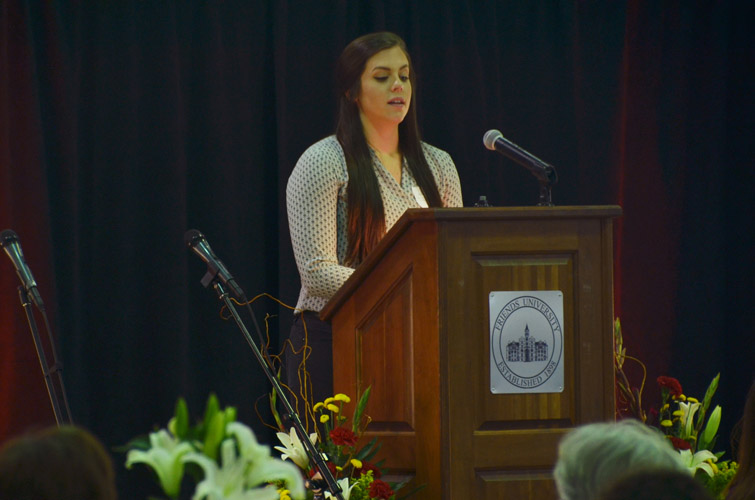 After Dr. Carey's remarks, three student speakers divulged the impact of financial aid on their educational journeys. Each had different struggles, both financial and personal, to come to Friends, but thanks to scholarships and the grace of God, each student expressed the accomplishment of their dreams and their future goals. Persis Lugalia noted her journey from Kenya to Kansas and her desire to attend Friends University. Thanks to significant scholarship support, she was able to transfer to Friends at the beginning of her sophomore year and began training in music education. Caleb Durkee, a senior accounting and business administration major, will be able to graduate after only three years at Friends and pursue a career at Koch Industries. Lastly, Kelli Henderson, who will graduate in May, shared about the many activities and internship opportunities she has been able to pursue thanks to the many scholarships she received at Friends. Persis closed her comments with an address to the donors: "Scholarships opened the door to having stronger relationships with God, teachers, friends and even family. Words cannot even begin to describe the impact that scholarships have personally had on me. I am beyond thankful for each and every one of you and the impact that you continue to make in students' lives, like myself."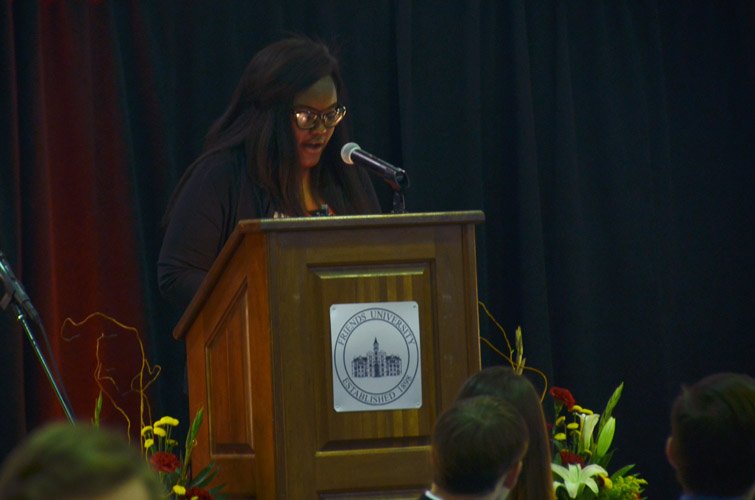 With little to no debt, these students will graduate from Friends with the financial stability, the spiritual development and the career opportunities to achieve their goals and do great things in the kingdom of God. The Scholarship Luncheon is a singular tradition, celebrating generous giving at Friends University. Many thanks to our donors who support the students of Friends University! Your kindness will not be forgotten.