Global Leadership & Management
Our Global MBA degree program is designed for working professionals, just like you. You'll gain the leadership and cross-cultural communication skills necessary to take your career international . Complete your degree in as little as 15 months, either on-campus or online.
Program Highlights
Real-world knowledge. Supportive learning
The Global MBA degree develops students' expertise in international business practices required for successful performance in domestic companies along with competency in business decision-making and cross-cultural communication and negotiations.
Academic Resources
Access to library and academic support services
Interactive Classrooms
Collaborative instruction in interactive classroom environments
Passionate Faculty
Accessible educators with real-world experience and expertise
Practicum or Internship
Access to library and academic support services
Networking
Many networking opportunities are available with opportunities to meet with experts in the field and travel as part of the business residency abroad.
Career Services
Helpful career guidance
Learn on campus or online.
Concentrations
Focus Areas
Choose from seven concentrations within the Professional MBA program, or create your own concentration and earn a general MBA degree.
Accounting

Develop your skills in accounting for for-profit and non-profit organizations. Students can qualify to sit for the Certified Public Accountant (CPA) exam as well as the Certified Management Accounting (CMA) exam.

Healthcare Leadership

Enhance your leadership skills in the healthcare sector with this nationally recognized program. You'll gain a solid foundation of knowledge in insurance coverage, workforce compensation trends, prescription drug administration and risk management.

Cyber Security

Set yourself apart with the Cyber Security concentration. You'll gain the tools to identify and mitigate vulnerabilities in your work environment.

Finance

Combine your broad MBA education with specialized skills necessary to compete regionally and beyond. You'll explore ethics in finance and public policy, evaluate an organizations' overall financial health, manage a global portfolio and more.

Human Resources

Manage the complexity of today's ever-changing workforce with a concentration in human resources. You'll learn how to make decisions about recruitment, personnel management, productivity, compensation and compliance.

Change Management

Learn how to bring about sustainable and manageable change in organizations. You'll learn how to redirect resources using a variety of tools and techniques specifically designed for today's complex business environments.

Supply Chain Management

Expertly manage the flow of goods and services within an organization. You'll learn how to effectively and efficiently implement a supply chain that strengthens an organization's competitive advantage in a global market.
"In addition to the great business opportunities and personal growth I have enjoyed as a result of my degree program, I recently received a significant promotion which will allow me to work in the role that I have desired for years, as well as travel the world!"

Tina Swink, Global MBA
"Getting my MBA was a great investment in my future. An amazing opportunity to get a quality education while balancing the demands of working and raising a family."

Jenny Niblock, MBA Graduate, 2017
Exclusive Programs
You're closer than you think.
Business Residency Abroad
Gain real-world experience by participating in executive meetings during business residency abroad. You will learn from executives in foreign countries how to position domestic companies for success.
Global MBA Advisory Board
We gather 12 leading experts in different aspects of international business to serve on the GMBA Advisory Board. The members consult with students on their final projects, participate as guest speakers and introduce students to industry leaders.
International Management Graduate Certificates
Our Cross-Cultural Communication and Negotiations graduate certificate provides you with the knowledge and skills needed to compete in a changing international business environment.
Gerald E. Litherland Scholarship
The Global MBA program awards an annual scholarship to support the business residency abroad.
Featured Faculty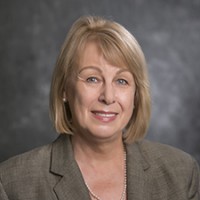 Professor of Business and Technology
M.Ed., Voronezh State University; Ph.D., Authority of Higher Attestation Commission at the Council of Ministers, Moscow, Russia