Prepared to lead.
Our Professional MBA degree program is designed for working professionals, just like you. You'll gain the leadership and entrepreneurship skills necessary to take that next step in your career. Complete your degree in as little as 15 months, either on-campus or online.
Start working towards your MBA today.
Program Highlights
Real-world knowledge. Supportive learning.
Our Professional MBA degree program is designed for working professionals, just like you. Friends University offers degree completion in as little as 15 months with a focus on leadership and soft skills development.
Academic Resources
Access to library and academic support services
Interactive Classrooms
Collaborative instruction in interactive classroom environments
Passionate Faculty
Accessible educators with real-world experience and expertise
Practicum or Internship
Resume-worthy experience with a practicum or internship
Networking
Networking opportunities with alumni and business professionals
Career Services
Helpful career guidance
Learn on campus or online.
Concentrations
Focus Areas
Choose from seven concentrations within the Professional MBA program, or create your own concentration and earn a general MBA degree.
Accounting

Develop your skills in accounting for for-profit and non-profit organizations. Students can qualify to sit for the Certified Public Accountant (CPA) exam as well as the Certified Management Accounting (CMA) exam.

Healthcare Leadership

Enhance your leadership skills in the healthcare sector with this nationally recognized program. You'll gain a solid foundation of knowledge in insurance coverage, workforce compensation trends, prescription drug administration and risk management.

Finance

Combine your broad MBA education with specialized skills necessary to compete regionally and beyond. You'll explore ethics in finance and public policy, evaluate an organizations' overall financial health, manage a global portfolio and more.

Human Resources

Manage the complexity of today's ever-changing workforce with a concentration in human resources. You'll learn how to make decisions about recruitment, personnel management, productivity, compensation and compliance.

Change Management

Learn how to bring about sustainable and manageable change in organizations. You'll learn how to redirect resources using a variety of tools and techniques specifically designed for today's complex business environments.

Supply Chain Management

Expertly manage the flow of goods and services within an organization. You'll learn how to effectively and efficiently implement a supply chain that strengthens an organization's competitive advantage in a global market.
"The MBA program is incredibly manageable. I have a family, a demanding job, a home to take care of, friends to keep up with, etc. My program didn't place strain on any of those. It wasn't easy, but definitely manageable."

Bronna (Nikki) Davis, MBA Graduate 2017
"Getting my MBA was a great investment in my future. An amazing opportunity to get a quality education while balancing the demands of working and raising a family."

Jenny Niblock, MBA Graduate 2017
Exclusive Programs
National Association of Women MBAs (NAWMBA)
The NAWMBA Friends University Chapter hosts local and regional events throughout the year, providing opportunities for professional women to build knowledge and leadership skills. Men are always welcome to join.
Featured Faculty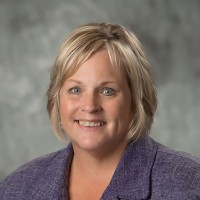 Assistant Professor
B.S., Kansas State University, M.B.A., Baker University