A career field in high demand
Every business and organization requires accounting professionals, making this field a dynamic career choice full of possibility.
Start your future in accounting.
In this increasingly complex and competitive business environment, accounting skills are in high demand. Aligned with the Kansas Board of Accountancy expectations for certification as a public accountant, the Friends University accounting degree prepares students for successful careers as corporate, public, government, or nonprofit accountants; tax preparation experts; auditors; and managers.
Courses in the accounting program are taught by practicing accountants who have the knowledge and experience necessary to provide a comprehensive educational foundation to their students. The Friends University accounting program focuses on application of material rather than just theory. Accounting courses are taught in a computer lab with students completing all homework in Excel. Students apply course material in all courses to gain a better grasp of material so they are prepared for the workforce. Nearly all students also complete a paid internship, though this is not required.
A four-year bachelor's degree is necessary for most professional-level positions in accounting. In the areas of public accounting, this must also be supplemented by professional certification (CPA) and often graduate work. The Certified Management Accounting designation is for private accounting.
The majority of CPA exam requirements in Kansas are covered within this program with three noted exceptions: 1) Students need 150 credit hours. Students can earn these extra hours by double majoring, taking extra classes or earning a master's degree. 2) Students will need three additional hours of economics beyond the six hours required in the major. 3) Students need three additional hours of law beyond the one required law course. Exam requirements vary by state.
Program Outcomes
Proficiently use current technology and analytical tools to perform business functions, work collaboratively and facilitate decision making.
Research, prepare, analyze and review financial and business data by applying accounting and business principles and standards to produce financial/business reports.
Understand the four financial statements.
Understand managerial accounting techniques for decision-making.
Career Options
A degree in Accounting can be used in more ways than you may think. Take a look at some of the potential careers that can result from this area of study.
Learn More
4-Year Career Plan
The path to your future career starts long before graduation. Learn what steps you need to take along the way to put you a step ahead.
Read More
Career Services
We're here to help. Get in touch with our Career Services team to prepare and plan for your future profession.
Get in Touch
Featured Faculty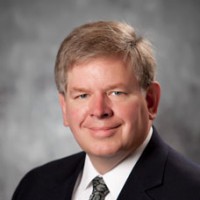 Professor of Business
Business and Information Technology
B.S., M.B.A., University of Oklahoma; Ph.D., Vanderbilt University
Associate Professor of Accounting
Business and Information Technology
B.S., M.Acc., Kansas State University