A career field in high demand
Every business and organization requires accounting professionals, making this field a dynamic career choice full of possibility.
Start your future in accounting.
Program Highlights
High Demand in Accounting Skills
In this increasingly complex and competitive business environment, accounting skills are in high demand. Aligned with the Kansas Board of Accountancy expectations for certification as a public accountant, the Friends University accounting degree prepares students for successful careers as corporate, public, government, or nonprofit accountants; tax preparation experts; auditors; and managers.
Experienced Faculty
Courses in the accounting program are taught by practicing accountants who have the knowledge and experience necessary to provide a comprehensive educational foundation to their students.
Focus on Application
The Friends University accounting program focuses on application of material rather than just theory. Accounting courses are taught in a computer lab with students completing all homework in Excel. Students use practical application of course materials to gain a better understanding so they are prepared for the workforce.
Internships
Nearly all students complete a paid internship, though this is not required.
"I feel that my education from Friends meets or exceeds the standards set by bigger universities. The small class sizes enabled professors to move at a comfortable pace and allowed me to learn in an environment where I could ask questions. The mentorships that I have found in the professors at Friends are what made my education truly memorable. These mentors have spent countless hours outside the classroom giving career advice, sharing their own experiences and preparing me for the real world."

Heather Yates, Accounting Graduate, 2014, Koch Industries Employee
"Professor Pendleton's sheer passion for her career shone through each and every day. Her passion combined with a wealth of intellectual knowledge in the field of Accounting led me to undertake a second degree into the subject. I speak with people across the city each week that continuously sing her praises."

Daniel Littler, Accounting graduate
"For me, Friends University has been the best investment I have made in my education. The personal growth I have seen in my time spent at Friends is astonishing. I have overcome challenges and obstacles that I would not have been able to if I had not attended Friends University. The community that surrounds this school is something I will never forget, and the relationships that have been built during my attendance here will last a lifetime."

Stacey Cox, Transfer Student, Bachelor of Science in Accounting
Professional Certification (CPA)
A four-year bachelor's degree is necessary for most professional-level positions in accounting. In the areas of public accounting, this must also be supplemented by professional certification (CPA) and often graduate work. The Certified Management Accounting designation is for private accounting.
The majority of CPA exam requirements in Kansas are covered within this program with three noted exceptions:
Students need 150 credit hours. Students can earn these extra hours by double majoring, taking extra classes or earning a master's degree.
Students will need three additional hours of economics beyond the six hours required in the major.
Students need three additional hours of law beyond the one required law course. Exam requirements vary by state.
Program Highlights
Proficiently use current technology and analytical tools to perform business functions, work collaboratively and facilitate decision making.
Research, prepare, analyze and review financial and business data by applying accounting and business principles and standards to produce financial/business reports.
Understand the four financial statements.
Understand managerial accounting techniques for decision-making.
Featured Faculty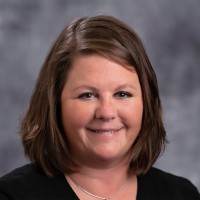 Assistant Professor of Business
Business
Associate Professor of Accounting
Business
B.S., M.Acc., Kansas State University