Educating the future
Elementary teachers have the great responsibility of molding the minds of our community's most vulnerable and impressionable members. As an elementary education major, you can make a difference in the lives of children every day.
Elementary Education
Start your future in elementary education.
The Friends University elementary education program has maintained a high level of visibility and excellence throughout the years. Professors in the education department emphasize the latest techniques for providing quality instruction for children. Friends University enjoys an extremely positive relationship with the public schools in Wichita and the surrounding areas.
The elementary education program at Friends University prepares students to teach grades K-6. This four-year program includes an internship at the elementary school level during the fall semester of the student's senior year. Graduates are licensed to teach by the state of Kansas after successfully completing the degree and passing the Principles of Learning & Teaching (PLT) Exam. Other requirements include a cumulative 2.75 grade point average with no "D" grades in the major.
You have the opportunity to be so much more than a teacher. For instance, I'm often a stand-in mother, a nurse, a disciplinarian, a counselor, a clown, a librarian, a referee and a coach.

Jennifer Englemann, English Education, Kindergarten Teacher.
Program Outcomes
The teacher education candidate will demonstrate an appropriate level of content and pedagogical knowledge.

Demonstrate knowledge of content to be taught.
Demonstrate knowledge of students' skills, knowledge and prerequisite relationships.
Demonstrate knowledge of content-related pedagogy.
Demonstrate the ability to design coherent instruction.
Demonstrate the ability to assess and evaluate student learning.
Provide quality feedback to students and colleagues.
KSDE Standards 1, 2 and 3. KPTP Focus Area A: analysis of Contextual Information
The teacher education candidate will develop and implement an appropriate learning environment where all students are engaged and on task.

Recognize and implement factors related to development of a classroom environment of respect and rapport.
Establish appropriate expectations for learning and achievement.
Demonstrate the ability to manage common non-instructional duties.
Demonstrate the ability to manage student behavior appropriately.
Demonstrate the ability to engage all students in learning.
KSDE Standards 3, 4, 7, 11 and 12. KPTP Focus Area B: Analysis of Learning Environment Factors
The teacher education candidate will appropriately implement and adapt instruction for diverse learners to ensure all learners meet expectations.

Demonstrate the ability to communicate clearly and accurately.
Demonstrate the ability to use questioning and discussion techniques appropriately.
Demonstrate flexibility and responsiveness toward a diverse population.
Demonstrate knowledge of age group characteristics.
Demonstrate knowledge of students' varied approaches to learning.
Demonstrate knowledge of students' interest and cultural heritage.
KSDE Standards 4, 11 and 12. KPTP Focus Area C: Instructional Implementation. KPTP Focus Area D: Analysis of Classroom Environment
The teacher education candidate will demonstrate appropriate professional behaviors.

Reflect on teaching and its effect on learners' performance.
Maintain accurate records of attendance, lesson completion, and student progress.
Serve appropriately as student advocate.
Communicate appropriately with families.
Maintain cordial relationships with colleagues.
KSDE Standards 5, 6 and 8. KPTP Focus Area E: Analysis of Assessment Procedures. KPTP Focus Area F: Reflection and Self Evaluation
Academic Plan
Wondering where to start? This recommended schedule will help keep you on track, from your first semester to graduation.
Get Started
Career Options
A degree in Elementary Education can be used in more ways than you may think. Take a look at some of the potential careers that can result from this area of study.
Learn More
4-Year Career Plan
The path to your future career starts long before graduation. Learn what steps you need to take along the way to put you a step ahead.
Read More
Career Services
We're here to help. Get in touch with our Career Services team to prepare and plan for your future profession.
Get in Touch
Special Education Endorsement Opportunity for Seniors
By careful planning with your academic adviser, you may begin to complete graduate coursework leading to Pre-K-12 High Incidence special education licensure. As a senior who has completed at least 90 credit hours, you may begin taking course work toward the Special Education license endorsement by:
Having a minimum overall undergraduate GPA of 3.0
Prior to actually enrolling in a 500/600 level course for graduate credit, you must complete a Request for Graduate Credit form. The form must include signatures from your adviser, the special education faculty member or department chair, the graduate dean and the registrar. This form must be submitted to the graduate office prior to enrollment. Once this form has been received and approved, the 500/600 level classes will be flagged for graduate credit. Please refer to Graduate School Policy in the current catalog for additional information regarding this process.
Featured Faculty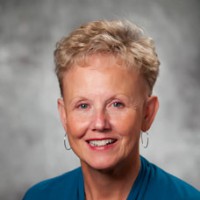 Assistant Professor of Education
Education
B.A., Wichita State University; M.A., Friends University