Educating the future
You can teach every young student's favorite class! And instill in children of all ages that physical activity is a vital part of a healthy life.
Physical Education
Start your future in physical education.
Program Highlights
Licensed to Teach
The physical education degree program was designed by physical educators to fully prepare teachers in the latest and best methods of instruction.
Preparing For Your Future
The physical education program at Friends University prepares students to teach in grades prekindergarten – 12. This four-year program includes student teaching in both the elementary and secondary levels during either the fall or spring semester of the senior year.
Licensed to Teach
Graduates are conditionally licensed to teach by the State of Kansas after successfully completing the degree and passing the Principles of Learning and Teaching Exam (PLT) and a content test.
Requirements
Other requirements include admittance into the teacher education program and a cumulative education and content GPA of 2.75 with no "D" grades in the education courses or content areas. Students are encouraged to endorse in another curricular area to increase personal marketability, as physical education is a very competitive field in which to obtain a teaching position.
Nationally Accredited
Friends Division of Education is nationally accredited, therefore our physical Education Teacher Education graduates are eligible to teach anywhere in the United States. They are finding employment in both public and private, large and small schools.
Highly Successful
Locally we have graduates teaching in Wichita schools such as South High, Stuckey Middle, Enterprise Elementary, St. Francis of Assisi and St. Elizabeth Ann Seton. Regionally our candidates are in schools like Winfield High, Wellington High and Haysville Elementary. We also have graduates teaching across the state from Kansas City in eastern Kansas to Satanta in western Kansas. Teachers placed nationally teach from Texas to Florida.
Additional Interests
Many students in this major also have an additional interest in coaching sports, such as football, volleyball, basketball, track and field, etc. 83% of recent Physical Education Teacher Education graduates are currently working in teaching or a related field.
"I think others should consider Friends University if they want a quality education that others in the professional world will take seriously. Another factor you should take into consideration, is that once you leave Friends, Friends doesn't leave you. Once a Falcon always a Falcon."

Ross Foley, Physical Education Teacher Education Graduate/Teacher & Coach at Wellington High School
Featured Faculty
Visiting Assistant Professor of Physical Education
B.A., B.A., M.Ed., Southwestern College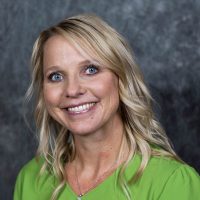 Adjunct Faculty
Education