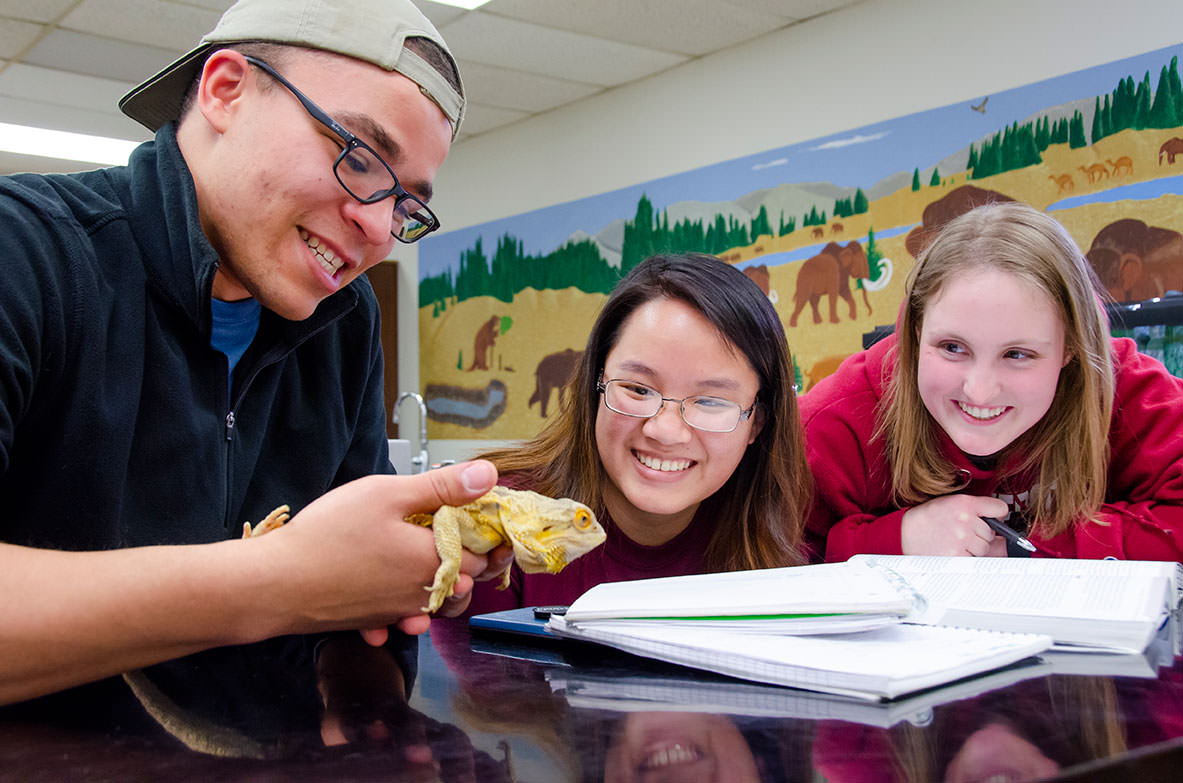 The Bachelor of Science (B.S.) degree in Conservation Science provides a unique cross-disciplinary educational experience designed to prepare students to work in and around the fields of biological and natural resource conservation. The core part of the curriculum focuses on biology and ecology and travel-based classes that visit natural caves, beaches and freshwater ecosystems. Students learn about wildlife rehabilitation, ecosystem management and environmental science. Unlike programs at other colleges, Conservation Science requires courses in politics, public policy, sustainability and a set of courses in one of eight sub-disciplines designed to aid the student in developing a conservation career path. Students must complete a service-based or research-based Conservation Senior Project.
Conservation Science Sub-Disciplines
Students choose one of eight sub-disciplines that help aid the student in their career path in conservation science. Those sub-disciplines are listed out below:
Business – students interested in business for potentially running a non profit, park, zoos
Graphic Arts – students interested in designing, branding, art for conservation organizations
Wildlife Law Enforcement – students interested in being natural resource officers or game wardens
Environmental Education – students interested in non-formal environmental education at nature centers, zoos, parks, etc.
Government – students interested in policy, lobbying, law school with emphasis on the environment
Writing – students interested in scientific writing, journalism, social media
Science Graduate School – students interested in graduate school (contains typical graduate school prerequisites
Spanish Translation and Interpretation – students who are interested in gaining the skills in Spanish to interpret and translate within their conservation career
This new program is so exciting! It gives students a great science foundation but digs into many other disciplines too. It really puts students in the driver's seat of their own career pathway.

Patrick Mathews
Conservation Science Program Outcomes
Students will be able to explain how biological concepts integrate into the conservation of organisms and habitats, and sustainability.
Students will apply the steps of the scientific method to solve problems.
Students will integrate written and spoken communication into their scientific discipline.
Students will demonstrate an awareness of the impact that biology has on society and develop conservation based solutions that can serve others and integrate with their personal and professional lives.
Course Requirements
View the courses required for a Bachelor's degree in Conservation Science.
View Course Catalog
Academic Plan
Wondering where to start? This recommended schedule will help keep you on track, from your first semester to graduation.
Get Started
Career Options
A degree in Conservation Science can be used in more ways than you may think. Take a look at some of the potential careers that can result from this area of study.
Learn More
4-Year Career Plan
The path to your future career starts long before graduation. Learn what steps you need to take along the way to put you a step ahead.
Read More
Career Services
We're here to help. Get in touch with our Career Services team to prepare and plan for your future profession.
Get in Touch