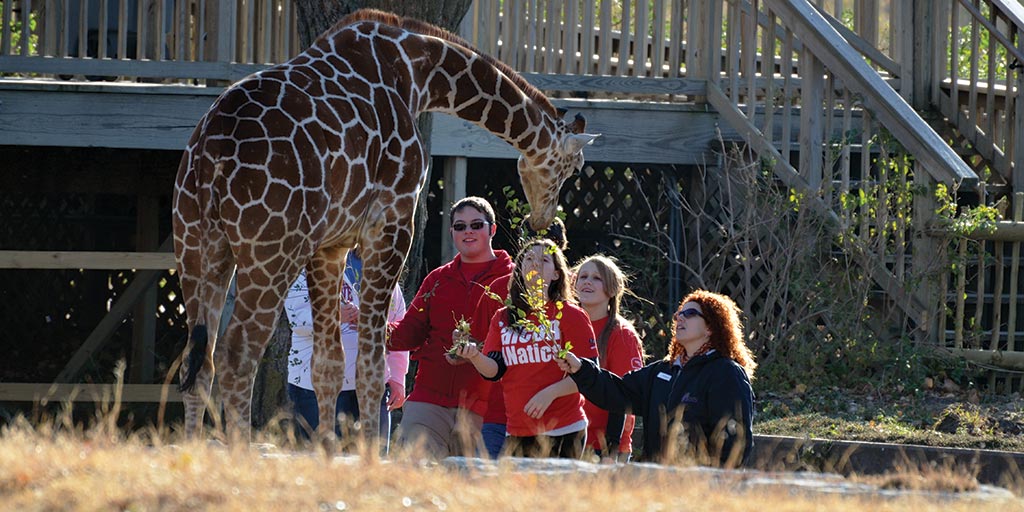 Animal health, well-being and conservation is integral to the health of our global ecosystems. Many zoos play an important role in ensuring the health and survival of a great number of animal species, as well as help educate people about their importance.
The zoo science program at Friends University is widely acclaimed due to its content, faculty, and proximity to and affiliation with the Association of Zoos and Aquariums-accredited Sedgwick County Zoo.
Friends University has had a special relationship with the Sedgwick County Zoo in Wichita for more than two decades. Students in the zoo science program take traditional college courses at the university while also taking specialized courses at the zoo and getting practical experience working with zoo personnel in and around animal exhibits. The result is a four-year bachelor of science degree that contains a liberal arts-based biological science framework with practical zoological experiences built in.
Courses for the zoo science degree program offered at the Sedgwick County Zoo include zoo keeping techniques, zoo animal training and enrichment, introduction to zoo animal health, and others. Only students enrolled in the zoo science degree program may take these courses. Most zoo science courses meet in the Cargill Learning Center at the zoo, but they often include time with animal exhibits and off-exhibit areas.
To offer our students the best experience possible, admission into the zoo science program is limited. We have a two-step admission process: stage one is admission to the university, and stage two is admission to the program itself. Since demand for the program is always high, admission to the program is competitive and based on factors such as grade point average, standardized test scores, existing experience, and other factors.
As a senior in the zoo science program, Michael Clifford worked with conservation teams in South Africa to see first-hand how they preserve territories, helped with anti-poaching operations, and had the opportunity to work with animals that had never before seen people.
Take a look at our Zoo Science Flier.
It was amazing. I got to work with a number of zoos in South Africa. I had the privilege of learning how African zoos are operated. I got to learn from them as well as share my knowledge of zoos and animal husbandry that I learned from my experiences in U.S. zoos and at Friends University.

Michael Clifford, Zoo Science Graduate
Program Outcomes
Students will demonstrate a working knowledge of the way zoos are organized and operated.
Students will evaluate the roles of zoos and aquariums in recovering and/or maintaining biological diversity.
Students will develop career-focused networking relationships with zoo professionals as well as their peers in the zoo science field of study.
Students will demonstrate an ability to operate as a member of a team of professionals to carry out zoo-related tasks.
Course Requirements
View the courses required for a Bachelor's degree in Zoo Science.
View Course Catalog
Academic Plan
Wondering where to start? This recommended schedule will help keep you on track, from your first semester to graduation.
Get Started
Career Options
A degree in Zoo Science can be used in more ways than you may think. Take a look at some of the potential careers that can result from this area of study.
Learn More
4-Year Career Plan
The path to your future career starts long before graduation. Learn what steps you need to take along the way to put you a step ahead.
Read More
Career Services
We're here to help. Get in touch with our Career Services team to prepare and plan for your future profession.
Get in Touch
Employment
Working in a zoo is most often a labor of love, not a path to fame or fortune. Despite the modest pay, there is always competition for available animal keeper positions at any good zoo. And with the training and experience that comes from the zoo science program, a motivated person can gradually move to more senior positions within the zoological professions.
Become a Zoo Science Major
Step 1. Apply to Friends University
Step 2. Once accepted to Friends, apply to the Zoo Science program.