Your love of the language and culture of the Spanish-speaking world has led you to want to share that love with others. The Spanish degree at Friends University challenges students to undertake the study of Spanish and Latin American literature and hone conversation, composition, grammar and linguistic skills. And now, we have adapted our Spanish degree program to better fit what you and employers are really looking for in a Spanish major. In addition to building on the foundation courses, our students now will also become proficient at interpretation and translation.
Students of all proficiency levels in the Spanish language are encouraged to participate in this challenging and life-changing program with courses at the beginning, intermediate and advanced levels. If you already have some Spanish experience, you may be able to receive 4-16 credit hours for entering at a higher Spanish level.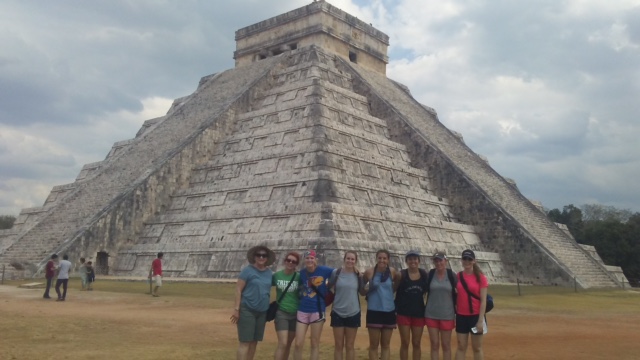 Students are highly encouraged to study abroad during their program. A 20+ year relationship with our sister university La Salle University in Cancun, Mexico, as well as Havana, Cuba and Granada, Spain, allows students to become immersed in a language and culture experience each summer. Through the study abroad experience, you will gain the "cultural fluency" employers are interested in so their employees are able to avoid unintentional misunderstandings.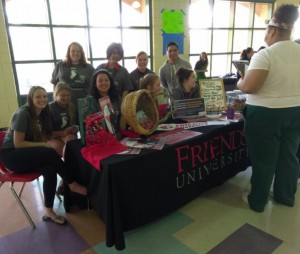 An invaluable resource that provides students opportunities to practice their studies and continue learning about these diverse cultures, is Kappa Phi, the Friends University chapter of Sigma Delta Pi, the national Spanish honor society which has won Outstanding National Chapter 11 times since 1992. In addition, Friends has just announced the addition of a branch of the Hispanic American Leadership Organization (HALO). HALO is dedicated to promoting Hispanic culture and awareness while at the same time helping the Wichita community and the Friends community. The organization will also function as a support system for Hispanic students who currently attend or plan to attend Friends University.
Program Outcomes
Demonstrate the ability to speak appropriately and effectively in a capstone Spanish conversation course by maintaining a dialogue during an Oral Proficiency Interview (OPI) with an outside evaluator.
Demonstrate the ability to write appropriately and effectively by writing a formal research paper in a capstone Spanish literature course.
Areas of Potential Employment
Business and industry
International commerce
Travel companies
Media relations
Medicine
Government
Legal Services
Education
Social services
For more information, please view the Spanish program flier.
Testimonials
Yo sé que cuando el tiempo se acerca para empezar a buscar y encontrar su universidad perfecta, hay muchas preguntas y surgen muchas dudas. Tengo que decirles que recibí mucha ayuda y mucho apoyo de los consejeros, especialmente de parte de Cassandra Huth, de la Universidad de Friends. ¡Era excepcional! Cuando tenía preguntas, ella me ponía en contacto con personas con quienes necesitaba y debería estar hablando. ¡Con la atención única que se recibe en la Universidad de Friends, su experiencia universitaria llega a ser fenomenal!

Sarita Castillo, Spanish
From studying abroad to making tamales in community centers, the Spanish program at Friends University provided me with some wonderful opportunities that have broadened my perspective, nurtured my curiosity, and have given me a confidence to step into something that is bigger than myself.

Nathan Nonhof, Spanish
My professors have furnished me with the tools to connect with others on multiple levels and thrive in an unfamiliar atmosphere.

Samantha Billings, Spanish