The world of music theatre performance
The music theatre degree is committed to preparing our students to be the triple threat necessary to succeed in today's world of music theatre performance.
Start your future in music theatre.
Program Highlights
The power of performance
As an interdisciplinary degree, equal attention is given to vocal training, dance and acting.
Student/Teacher Ratio
An advantage of a smaller university is the student/teacher ratios allow the teacher to give more individual attention to their students.
Develop your Strengths
Our students can also develop their strengths through opportunities to direct, choreograph and stage manage.
Loan Repayment Assistance
Follow your passion without stressing about post-college debt. This degree program qualifies for the Loan Repayment Assistance Program through Friends University.
A World of Opportunity
Being located in the Wichita/metro area is an excellent advantage for our music theatre students. Wichita offers multiple operating theaters and is home to Music Theatre of Wichita, one of the premier summer stock theaters in the nation. These many organizations provide various performing and internship opportunities in addition to the on campus performances.
World-class Guest Instructors
Bringing in world-class guest choreographers, artists and teachers to work with our students each year provides important exposure to current trends and pedagogies in dance, singing and acting. As a testament to the quality of our productions, our recent production of The Mikado (2018) was awarded second place nationally by the National Opera Association for our division.
Career Services
Helpful career guidance
"I believe as storytellers, we can educate, help people see outside themselves, and impact people for the better," said Natalie Swanner. Friends University class of 2010, Natalie was challenged and nurtured by a host of dedicated professors who pushed Natalie toward her best. During her years at Friends, her instructors helped her find her voice, gave her confidence on stage, instilled in her a "fierce" work ethic, caught her up on the dance training she needed, and guided her through the technical aspects of the theatre industry. Many of her professors were role models then and continue to be encouragers now. "The connections I made there have lasted me all these years, and I have no doubt many will last a lifetime," she says.

Natalie Swanner, '10 Bachelor of Arts in Music Theatre
Program Outcomes
Exhibit continual development in singing skills and performance skills as a singer-actor/actor-singer.
Exhibit basic development of dance movement skills appropriate to musical theatre.
Exhibit thorough development of skills in acting.
Exhibit the ability to sight-sing at a high level of skill.
Demonstrate knowledge of history and development of music theatre and music theatre styles.
Will develop repertory and techniques for auditioning and will create an audition resume.
Will demonstrate an appreciation for performance through self-critique.
Music Theatre Events
Broadway, classical, world music and more! Known for stirring performances at home and abroad, the sounds of Friends University choirs range from the intimacy of the Jazz Vocal Ensemble to the majesty of the 200-voice Choral Union. Under the leadership of expert faculty and special guest conductors, the voices of Friends University are sure to inspire you!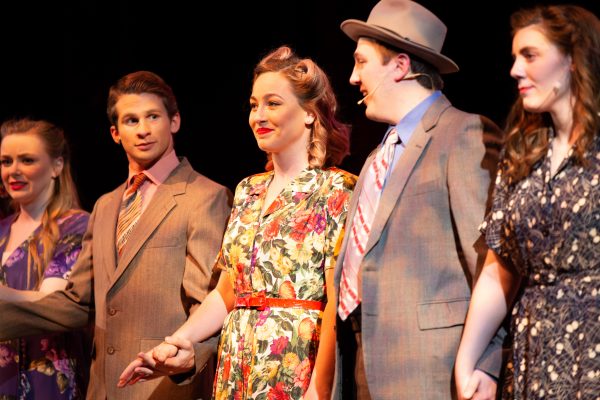 The Friends University Theatre Department presents an assortment of shows each season to entertain audiences of all ages. Come enjoy a theatre or music theatre production on one of our stages.