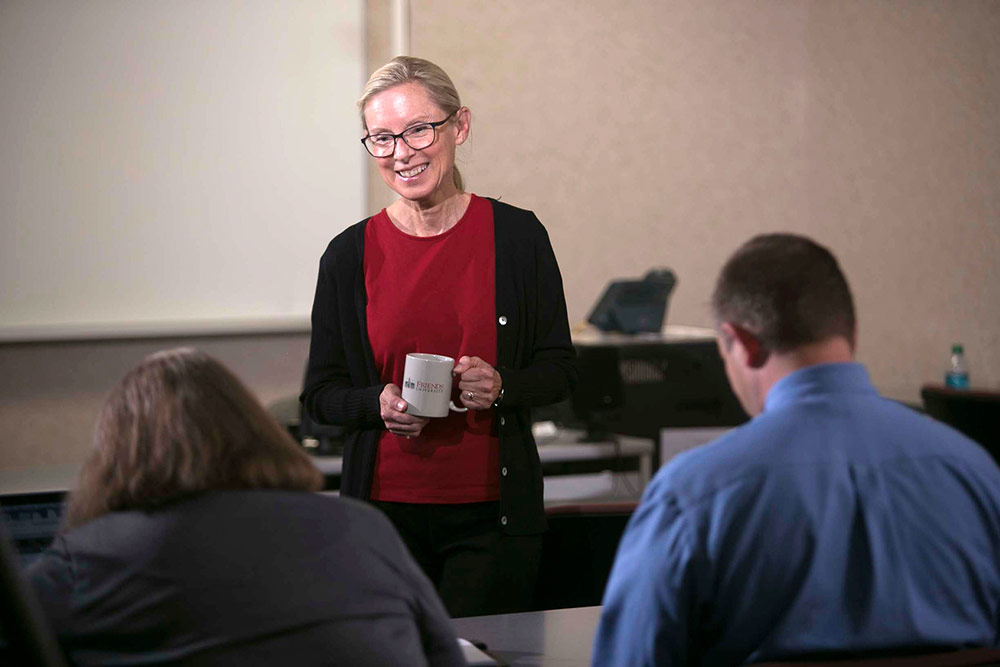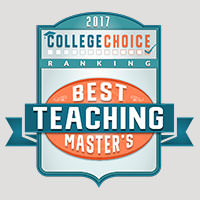 The Graduate School at Friends University is happy to announce that we now have two tracks to choose from as part of our Master of Education degree. Both tracks focus on practical application of effective classroom learning-teaching skills, student advocacy, meeting the learning and assessment needs of all students, and educational leadership in an increasingly complex global society. And, Friends University has the No. 1 Master of Education program among private universities in Kansas and is ranked No. 32 in the nation according to College Choice! Intelligent.com has selected Friends University as one of the Best Master's in Education Programs available online for 2019. And Friends is the highest-ranked private college in Kansas and was ranked nationally at #115 on the U.S. News 2019 Best Online Graduate Education Program list.
Completing your master's degree can be accomplished in 12-14 months across six courses that will be delivered online and on campus. In addition, the degree requires 12 hours of Friends University graduate workshop credits.
Would you like to save over $2400 on your master's degree? Want to know how?
At Friends University we understand the demands on you as a teacher. We also know the benefits of earning a master's degree. We can help with the competing demands on your time by delivering our master's degree at your school. You can save over $2400 when your school district forms a partnership with Friends University – securing a tuition discount. We will even increase this discount if we deliver our master's degree classes to your school district when you and eleven other teachers start the program together. To learn more email Emily_conner@friends.edu.
Teaching & Learning
The METL specialization focuses on the importance of meaningful feedback in the form of formative assessment, creation of 21st century curriculum that focuses on pre-k-12 students' future skill needs, innovation in the day of reduced resources, the importance of communication and collaboration with colleagues and most importantly, the enhanced learning experience for our graduate students' students. Each graduate student, with a faculty advisor, designs an individualized plan for a research study that is targeted, relevant and immediately applicable. Most courses are offered in eight-week time frames with two formats: hybrid and online. And, one to five years after graduating with their METL specialization from Friends University, our graduates earn $49,894. This is almost $3000 higher than the average Kansas salary for those with this same degree.
Program Outcomes
Plan and prepare appropriate learning experiences for a diverse student population.
Implement appropriate classroom assessment.
Facilitate and inspire student learning and creativity through effective use of technology.
Design and implement an action research project.
Demonstrate positive impact of graduates on P‐12 student learning.
Demonstrate skill in classroom instruction.
Document satisfaction of graduates with the relevance and effectiveness of their preparation.
Course Requirements
View the courses required for a Master's degree in Master of Education.
View Course Catalog
Career Options
A degree in Master of Education can be used in more ways than you may think. Take a look at some of the potential careers that can result from this area of study.
Learn More
Graduate Student Career Development Plan
The path to your future career starts long before graduation. Learn what steps you need to take along the way to put you a step ahead.
Read More
Career Services
We're here to help. Get in touch with our Career Services team to prepare and plan for your future profession.
Get in Touch
After visiting campus, I chose Friends University, because I wanted a program that was thorough, yet moved at a quick pace, and was not overwhelming. I soon realized the instructors are always available when needed, and they are first-rate. The program caters to busy teachers, and the course work is practical and applicable.

Don Luthi, METL Graduate, Special Education teacher USD 305
I absolutely think this was a good investment! The material I learned has already been put into place in my classroom with ease and the student reactions have been awesome. It also allowed me to achieve a goal that I have had for myself for a long time!

Lori Moshier, METL Graduate, Instructor
One of my biggest frustrations is completing work that I don't think I will ever need later in life – "busy work". With this program, essentially everything was directly applicable, because the assignments were flexible enough to directly fit into my current teaching.

Brian Skinner, METL Graduate, USD 373 High School Special Ed Teacher
Special Education High Incidence (P-12)
This licensure program will prepare students to adapt curriculum to fit the needs of all students and to complete the Kansas Department of Education licensure requirements. The program is designed for individuals who already possess a teaching license and who want to teach preschool through twelfth-grade students with high-incidence disabilities (e.g., learning disabilities, mild or moderate mental retardation, communication disorders, and behavior or emotional disorders). This program is approved by the Kansas State Department of Education and accredited by the Council for the Accreditation of Educator Preparation (CAEP).
The program, approved by the Kansas Department of Education, will prepare graduates to address disabled students; construct individualized instructional strategies; create positive social and environmental interactions; and communicate and collaborate with professionals, family members and community members.
Over the past 10 years, the number of students receiving special education services has risen by 30 percent, according to the National Education Association; and currently, a shortage of special education teachers exists in 49 states, including Kansas, according to the U.S. Department of Education.
Program Outcomes
Articulate the philosophical, historical and legal foundations of special education as well as characteristics of special needs learners.
Collaborate with various school personnel, community, colleagues, diverse families and students.
Conduct formal and informal assessments of learning, behavior and environment.
Design appropriate instruction in all academic content areas.
Organize and manage the classroom environment to support academic and social/emotional growth, equality and learning of diverse students.
Use a variety of research-based techniques as well as assistive technology to enhance communication.
Choosing to enroll in Friends University's Master of Education degree program will open to you a world of educational and professional experiences and opportunities, including one workshop that occurs in London as part of the program.
An additional aspect that makes Friends University unique is the relationship between the students and the faculty. The faculty are truly committed to students, teaching and scholarship, and they possess a vast number of years of public school teaching experience. We recognize that our primary mission is to encourage our graduate students to excel as teachers who are highly effective professionals for today's and tomorrow's P-12 students.
Praxis Test Information
Candidates for the Master's in Education Special Education degree program must successfully pass the Praxis II test prior to recommendation for licensure. Praxis test information for the state of Kansas is available through the Educational Testing Service (ETS) website via the following link: http://www.ets.org/praxis/ks. Friends University must be a score recipient and Friends University's code is RA6224.
Currently, the Praxis test needed in order to be eligible for a High Incidence Special Education endorsement in Kansas is test #5543 with a cut score of 155. Additional information about the test can be obtained by accessing http://www.ets.org/praxis/ks/requirements.