A graduate degree in half the time
Friends University's 4+1 program allows students from various majors to start earning credits toward a master's degree while they are still enrolled in an undergraduate program. Earn up to 15 graduate credit hours that count toward BOTH your undergraduate degree as well as accelerate your master's degree program for a faster, cost-effective way to earn a master's degree. If you're thinking about pursuing a master's immediately following your bachelor's this option might be the right choice for you.
Earn your graduate degree.
Program Highlights
A graduate degree in half the time
Our 4+1 program allows students from various majors to earn both a bachelor's degree and a master's degree in just five years.
Save Time and Money
With the 4+1 graduate program, you can save time and money getting your master's degree.
No GMAT or GRE required
No GMAT or GRE required.
Flexibility and convenience
On campus, online or real-time virtual classes.
Help every step of the way
Your advisors and academic success coach will guide you through the program.
Complete your master's degree sooner
As an undergraduate you can earn 3 -15 credits hours toward a graduate degree.
Great options
Multiple master's degrees to choose from.
4+1 FAQs
Admissions FAQs
How do I enroll into 4+1?
Apply to Graduate School here. Even current Friends University students need to apply to Graduate School to complete the 4+1 program
Please utilize the registration form on this page to opt-in to the 4+1 program 
What Graduate Degrees are available in the 4+1?
What are the concentrations in the MBA and GMBA graduate programs?
Accounting
Change Management
Finance
Human Resources
Project Management
Sports Administration
Supply Chain Management
Why should I consider getting a concentration versus obtaining a General Business Administration concentration?
A concentration defines a specialized area that you have dedicated your education. Completion of a concentration area is documented on your Academic Transcript and can be a great resume builder for particular business positions. Whereas, the General Business Administration concentration is flexible and allows you to explore different areas of business.
Graduate Classes FAQs
When should I start taking graduate classes?
Depending on your advised academic plan, one may start taking Graduate classes as soon as their Junior status.
How many graduate credits can I get as an undergraduate student?
Undergraduate students can take up to 15 graduate credit hours
Who should I talk to about my class schedule?
Your assigned undergraduate advisor will continue to oversee your undergraduate academic plan until completion of your undergraduate degree. When preparing to transition from undergraduate to graduate school and/or defining your graduate concentration area, it is recommended that you connect with the Graduate School advisor to ensure that the undergraduate and graduate advising plans overlap and progress smoothly.
Questions on Transition from Undergraduate to Graduate School
When do I need to complete a Graduate School application?
Students can apply for graduate school one year out from your first semester as a graduate student. For example, if you graduate with your Bachelor's degree in May of 2022, and plan to continue with graduate school in Summer of 2022, you can apply for graduate school in Summer of 2021.
How do I apply to Graduate School?
Students will need to submit an application here.
After submitting your application, a Graduate School Recruiter will contact you with next steps.
Do I need to pay the admission fee for Graduate School?
Application fees can be waived. Please connect with a Graduate School Recruiter for waiver code.
Finance FAQs
How much does graduate school cost?
Graduate class at Friends University is paid per credit hour. Please keep in mind that credit hours will vary depending on how many credits were completed as an undergraduate student. Please visit our Graduate Cost Info page here.
How can I pay for graduate school?
Graduate students can utilize financial aid to pay for school, as well as any outside scholarships. Payment plans can be set-up through the Student Account Services.
Are there any scholarships?
Friends offers one scholarship for graduate students, which is the Gerald E. Literhland Scholarship. This scholarship is awarded once a year to support the Global MBA business residency abroad. For questions about this particular scholarship, please contact Dr. Kneeland Brown at kneeland_brown@friends.edu or call 316-295-5926.
Career FAQs
How do I find and apply for an internship?
Friends University uses a program called Handshake which is a job posting platform available to universities to connect students and employers. Employers load internships and job opportunities as well as host interview dates and events. Students can create a profile and apply for jobs through the platform. Login at friends.joinhandshake.com or download the app today on the App Store or Google Play.
What career ready resources are available for students?
The Career Services Department assists in providing resources and services to students and alumni including career exploration and assessments, career planning, resume and cover letter development, interview preparation, networking, gaining experience, job/internship searching, job shadowing, mentorship, graduate school planning and other areas.
How do I connect with the Career Services Office?
Students can make an appointment with the Career Services office through the Career Services Moodle page or by visiting https://friends-university-career-services.appointlet.com/. Drop-in visits are also accepted in our office which is located in the Davis Building, room 216. The connect with the Career Services office you can call 316-295-5885, 1-800-794-6945 ext. 5885 or email at career@friends.edu.
How do I find additional information around careers and the Career Services Office?
Please visit https://friends.edu/students/career-services/ for more information.
Contact Information
For more information and questions regarding classes, scheduling, and advising, contact Amy Clark, Director of CAPS/Graduate School Recruitment, at Amy_clark@friends.edu, or call 316-295-5540. Additionally you can contact Dr. Preston Todd, Associate Academic Dean at 316-295-5623 or Preston_todd@friends.edu. For more information or questions regarding applying and acceptance to graduate school contact adult admissions at adultrecruitment@friends.edu or 316-295-5300.
Business Options
Education Options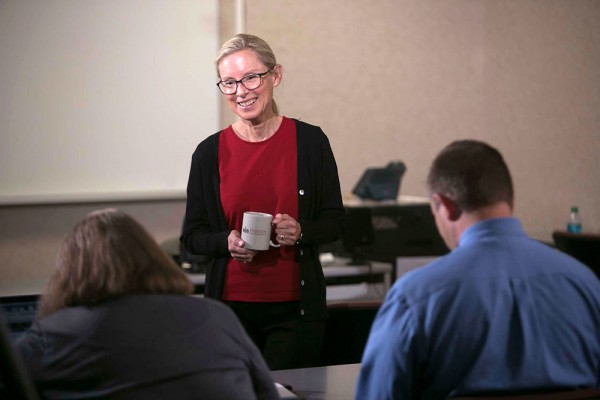 The new METL degree program includes a revised, cutting-edge core focused on the common core, learning, performance and assessment. Beyond the core, you will select 12 workshops from more than 100 potential choices to fully customize the remainder of the program of study.