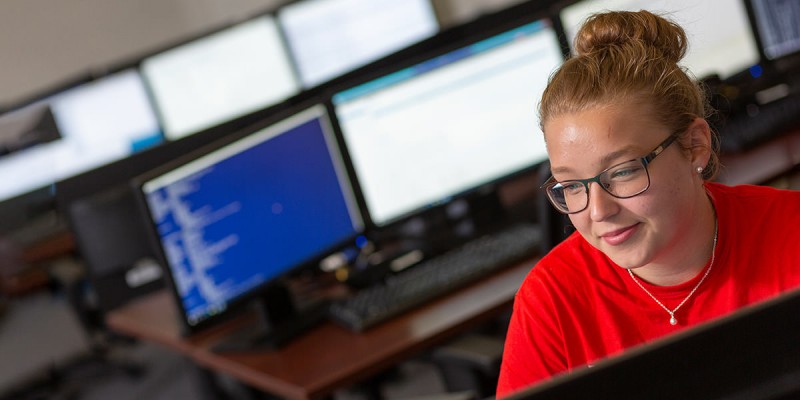 Cyber Security has become one of the hottest professions to go into in recent years. Friends University's Cyber Security Degree program provides practical application experiences rather than just focusing solely on theoretical exposure to concepts. As the only private institution in Kansas offering a Bachelor of Science degree in Cyber Security, students will make use of our state of the art INTRUST Bank Cyber Security Laboratory to learn how to deal with Cyber Security threats and set up network defense capabilities.
What can I do with a Cyber Security Degree?
With a Cyber Security degree from Friends University there are a lot of potential high paying jobs and professions to go into. From Cyber Security Analyst to a Certified Ethical Hacker, our Cyber Security professors have provided a list a number of possible job opportunities:
Certified Ethical Hacker
Cyber Security Analyst
Forensics Investigator
Information Assurance Engineer
Information Security Analyst
IT Auditor
Network Architect
Network Engineer
Penetration Tester
Security Architect
Security Engineer
Security Specialist
Systems Administrator
Systems Engineer
Systems Integrator
What kind of salary can I get with a Cyber Security degree?
Being on the cutting edge of technology, it's no doubt that a Cyber Security degree can land you a job with a high paying salary. The Bureau of Labor Statistics lists an annual median income of $98,350 for an Information Security Analyst in 2018 with higher earners making more than $150,000 a year. Many other Cyber Security jobs can expect similar salaries and pay. With a high projected industry growth in Cyber Security jobs, a Cyber Security bachelor degree from Friends University will get you started on a wonderful Cyber Security career path for the future!