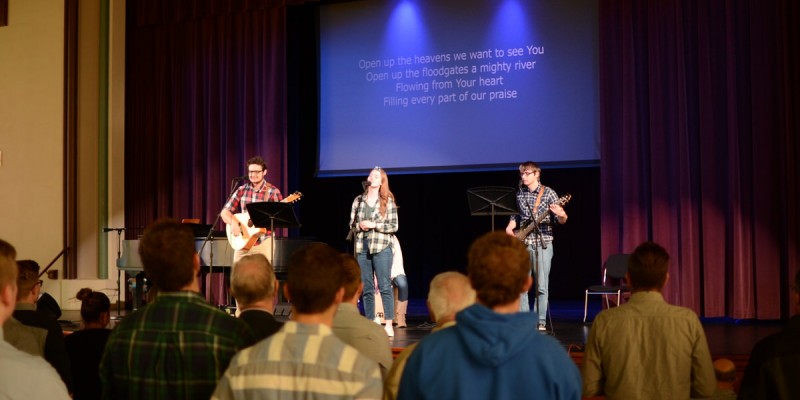 A time for the community to gather for worship, prayer and to explore what it means to be a follower of Jesus. Students, parents, faculty, staff, alumni, friends of the University and the Wichita community are invited to join us.
Thursdays, 11 to 11:50 a.m.
Alumni Auditorium, Davis Administration Building
If you are unable to make it in person, you can join a livestream during Chapel, by clicking here.
You can also see an archive of past Chapel videos here. There is also an archive of past chapel events.
Chapel Schedule
Jan. 14, 2021
Natasha Nedrick
Reserve your seat
Natasha Nedrick is a pastor and empowerment coach who works to help faith-based entrepreneurs and professionals reach their potential.
Jan. 21, 2021
Guy Chmieleski
Reserve your seat
Vice President of Student Affairs and Dean of Campus Ministries
Jan. 28, 2021
Luke Stehr
Reserve your seat
"Students share about their experiences this summer and the work God is doing in their lives."
Feb. 4, 2021
Sarah Keasler
Reserve your seat
Sarah Keasler serves as Director of Innovation and Ministry Effectiveness with Fresh Expressions US. She is responsible for fostering innovative approaches and growing the importance of user experience (UX) research and innovation in service of Fresh Expressions' strategic initiatives. Keasler is a leader in nonprofit management and human-centered design methodologies, and has received her undergraduate degree from University of Miami and her MBA from Friends University. Sarah and her husband Keas live in Wichita, KS with their son Theo.
Feb. 11, 2021
Haley Alloway
Reserve your seat
Associate Campus Pastor of Formation

Feb. 18, 2021
Cameron Friend
Reserve your seat
Cameron Friend is a minister, speaker, frequent podcast host, and chaplain from Denver, Colorado. He was a captain, an all-conference linebacker, and a four-year letter winner while playing football at the University of Northern Colorado. He graduated with a B.A. in both Political Science and Philosophy while also completing a minor in legal studies.
Following his time at Northern Colorado and a brief time training for the NFL, he went on to Baylor University where he received his M.Div. at George W. Truett Seminary.
Shortly after he moved to Atlanta, he began his ministry career by working alongisde Pastor Lee Jenkins at Eagles Nest Church. He is most well-known for his work in the areas of racial justice and conversations around race and culture. During his time in ministry, he has interacted with Andy Stanley, Tony Evans, Joel Osteen, Louie Giglio, Lecrae, and many other prominent Christian leaders.
Most notably is work alongside Bernice King, the youngest daughter of the late Dr. Martin Luther King Jr. in front of thousands of attendants.
Cameron has a conviction to uphold the gospel declaration of pursuing both righteousness and justice.
Throughout Cameron's short time in ministry he has had the privilege of serving Christ in multiple countries, states, university campuses, high schools, and churches with the expectation that the best is yet to come.

Feb. 25, 2021
Life After College Panel
Reserve your seat
Recent Friends alumni share their experiences of life after college.

March 4, 2021
Jason Parr
Reserve your seat
Friends University Cross Country Coach
March 11, 2021
Rosa Lee Harden
Reserve your seat
Rosa Lee Harden is an Episcopal priest out of the deep south who created what has become the go-to convening in the impact investing* field – SOCAP (Social Capital Markets) – and now is turning her energy to launching Faith + Finance, a new event in the same vein, but this time with theology.
March 18, 2021
SPRING BREAK – NO CHAPEL
March 25, 2021
Sarah Mason
Reserve your seat
Graduate Assistant for Campus Ministries

April 1, 2021
Ray Chang
Reserve your seat
Pastor Raymond Chang is the president of AACC, a pastor, and writer. He regularly preaches God's Word and speaks throughout the country on issues pertaining to Christianity and culture, race and faith. He has lived throughout the world (Korea, Guatemala, Panama, Spain, China), traveled to nearly 50 countries, and currently lives in Chicagoland, serving as a campus minister at Wheaton College.
April 8, 2021
Justin Giboney
Reserve your seat
Justin Giboney is an attorney and political strategist, found of the AND Campaign, and co-author of Compassion and Conviction.
April 15, 2021
Choirs
Reserve your seat

April 22, 2021
Cindy Dawson (Quaker Heritage Week)
Reserve your seat
Cindy Dawson teaches and studies religion at Rice University and Fuller Seminary, where she specializes in the study of the woman Zion's body in prophetic literature. She has been part of the Quaker church since she was 16 and currently worships at Friendswood Friends.
She and John have been married for 25 years and have two boys, Cooper and Jack.
April 29, 2021
Senior Chapel
Reserve your seat