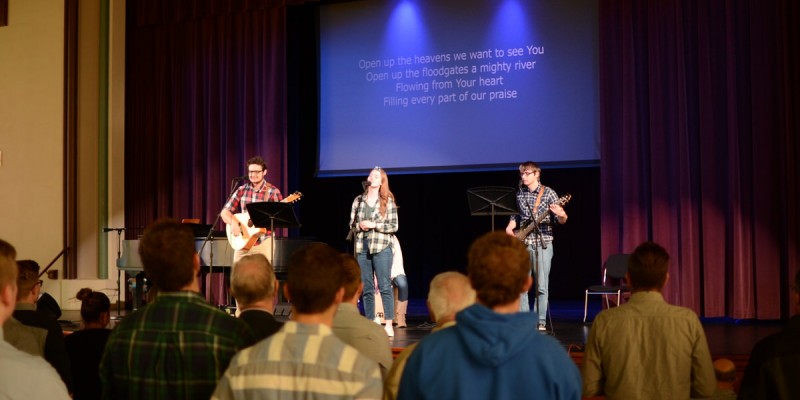 A time for the community to gather for worship, prayer and to explore what it means to be a follower of Jesus. Students, parents, faculty, staff, alumni, friends of the University and the Wichita community are invited to join us.
Thursdays, 11 to 11:50 a.m.
Alumni Auditorium, Davis Administration Building
If you are unable to make it in person, you can join a livestream during Chapel, by clicking here.
You can also see an archive of past Chapel videos here. There is also an archive of past chapel events.
Chapel Schedule
Aug. 19, 2021
Fall Convocation
Aug. 26, 2021
Luke Stehr
Sept. 2, 2021
Haley Blackwell
Sept. 9, 2021
Guy Chmieleski
Vice President of Student Affairs and Dean of Campus Ministries
Sept. 16, 2021
Brittany Michalski
Brittany Michalski is a conservation ecologist with a background in faith-based environmental action with A Rocha USA where she focuses on marine conservation and Love Your Place programs.
Sept. 23, 2021
Casey Tygrett
Casey Tygrett is a writer, speaker, teacher and spiritual director who is passionate about creating and presenting content that leads people to lives of beauty and grace.
Sept. 30, 2021
Rev. Dr. Angela Gorrell
Rev. Dr. Angela Gorrell, assistant professor of practical theology at Baylor University's George W. Truett Theological Seminary is an ordained pastor and author who is passionate about finding issues that matter to people and shining the light of the Gospel on them.
Oct. 7, 2021
Katie Mussat
Alumna and pastor Katie Mussat, writes for Youth Worker Journal and the Youth Specialties Blog along with serving at First Baptist Church in Athens, Texas.
Oct. 14, 2021
Fall Break
Oct. 21, 2021
Keas Keasler
Assistant Professor of Christian Spiritual Formation and Program Director of Christian Spiritual Formation
Oct. 28, 2021
Christyn Gunter
Christyn Gunter, program director for Rise Up For Youth, diversity leadership trainer and assistant pastor at Rock Christian Fellowship is a committed youth mentor and believes strongly in the positive impact mentoring makes on the next generation.
Nov. 4, 2021
Cheryl Bear
Cheryl Bear, associate professor at Regent and director of community ministry at First United Church in Vancouver, B.C is a speaker, teacher and multi-award winning singer/songwriter who shares stories of Indigenous life through story and song.
Nov. 11, 2021
Austin McBeth
Head Men's Basketball Coach
Nov. 11, 2021
Thanksgiving Chapel
Dec. 2, 2021
Singing Quakers