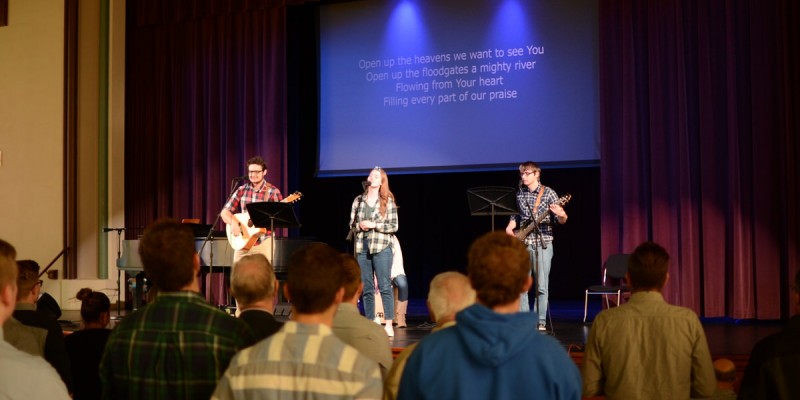 A time for the community to gather for worship, prayer and to explore what it means to be a follower of Jesus. Students, parents, faculty, staff, alumni, friends of the University and the Wichita community are invited to join us.
Thursdays, 11 to 11:50 a.m.
Alumni Auditorium, Davis Administration Building
If you are unable to make it in person, you can join a livestream during Chapel, by clicking here.
You can also see an archive of past Chapel videos here. There is also an archive of past chapel events.
Jan. 16 2020
Opening Convocation
Rev. Junius Dotson
Rev. Dotson writes about discipleship in churches, is the General Secretary of Discipleship Ministries, and helps churches focus on intentional discipleship while engaging their surrounding communities.
Jan. 23 2020
Guy Chmieleski
Jan. 30 2020
Luke Stehr
Feb. 6 2020
Cameron Friend
Cameron Friend is a minister, speaker, frequent podcast host, and chaplain from Denver, Colorado. He is most well-known for his work in the areas of racial justice and conversations around race and culture.
Feb. 13 2020
Dr. Carey Interview
Dr. Carey shares about her experiences in leadership and how she integrates faith into her life and work.
Feb. 20 2020
Coach Panel
Coaches from Friends University share their experiences of faith and life in athletics.
Feb. 27 2020
David Cunningham
Dr. David S. Cunningham is director of the Network for Vocation in Undergraduate Education (NetVUE), a program of the Council of Independent Colleges (CIC).
March 5 2020
Laurel Bunker
Laurel Bunker is a writer, sought after speaker and minister of the gospel, Laurel's love for the Lord and for people has lead her across the country where she ministers to thousands of people in diversity of settings including colleges and universities, churches, youth camps, national conferences and prisons.
March 12 2020
Michelle Vann
March 19 2020
SPRING BREAK – NO CHAPEL
March 26 2020
Student Testimonies
April 2 2020
Jim Smith
April 9 2020
Fine Arts – Stations of the Cross
Experience the Stations of the Cross in a meditative experience guided by art created by Friends students.
April 16 2020
Kent Walkameyer
Kent Walkemeyer works to equip men and women in the Friends denomination to be effective leaders in Christ. With 25 years of pastoral experience, Walkemeyer is an expert in preaching, spiritual formation, and the roots and practices of the Friends tradition.
April 23 2020
Concert Choir
April 30 2020
Senior Chapel