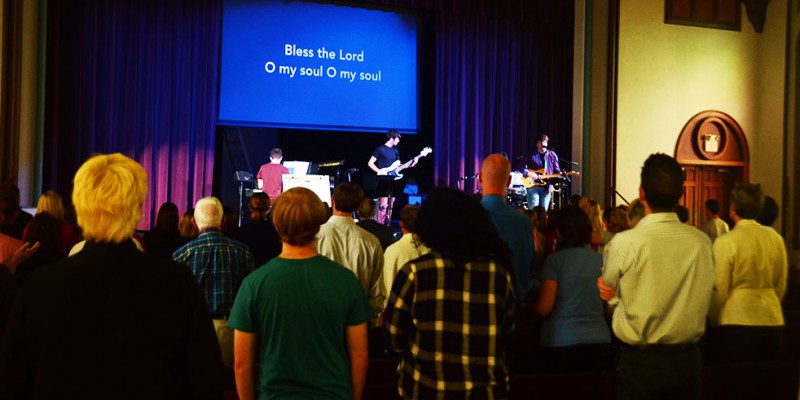 A time for the community to gather for worship, prayer and to explore what it means to be a follower of Jesus. Students, parents, faculty, staff, alumni, friends of the University and the Wichita community are invited to join us.
Thursdays, 11 to 11:50 a.m.
Alumni Auditorium, Davis Administration Building
If you are unable to make it in person, you can join a livestream during Chapel, by clicking here.
You can also see an archive of past Chapel videos here. There is also an archive of past chapel events.
Aug. 23, 2018
Opening Convocation
Dr. Amy Bragg Carey currently serves as the 14th President here at Friends University. She previously served as vice president for institutional advancement at the University of Northwestern in St. Paul, Minn. She brings to Friends a strong background in development, marketing and communications, and enrollment management. Her doctoral study, completed at Azusa Pacific University, focused on the turnaround of small private universities and the factors that contribute to their success. Dr. Carey is joined in Wichita by her husband, Bryan. She has professed her excitement to be active on the local, regional and national stages, helping to raise awareness of the crucial role that Friends University plays in the community of faith-based institutions of higher learning.
Aug. 30, 2018
Guy Chmieleski
Dr. Guy Chmieleski, campus pastor, dean of campus ministries, and interim vice president of student affairs, joined the Friends University community during the summer of 2016. He is a happy husband and proud father of five beautiful kids. Dr. Chmieleski has spent his entire career serving students and campus communities through various campus ministry roles. This is a response to God's leading in his life, and he is motivated by the fact that college years are some of the most formative in all of life. He earned a Doctorate of Ministry in Spiritual Formation and Leadership from George Fox Evangelical Seminary in 2005. Dr. Chmieleski has also authored three books: "Noise.Hurry.Crowds.," "CAMPUS gODS" and "Shaping Their Future."
Sept. 6, 2018
Roy Moye III
Roy Moye III is an emerging urban gospel artist with a heart for the Lord. He has a passion for making music that provides vibrant sounds, shares his personal testimony, and encourages others to seek a personal relationship with Jesus Christ. Moye released his "Coming Back" EP in 2017 and recently released a Mixtape entitled "Praise on a Beat." He has a passion for youth and currently serves in the Wichita Real Men Real Heroes organization. This organization provides role models for youth in an effort to build stronger communities. Above all, he is excited about what God is doing in his life and loves to share the gospel through song anywhere he can. Moye is committed to doing the Lord's will and strives to live by Matthew 6:33: "But seek ye first the kingdom of God and all his righteousness; and all things shall be added unto you."
Sept. 13, 2018
Kaitlin Curtice
Kaitlin Curtice is a Native American Christian author, speaker and worship leader. As an enrolled member of the Potawatomi Citizen Band and someone who has grown up in the Christian faith, Curtice writes on the intersection of Native American spirituality, mystic faith in everyday life and today's Christian culture. She is the author of "Glory Happening: Finding the Divine in Everyday Places" (Paraclete Press) and a contributor to Sojourners, Relevant Magazine, the Mudroom blog and Patheos. She frequently blogs on her website at www.kaitlincurtice.com. Curtice has served on staff at a church and has spoken at Wild Goose Festival; at Listen to Your Mother, a national event that aspires to give motherhood a microphone; and at other events across the country. She studied social work at the University of Arkansas in Fayetteville and currently lives in Atlanta, Ga., with her husband who is working on his Ph.D. in Political Science; two sons (6 and 4 years old); and a Weimaraner and Siberian Husky.
Sept. 20, 2018
Steve Guthrie
Dr. Steve Guthrie is professor of theology and head of the Religion and Arts and Worship Leadership programs at Belmont University. He is the author of "Creator Spirit: The Holy Spirit and the Art of Becoming Human" and was recently named general editor of the "Oxford Handbook of Music and Christian Theology." Dr. Guthrie is a musician and continues to record and perform in the Nashville area.
Sept. 27, 2018
Helen Rhee
Rev. Dr. Rhee graduated from UC Berkeley with a degree in history and earned a Master of Divinity and a Doctor of Philosophy at Fuller Theological Seminary. Before coming to Westmont in 2004, she served as pastor of Hana Church in Buena Park, Calif., and she is an ordained minister of Free Methodist Church Santa Barbara. She specializes in early Christian history, especially second- and third-century Christian literature and theology, focusing on the diverging Christian self-identities in relation to Greco-Roman culture and society. Her books include "Early Christian Literature: Christ and Culture in the Second and Third Centuries," "Loving the Poor, Saving the Rich: Wealth, Poverty, and Early Christian Formation," and "Wealth and Poverty in Early Christianity." She received the Bruce and Adaline Bare Teacher of the Year Award in Humanities in 2010 and the Faculty Researcher of the Year Award in 2014. In the fall of 2016, she led the Westmont in East Asia program.
Oct. 4, 2018
James Bryan Smith (HOMECOMING CHAPEL)
Dr. James Bryan Smith is a theology professor at Friends University in Wichita, Kan., and a writer and speaker in the area of Christian spiritual formation. He also serves as the director of the Apprentice Institute for Christian Spiritual Formation at Friends University. A founding member of Richard J. Foster's spiritual renewal ministry, Renovaré, Dr. Smith is an ordained United Methodist Church minister and has served in various capacities in local churches. Dr. Smith is also the author of "A Spiritual Formation Workbook," "Devotional Classics" (with Richard Foster), "Embracing the Love of God," "Rich Mullins: An Arrow Pointing to Heaven" and "Room of Marvels."
Oct. 11, 2018
FALL BREAK (NO CHAPEL)
Oct. 18, 2018
Guy Chmieleski
Oct. 25, 2018
Greg Boyd (APPRENTICE GATHERING)
Dr. Greg Boyd is an internationally recognized theologian, preacher, teacher, apologist and author. He received his Ph.D. from Princeton Theological Seminary, his M.Div. from Yale Divinity School and his B.A. in Philosophy from the University of Minnesota. He was a professor of theology for 16 years at Bethel University (St. Paul, Minn.) where he received the Teaching Excellence Award and Campus Leadership Award. Dr. Boyd is the co-founder of Woodland Hills Church in St. Paul, Minn., where he serves as senior pastor, speaking to thousands each week. Dr. Boyd has authored or co-authored 22 books and numerous academic articles, including his best-selling and award-winning "Letters from a Skeptic" and his recent books "Crucifixion of the Warrior God" and "Cross Vision." His apologetic writings and public debates on the historical Jesus and the problem of evil have helped many skeptics embrace faith, and his writings and seminars on spiritual transformation have had a revolutionary, freeing impact on thousands of believers.
Nov. 1, 2018
Mark Yaconelli
Mark Yaconelli is a writer, speaker, retreat leader, spiritual director, community activist, youth worker, storyteller, disco dancer, husband and father. He is the founder and executive director of The Hearth: Real Stories by Regular Folks, a registered nonprofit that assists cities and service-based agencies in producing personal storytelling events designed to help communities and individuals deepen relationships and cultivate compassion. Yaconelli is in demand as a speaker and retreat leader. He speaks to a variety of audiences each year across North America and the United Kingdom. Mark spent 20 years working with young people and the people who serve them in congregational, camp and conference settings. In 1996, he co-founded the Youth Ministry and Spirituality Project at San Francisco Theological Seminary, a grant funded project that sought to test the integration of contemplative practice and awareness within congregational youth ministry programs. He directed that project from 1996 to 2006. Mark is the author of "The Gift of Hard Things" (IVP, 2016); "Wonder, Fear, and Longing" (Zondervan, 2009); "Downtime" (Zondervan, 2008); "Growing Souls" (Zondervan, 2007); and "Contemplative Youth Ministry" (Youth Specialties, 2006). Yaconelli holds an M.A. in Christian Spirituality from the Graduate Theological Union and a Graduate Diploma in the Art of Spiritual Direction from San Francisco Theological Seminary. Yaconelli lives in Southern Oregon with his wife, Jill, and their three children–Noah, Joseph and Grace.
Nov. 8, 2018
Tracy Balzer
Tracy Balzer is the author of three books, the most recent being "Permission to Ponder: Contemplative Wisdom for the Spiritually Distracted" (Leafwood Publishers, 2015). Her interests include teaching and writing about Celtic Christianity, leading adult spiritual pilgrimages to Northern Ireland and Scotland, calligraphy, and discussing books and movies. Tracy received her undergraduate degree from Seattle Pacific University and her Master's of Ministry degree from John Brown University where she has served as the director of Christian formation for 21 years. Her husband, Cary, is a theology professor at JBU; other important people include their two daughters and sons-in-law, and their new granddaughter, Lizzy.
Nov. 15, 2018
Haley Alloway
Haley earned a B.A. in Religion and Philosophy with an emphasis in Christian Spiritual Formation from Friends University in 2012 before pursuing a Master of Divinity focusing on Collegiate Ministry and Spiritual Formation at Truett Seminary. Her passions and hobbies include playing softball, watching college football, eating chips and queso, talking about the Enneagram, and playing and cuddling with her dog, Scout.
Nov. 22, 2018
THANKSGIVING BREAK (NO CHAPEL)
Nov. 29, 2018
Guy Chmieleski
Dec. 6, 2018
Singing Quakers