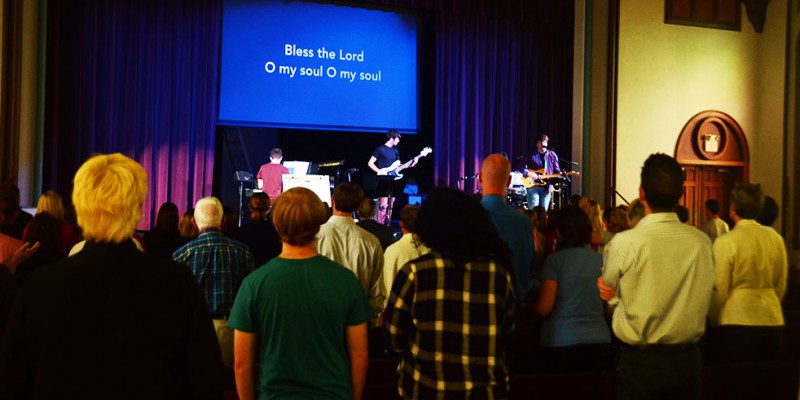 A time for the community to gather for worship, prayer and to explore what it means to be a follower of Jesus. Students, parents, faculty, staff, alumni, friends of the University and the Wichita community are invited to join us.
Thursdays, 9:30 to 10:20 a.m.
Alumni  Auditorium, Davis Administration Building
Aug. 25 (Friends Experience)
Convocation
Dr. Amy Bragg Carey, Dr. Guy Chmieleski and Bill Allan
Dr. Guy Chmieleski, campus pastor and dean of campus ministries will conduct the invocation. The president's address will be given by Dr. Amy Bragg Carey and Bill Allan will provide the closing remarks.
Sept. 1
"Something Radical"
Dr. Guy Chmieleski, Campus Pastor and Dean of Campus Ministries
Guy joined the Friends University community during the summer of 2016. He is a happy husband and proud father of five beautiful children. Guy has spent his entire career serving students and campus communities through various campus ministry roles. This is a response to God's leading Guy's life, and he is motivated by the fact that college years are some of the most formative in all of life. Guy earned a Doctorate of Ministry in Spiritual Formation and Leadership from George Fox Evangelical Seminary in 2005. Guy has also authored three books: "Noise.Hurry.Crowds. On Creating Space for God Amidst the Chaos of Campus and Culture" (Seedbed, '15); "CAMPUS gODS: Exposing the Idols That Can Derail Your Present and Destroy Your Future" (Seedbed, '13); and "Shaping Their Future: Mentoring Students Through Their Formative College Years" (Seedbed, '13). When he's not hanging out with college students, there's a good chance Guy can be found trying to keep up with his kids, enjoying some coffee and quiet moments with his wife, or working out in the yard.
Sept. 8
"Identifying and Maximizing Your Uniqueness"
Jason Jaggard

Jason is a coach, speaker, author and social innovator for cultural change. He is a founding partner of Novus Global, an elite executive coaching firm offering workshops, keynotes and coaching to help great leaders and companies take new ground in personal mastery, large-scale organizational change and high performance. His first book, "Spark: Transform Your World One Small Risk at a Time," explores how the habit of taking healthy risks help us become the people we long to be and create the teams we long to be on. Jason is also the founder of Spark Good, a company passionate about creating tools, media and communities that unleash human potential. Jason is the inventor of Spark Groups, a small-group experience that over 10,000 people have participated in worldwide.
Before starting Spark Good, Jason worked for Erwin McManus at Mosaic, a community dedicated to bringing dignity to other's spiritual journeys and known throughout the world for its cultural creativity and cosmopolitan diversity. He co-authored group material with Erwin McManus to CRAVE and Stand Against the Wind, available through LifeWay Resources.
Sept. 15
"The Power of Humility in the Age of Selfie"
Dr. David Carter
Dr. David W. Carter is an executive trainer, professional speaker and best-selling author. But if you were to ask him directly, he would give you his formal title: a rec·re·a·tion·ist – one who creates again, takes and seeks recreation; imagines new possibilities in old paradigms. An experienced educator for several institutions, businesses and non-profit organizations, David also served in the United States Air Force as a combat engineer, as a Kansas police officer and as an education technician for the National Park Service. He holds a doctorate in Higher Education and Organizational Change from Benedictine University and currently serves as director of the Organizational Leadership and Transformational Change program at Friends University, where he teaches in the program. His previous work has appeared on multiple news and media outlets and, most recently, C-SPAN's Book TV, which highlighted his 2013 bestseller, "Mayday over Wichita."
Sept. 22
"A Life in Testimony and Music"
Mitch McVicker
Mitch McVicker is a GMA Dove Award-winning contemporary Christian singer-songwriter and is also a 1995 graduate of Friends University. His music career has consisted of 1500 concerts and 10 albums and with his latest project, McVicker looks towards the mysterious grey love of God. He says, "I hope the songs remind us that God's all-encompassing love connects with us in all situations and through every circumstance."
After growing up in Kansas, McVicker began working with the late, great Rich Mullins. The two of them performed concerts together, wrote songs, and were roommates. Then, McVicker was in the car wreck that killed Mullins.
Shortly after Rich's death, and while Mitch was still deep in recovery, the two won the GMA's Dove Award for song of the year, for their writing of "My Deliverer".
After a lengthy recovery, he began his own musical journey. Rich Mullins has influenced Mitch McVicker's thoughts as much as he has influenced his music.
Mitch lives in Atlanta, Georgia, and loves spending time with his wife, Paula, and their two children, Brooklyn (9) and Payson (4). McVicker, himself, wears all the hats required of a music career. He handles booking, creative and visionary management, publicity, tour management, recording, merchandise management, promotions, etc.
Sept. 29 (Friends Experience)
"Influential Power of Mentoring"
Natasha Sistrunk Robinson
Natasha Sistrunk Robinson is the author of "Mentor for Life: Finding Purpose through Intentional Discipleship" (Zondervan, 2016). She is a gifted Bible teacher and writer, in addition to being an anti-human trafficking advocate, champion for education and community organizer. Natasha graduated cum laude (M.A. in Christian Leadership) from Gordon-Conwell Theological Seminary Charlotte, where she received the Redemptive Leadership Award. She is also a graduate of the U.S. Naval Academy and a former Marine Corps officer. With over 15 years of leadership and mentoring experience in the military, government, church, seminary and nonprofit sectors, she is a sought after consultant and speaker.
Oct. 6
Homecoming Chapel and Pep Rally
Please join the Friends University Pep Band and Cheer Squad as we prepare for the week of Homecoming! Recent Friends University alumnae Katie Mussat ('10) and Cameron Rhodes ('16) will also share their reflections.
Oct. 20
"Living in the Red"
Manny Garcia
Manny joined the Northridge Friends Church Ministry Team as lead pastor in July 2015. He is married to Jenalee and together they have four children (Syler, Chasley, Elena and Cic). His desire is to combine his gifts and talents with the rest of the NFC pastoral team in order to help others grow in and serve Christ more effectively. With a background in youth ministry and pastoral leadership as well as experience outside of vocation ministry, Manny feels he can partner with NFC in a unique way that will help people live "with purpose, on purpose." He loves visitors and hopes you'll stop in and enjoy a cup of coffee and some conversation with him.
Oct. 27
"Extending the Welcome: Refugee Resettlement in 2016"
Marla Schmidt
Marla Schmidt is the Field Office Director for the Episcopal Migration Ministries – Wichita refugee resettlement agency. EMM-Wichita welcomes individuals and families to Wichita who have fled their homeland due to persecution and war and assists these newcomers as they adjust and integrate into their new lives in America. Marla has been with the agency for over three years and has been the director for 1 1/2 years. Marla received her undergraduate degree in psychology from Bethel College North Newton and her masters of social work from the University of Kansas. She is a licensed master level social worker. Marla has been involved in a variety of capacities with refugee resettlement for most of the last 20 years in three different states – South Dakota, Maryland and Kansas. Marla also spent ten years as a school social worker in Newton. Marla and her husband have three wonderful children, all in middle school. In her spare time, Marla can most often be found on the sidelines of a soccer, volleyball or basketball game cheering on her children in the sport/s they love.
Nov. 3
"Seeing the Unseen: A Scientist's View of Micah"
Steve Jacobs
Steve is a Wizard IV as well as a lay person for the United Methodist Church. He is a science consultant for a variety of TV shows.
Nov. 10
Risa Rehmert
Risa is the Director of Program Development at the Wichita State University Center for Combating Human Trafficking (CCHT). Risa comes to CCHT with over 30 years of experience serving youth and families in crisis. Prior to joining CCHT, Risa was at the Wichita Children's Home for 23 years where she was the Coordinator of the Street Outreach, OZ Drop In Center, Crossroads and Safe Place programs.
Risa serves on the National Training and Technical Assistance Center for Homeless and Runaway Youth (RHYTTAC) Advisory Board. She is identified as a Subject Matter Expert for RHYTTAC and has provided trainings at the national, state and local level. Risa graduated from Friends University with a Bachelors in Human Services.
Nov. 17 (Friends Experience)
"Analog Networking in the Digital Age"
Aaron Wirtz
Aaron Wirtz is the media and marketing manager for the Ride Auto Group, where he serves as the television and radio personality for the Super Car Guys brand. Aaron is the founder of CurveBreak, a video production and marketing agency. He has been featured in AdWeek, FoxBusiness, Fox & Friends, Automotive News and edmunds.com, and most recently was featured in best-selling author Jay Baer's new book "Hug Your Haters." Aaron is a proud husband, daddy, and Big Brother through Big Brothers Big Sisters.
Dec. 1
"The Advent of Something Special"
Dr. Guy Chmieleski, Campus Pastor and Dean of Campus Ministries
Dec. 8 (Friends Experience)
Christmas Celebration
Singing Quakers