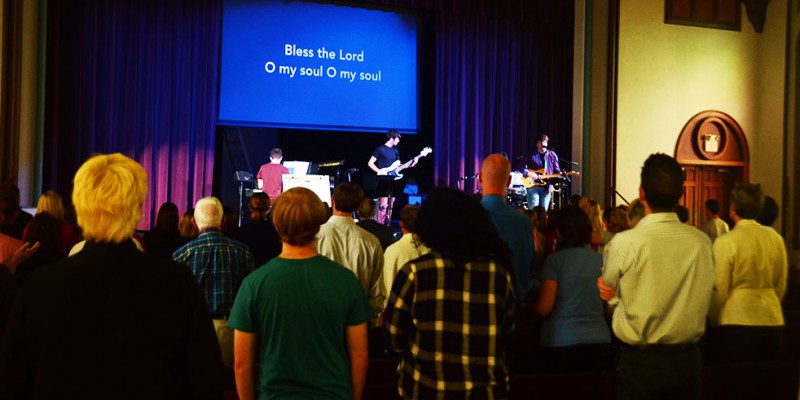 A time for the community to gather for worship, prayer and to explore what it means to be a follower of Jesus. Students, parents, faculty, staff, alumni, friends of the University and the Wichita community are invited to join us.
Thursdays, 11 to 11:50 a.m.
Alumni  Auditorium, Davis Administration Building
If you are unable to make it in person, you can join a livestream during Chapel, by clicking here.
You can also see an archive of past Chapel videos here. There is also an archive of past chapel events.
Jan. 18, 2018
MLK Jr./President Carey
President Carey
An honorary service remembering Martin Luther King Jr.'s Legacy with a reflection offered by President Carey, special music, and a dramatic reading by members of Acts of Faith.
Jan. 25, 2018
Peter Kanelos
Kanelos served for the past four years as the dean of Christ College, the Honors College of Valparaiso University in Valparaiso, Indiana, where he was responsible for the strategic leadership, coordination, and guidance of Christ College. He also managed the recruitment and admissions process, which included initiatives to expand diversity that led the college to achieve its largest and most diverse enrollment to date. Concurrently, he oversaw the administration and finances of the Lilly Fellows Program in Humanities and the Arts, a network of 100 colleges and universities that advances liberal arts education through conferences, workshops, publications, and fellowships.
Kanelos also serves on the Executive Board of the Board of Trustees for Hellenic College/Holy Cross, where he oversees the institution's financial operations and chairs the Academic Affairs Committee.
"Peter Kanelos brings to St. John's College a rich understanding of the value of a liberal arts education," Nelson said. "With his leadership experience in academia, he also brings a palpable energy and great enthusiasm for our distinctive community of learning."
Prior to Valpo, at Loyola University Chicago, Kanelos chaired several committees in addition to serving as a core faculty member of the honors program, an associate professor in the Department of Fine and Performing Arts and the founding director of the Interdisciplinary Shakespeare Studies Program. Kanelos brings a distinguished background as an educator and administrator who has developed innovative programs. An ardent Shakespeare fan and scholar, he has authored and edited numerous books, articles, and essays on Shakespeare, including the "Shakespeare and the Stage" series, published by Rowman & Littlefield.
Kanelos holds a Ph.D. from the Committee on Social Thought at University of Chicago, a M.A. in Political Philosophy and Literature from the University Professors Program at Boston University, and a B.A. in English from Northwestern University.
Feb. 1, 2018
Phileena Heuertz
Author, spiritual director, yoga instructor, public speaker and retreat guide, Phileena is passionate about spirituality and making the world a better place. Phileena has led contemplative retreats for a number of faith communities including: Word Made Flesh, World Vision International, Compassion International, as well as non-faith and interfaith groups in leading cities across the nation. She has spoken at a number of universities and seminaries including: Asbury Theological Seminary, Biola University, Creighton University, Eastern Nazarene College, Fuller Seminary, George Fox University, Hardin-Simmons University and Midland University; and conferences such as Q, Catalyst, Urbana and the Center for Action and Contemplation.
Feb. 8, 2018
Morgan Burns
A former standout cornerback for the Kansas State Wildcats. In 2015, he won the Big 12 Special Teams Player of the Year. He signed a contract with the Tennessee Titans as a free agent as of April 30, 2016. He subsequently retired from professional football to pursue a career in the ministry. Morgan currently serves as the Student Pastor at City Life Church in Wichita, Kansas.
Feb. 15, 2018
Linda Schubring
As a consultant with Leadership Vision since 2008, Dr. Linda Schubring brings heart and soul to each engagement. She particularizes people and is a charismatic communicator. Linda leads out of her emotional intelligence and is fueled with passion for people to find their voice and unique contribution to groups, teams, and the world whether they are educators, business professionals, or life-long learners.
As a self-proclaimed world citizen, Linda has traveled around the world studying culture and adding to her cultural repertoire. She has taught English in Thailand, served in an orphanage in Mozambique, built latrines in El Salvador, and consulted with teams in Asia, North and Central America, and 18 European countries.
Through a decade of administration in higher education, she developed proven management, leadership development, and successful bridge building skills. After serving 15 years in Higher Education, she earned a Doctorate in Intercultural Studies. She studied how teams and individuals navigate change. Linda also serves as the Director of Strengths Based Organizational Culture at Aeritae, an IT consulting firm based in the Twin Cities.
Husband, Brian and teenager, Camila reside in Minneapolis.
Feb. 22, 2018
Neal Plantinga
Cornelius Plantinga Jr. is senior research fellow at the Calvin Institute of Christian Worship and president emeritus of Calvin Theological Seminary. Neal was Dean of the Chapel from 1996 to 2001 at Calvin College and served as professor (1979 to 1996) and president (2001-2011) at Calvin Theological Seminary. He writes for the Worship Institute and participates in its major events as a speaker or as a host for other speakers.
For more than a decade Neal co-hosted a summer seminar for preachers on reading for preaching in connection with The Center for Excellence in Preaching at Calvin Theological Seminary. His latest book is Reading for Preaching: The Preacher in Conversation with Storytellers, Biographers, Poets, and Journalists (Eerdmans).
Neal preaches and speaks regularly and also writes articles and books.
Neal is married to Kathleen. They have two sons, two daughters-in-law, and five grandchildren.
March 1, 2018
Kneeland Brown
Dr. Kneeland C. Brown is currently the President of Trinity Academy here in Wichita, Kansas. He has worked in the education and not-for-profit sectors for more than a decade. As an administrator in institutions of higher education, he was invited to participate in the Council of Christian Colleges and Universities 2010 class of the Multi-Ethnic Leadership Development Institute, a year-long fellowship experience targeted at developing future executive-level administrators for colleges and universities.
Dr. Brown was named Dean of the DeVoe School of Business in 2014 at Indiana Wesleyan University, where he gave direction and oversight to all personnel, academic program offerings, instructional delivery, and strategic planning for the school. He also serves as Editor-in-Chief of The DeVoe Report, a semi-annual high-level business magazine which focuses upon the equipping of its readership for the expansion of virtuous God-honoring business practice within the global marketplace.
Kneeland has been married to his lovely bride, Tearrah, for more than 12 years and the Lord has blessed their union with 4 children.
March 8, 2018
Mihee Kim-Kort
Mihee Kim-Kort writes about the intersection of faith and real life. Her charming, funny demeanor disarms the listeners as she communicates the truth of God's presence in the everyday and ordinary.
Mihee was born in Seoul, Korea and immigrated to the United States with her parents shortly after her birth settling in Colorado Springs, Colorado where she was baptized in a Methodist church before her family joined the local Korea Presbyterian (PCUSA) church. It was here that she learned about faith from an African American, who was a respected Elder and teacher in the church as well as a little old lady that was the wife of the former pastor of the white Presbyterian congregation that shared their building.
During her undergraduate studies she skipped many classes to snowboard, checked out lectures from radical and interesting writers and teachers, and joined various Christian fellowship groups. She also began to experience a shift from traditional evangelicalism to a more progressive, inclusive faith focused on justice as found in the teachings of Jesus Christ.
After seminary, Mihee was ordained as a Presbyterian (PCUSA) minister with degrees in divinity and theology from Princeton Theological Seminary and English Literature and Religious Studies from the University of Colorado, Boulder.
Since finishing her education Mihee has been busy! She has written three books: Yoked: Stories of a Clergy Couple in Marriage, Family and Ministry, Streams Run Uphill: Conversations with Young Clergywomen of Color, and Making Paper Cranes: Toward an Asian American Feminist Theology. She can also be found on platforms across the US as a keynote speaker for conferences, colleges/universities, retreats and churches.
And as if that wasn't enough, Mihee's day job includes: juggling her time as a wife to another Presbyterian minister, a mother of three (5 year old twins and a year old toddler), ministering to college students as the staff person for UKIRK @ IU, a part-time youth ministry, itinerant preaching, rabble-rousing around Bloomington, IN and liking too many posts on Facebook and admiring people on Twitter and Instagram.
March 15, 2018
John Carroll
John Carroll is the Director of Operations for the Apprentice Institute and oversees the Apprentice Experience, as well as directs the Institute's digital platform and Wichita-based local pastor's network. With a bachelor's degree from the University of Central Florida and a Master of Divinity from Asbury Theological Seminary, John brings a unique blend of experience (corporate recruiting and the local church) to the Apprentice Institute. John is happily married to his wife, Amber, and together they have two children, Aidan and Amelia. In his free time, John enjoys reading, watching football and spending time with family and friends.
March 22, 2018
Spring Break – NO CHAPEL
March 29, 2018
Maundy Thursday Service
Paul Hill
Paul is the pastor at Wheatland Mission church in Wichita, Kansas. Paul also teaches as an adjunct at Friends University.
April 5, 2018
Spring Break Stories
Haley Alloway
Haley Alloway joined the Friends University community in early 2017 and serves as the Associate Campus Pastor and Director of Outreach. Haley earned a B.A. in Religion and Philosophy with an emphasis in Christian Spiritual Formation from Friends in 2012, before pursuing her Masters of Divinity, focusing on collegiate ministry and spiritual formation at Truett Seminary. Haley leads our campus mission efforts and will share alongside students about how they saw God at work through their spring break experiences.
April 12, 2018
Quaker Day
David Williams
David Williams is the General Superintendent for the Evangelical Friends Church of Mid-America.
Having served as a youth pastor, family pastor, senior pastor and campus pastor, Dave brings over 30 years of field experience to his current role as General Superintendent. He considers it a high and holy privilege to serve as "lead pastor" for EFC-MAYM, and is deeply grateful for the opportunity to partner with Friends who share his passion for equipping the whole church to take the whole gospel to the whole world.
A graduate of Malone University (BA) and Ashland Theological Seminary (MA), Dave completed his doctorate (DMin) in leadership and spiritual formation at George Fox Evangelical Seminary. Dave and his wife, Carol, have been partners in full-time Christian service throughout their 31 years of marriage. They have six children (Josiah, Sarah, Jeremiah, Hannah, Jessie and Jasmine) and five grandchildren (Isaiah, Noah, Isabel, Abigail and Lincoln).
In addition to his love for the church, Dave enjoys sports, nature, travel, photography and spending lots of time with his family. When away from home, Dave's favorite destination is a solitary cycling route on the Kansas prairie or a scenic hiking trail anywhere above timberline in the Rocky Mountains.
April 19, 2018
Friends University Concert Choir
The Friends University Concert Choir is foundational to the university's vocal program. This 75-voice choir performs a wide variety of choral literature and focuses on the development of vocal technique, music literacy and performance skills. It is open to all Friends University students by audition. Concert Choir engages students in a well-rounded choral experience that includes performance opportunities both on and off campus as well as tours and service. Rolaine Hetherington is the conductor of the Concert Choir.
April 26, 2018
Guy Chmieleski
Guy joined the Friends community in 2016 and serves as the Campus Pastor and Dean of Campus Ministries. He is a happy husband and proud father of five beautiful kids. Guy has spent his entire career serving students and campus communities through various campus ministry roles. Guy has also authored three books: Noise.Hurry.Crowds. On Creating Space for God Amidst the Chaos of Campus and Culture (Seedbed, '15), CAMPUS gODS: Exposing the Idols That Can Derail Your Present and Destroy Your Future (Seedbed, '13), and Shaping Their Future: Mentoring Students Through Their Formative College Years (Seedbed, '13).
May 3, 2018
Senior Chapel
With a desire to honor and celebrate the growth and formation that has taken place in the lives of our graduating class, we will hear from several students who have been profoundly shaped by God over the course of their time at Friends University.