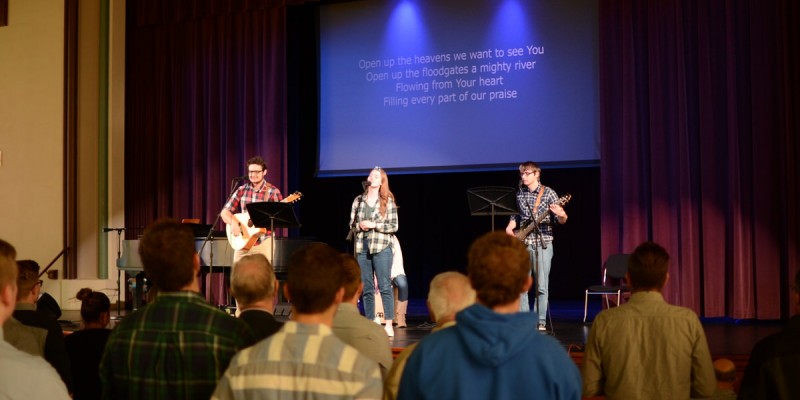 A time for the community to gather for worship, prayer and to explore what it means to be a follower of Jesus. Students, parents, faculty, staff, alumni, friends of the University and the Wichita community are invited to join us.
Thursdays, 11 to 11:50 a.m.
Alumni Auditorium, Davis Administration Building
If you are unable to make it in person, you can join a livestream during Chapel, by clicking here.
You can also see an archive of past Chapel videos here. There is also an archive of past chapel events.
Chapel Seat Reservation
Due to COVID-19, we have created a reservation system for fall 2020 chapel seating. Please click the button below to reserve your seat.
Chapel Schedule
Aug. 20, 2020
Opening Convocation
Guy Chmieleski
Reserve your seat
Aug. 27, 2020
Faith and Science
Dr. Ana Jurcek-Detter & Dr. Prince Agbedanu
Reserve your seat
"Professors Dr. Ana Jurcek-Detter and Dr. Prince Agbedanu discuss the relationship of faith and science."
Sept. 3, 2020
Student Testimonials
Reserve your seat
"Students share about their experiences this summer and the work God is doing in their lives."
Sept. 10, 2020
Keas Keasler
Reserve your seat
Sept. 17, 2020
Convocation
Reserve your seat

Sept. 24, 2020
Dean Jaderston
Reserve your seat

Oct. 1, 2020
Michelle Vann
Reserve your seat

Oct. 8, 2020
Syeeda Echols
Reserve your seat
Syeeda Echols is an African-American minister, writer, racial and cultural trauma expert, and chaplain. Syeeda received her Masters of Divinity from Truett Seminary and a Bachelors in Religion & Philosophy with a concentration in Christian Spiritual Formation from Friends University. She is the founder of Healing and Glory, an organization committed to providing spiritual care and education on racial and cultural trauma. In her free time, Syeeda enjoys gardening, making lemonade, and going to the beach.
Oct. 15, 2020
FALL BREAK – NO CHAPEL
Oct. 22, 2020
Luke Stehr
Reserve your seat

Oct. 29, 2020
Sherdeill Breathett
Reserve your seat
Sherdeill H. Breathett, Sr. is an ordained clergy and former lead pastor at ROCK Christian Fellowship in Wichita and currently serves as the COO for IT TAKES A VILLAGE (ITAV) also in Wichita. He worked as an economic developer for 17 years, establishing foreign trade general purpose zones, minor boundary modifications, sub-zones, and major boundary modifications for Sedgwick County Government. He's a member of the National Association of Foreign Trade Zones, a certified Business Retention Professional, and a member of the International Economic Development Council.
Nov. 5, 2020
Manny Garcia
Reserve your seat
Manny Garcia is pastor of Northridge Friends Church.
Nov. 12, 2020
Haley Alloway
Reserve your seat

Nov. 19, 2020
Thanksgiving Testimonies
Reserve your seat
"Hear testimonies from faculty, staff, and students about the good things God is doing in their lives."
Nov. 26, 2020
THANKSGIVING – NO CHAPEL
Dec. 3, 2020
The Singing Quakers
Reserve your seat