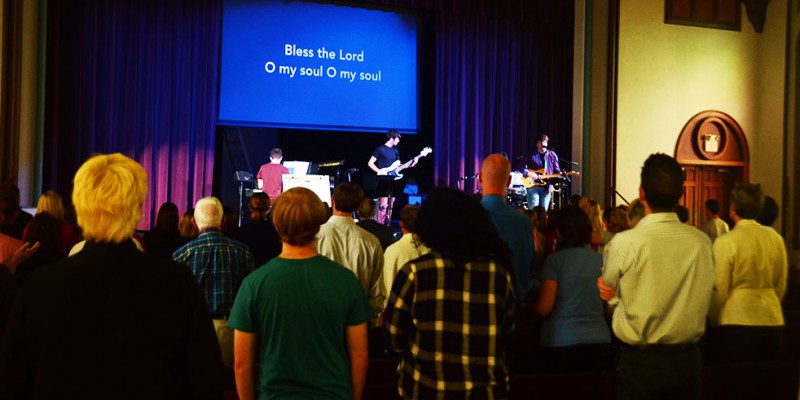 A time for the community to gather for worship, prayer and to explore what it means to be a follower of Jesus. Students, parents, faculty, staff, alumni, friends of the University and the Wichita community are invited to join us.
Thursdays, 11 to 11:50 a.m.
Alumni Auditorium, Davis Administration Building
If you are unable to make it in person, you can join a livestream during Chapel, by clicking here.
You can also see an archive of past Chapel videos here. There is also an archive of past chapel events.
Jan. 17, 2019
Ken Stoltzfus
The new dean of the College of Business, Arts, Sciences and Education is Dr. Ken Stoltzfus, who previously served as professor and chair of the Department of Social Work at Samford University. Dr. Stoltzfus received his Ph.D. in Social Welfare from Case Western Reserve University, his Master of Social Work from Temple University and his bachelor's degree from Lock Haven University of Pennsylvania.
Dr. Stoltzfus has worked as a counselor and administrator at human service agencies, including a residential substance abuse treatment facility, a faith-based addiction treatment clinic and a community-based mental health program. He received a Fulbright Lecturing/Research Award in 2010. His research interests include substance abuse, spirituality/religion and social work in the former Soviet Union. He is currently an associate editor of "Social Work and Christianity: An International Journal."
Jan. 22, 2019
Brandon Redic // MLK JR. Celebration
Brandon is the Lead Pastor at The Bridge Church in Wichita, Kansas. Brandon hails from Waxahachie, Texas, which is 20 minutes south of Dallas.
After high school graduation, he attended Texas A & M University and graduated with honors in 2007 with a bachelor's degree in business administration.
Brandon also is a graduate of Dallas Theological Seminary, where he earned a master's degree in theology with a focus in pastoral ministries. During his last year of seminary, Brandon was selected to preach during Senior Chapel by his professors.
This opportunity is only afforded to four men out of the entire seminary.
His ministry experience includes more than 10 years as a minister of music in churches in the DFW metroplex. Churches of all colors and denominations have invited him to preach at numerous revivals and conferences. He also has served as a director of Christian education. In 2014, he was appointed to assistant pastor at Christ Willing Workers' Baptist church in Dallas.
He is married to Connie and together they have two children, Brandon Jr. and Briana
Jan. 31, 2019
Matt Shepherd
Matt Shepherd is the Metro Director of Wichita Young Life. He is married to Tara and is the father of five children; Macy, Kate, Lucy, Hope and Luke. Matt coaches football and basketball at Wichita Collegiate School and will never say 'No' to free golf.
Kimberly is the Southeast Region Black Campus Ministry Coordinator for InterVarsity Christian Fellowship/USA.
Feb. 7, 2019
Neal Plantinga
Cornelius Plantinga, Jr. is senior research fellow at the Calvin Institute of Christian Worship and president emeritus of Calvin Theological Seminary. Neal was Dean of the Chapel from 1996 to 2001 at Calvin College and served as professor (1979 to 1996) and president (2001-2011) at Calvin Theological Seminary. He writes for the Worship Institute and participates in its major events as a speaker or as a host for other speakers.
For more than a decade, Neal co-hosted a summer seminar for preachers on reading for preaching in connection with The Center for Excellence in Preaching at Calvin Theological Seminary. His latest book is Reading for Preaching: The Preacher in Conversation with Storytellers, Biographers, Poets, and Journalists (Eerdmans).
Neal preaches and speaks regularly and also writes articles and books.
Neal is married to Kathleen. They have two sons, two daughters-in-law and five grandchildren.
Feb. 14, 2019
Juice
Joseph Sutton
Comedian|Actor|MC|Host Joseph Sutton, AKA Juice, has been entertaining people since the day he was able to speak. Since that time, Juice has traveled all over the country performing in a variety of venues such as churches, youth events, conferences, comedy clubs, block parties, colleges, schools, and state fairs. He has also been nominated for the Kingdom Image Awards 'National Comedian Of The Year.' Juice has shared the stage with a numerous number of comedians such as clean Christian comic sensation Michael Jr., Dave Chappell, Tony Baker, Shed G, Steve Brown, Kirk McHenry, comedian Akintunde, social media phenomenon KevOnStage and many more. Juice currently works full time in comedy and acting and is now a Live Game Day Entertainer for the Minnesota Timberwolves (NBA).
Juice brings a home-style energetic type of comedy to the table. What makes his comedy great is it's suitable for all ages. He likes to bring positive comedy to the stage and flip real life issues and problems and make them into something people can laugh about. He also brings a different angle to comedy by integrating musical performances with his jokes. Juice recently released the first comedy music album in the Midwest and the fourth in the country. Juice not not only performs traditional stand-up but creates funny songs with jokes and punch lines in the music. What makes his comedy stand out is that with every set he brings, he loves to leave his audience with a positive message or "Comedy With A Purpose." His set will leave you encouraged, empowered and most importantly laughing.
Juice is also a YouTube partner with his very own channel (Juice The Comedian). He also has a podcast called "Keeping it 100 w/ Juice & Dre" on Soundcloud.
Feb. 21
MaryKate Morse
Dr. MaryKate Morse serves as the lead mentor for the Leadership and Spiritual Formation DMin track. As lead mentor, Dr. Morse designs the content for all four semesters, leads the four F2F Retreats, and facilitates the online learning experiences.
MaryKate is the Professor of Leadership and Spiritual Formation at George Fox Evangelical Seminary. She began her ministry living in the Andes Mountains of Bolivia and Peru doing evangelism, theological education by extension, and social projects with the Aymará Indians. Upon return, she studied spiritual formation and direction, was certified as a spiritual director, and was recorded as a pastor with the Evangelical Friends. She completed a Masters in Biblical Studies and a Master of Divinity with Western Evangelical Seminary.
MaryKate then completed her doctorate at Gonzaga University where she studied the characteristics of renewal leadership as modeled by Jesus. She planted two churches, the first was a contemporary church model led by herself and two other pastors. The second was an emerging church model, where she led a diverse leadership team.
She has taught at the Seminary for 28 years in the fields of New Testament Greek, various spiritual formation courses, and leadership and organizational change courses. She also designed several of the Seminary programs and served in various administrative positions at the university including Seminary Associate Dean, Director of Hybrid programs, and University Director of Strategic Planning.
Besides serving at the Seminary, she is currently a spiritual director and leadership mentor and coach, conference and retreat speaker, and author including Making Room for Leadership: Power, Space, and Influence and A Guidebook to Prayer, as well as various other chapters and writing projects.
Feb. 28
Chris Heuertz
Chris Heuertz is an author, speaker, Enneagram coach, non-profit consultant, and anti-human trafficking activist.
He is a contemplative activist, ecclesial provocateur, curator of unlikely friendships, instigator for good, witness to hope, and clergy for common people.
March 7
STEM Visit
Kantis Simmons
Kantis Simmons is a highly requested Keynote Speaker, Author and Leading Authority on School Success and STEM Education.
For the last 13 years, his mission has been to forestall the academic failure epidemic and STEM career decline sweeping across America's schools and colleges.
With more than 25 years in school, three advanced scientific degrees, and more than a decade of working in the lab solving scientific problems for Mobil Chemical, NASA and CIBA Vision, today he travels the world solving the problems of students, parents, educators, schools, and colleges by delivering speeches, creating courses, and writing books.
Born with a birth defect, audiences readily respond when Kantis shares his humorous and proven 7.25 Finger Secrets on academic success, college readiness, teacher motivation and STEM education.
March 14
Spring Break – NO CHAPEL
March 21
The Golgatha Experience
Poor Bishop Hooper
Weaving a patchwork of melodies atop an upright bass and a guitar, Poor Bishop Hooper began as a duo. As their love for one another and for the Lord increased, they were called to further steward their gifts for God's glory, and in increasingly unique ways. Though they still often perform simple tunes in simple places, a vibrant musical ministry has developed around them. It ranges from full band, heavy mood moments like that in the Golgotha Experience, to string and vocal laden scores like that in Firstborn. They've performed for thousands around the country, in the largest of concert halls to the smallest of living rooms. They've been commissioned to write music by distinguished art museums, underground ministries, and independent artists. Their hearts for the Creator and the endless and bountiful inspiration he provides are ever growing. In turn, their creative projects follow his leading.
March 28
Kimberly Blackford
Kimberly is the Southeast Region Black Campus Ministry Coordinator for InterVarsity Christian Fellowship/USA.
April 4
Spring Break Testimonies
Haley Alloway
April 11
Quaker Heritage Week
Cliff Loesch
Cliff Loesch and his wife, LaVonna, live in Wichita, Kansas where he serves as pastor of University Friends Church, adjunct professor at Friends University, and presiding clerk for Friends United meeting.
April 18
Maundy Thursday
Stan Harstine
April 25
Friends University Concert Choir
May 2
Senior Chapel