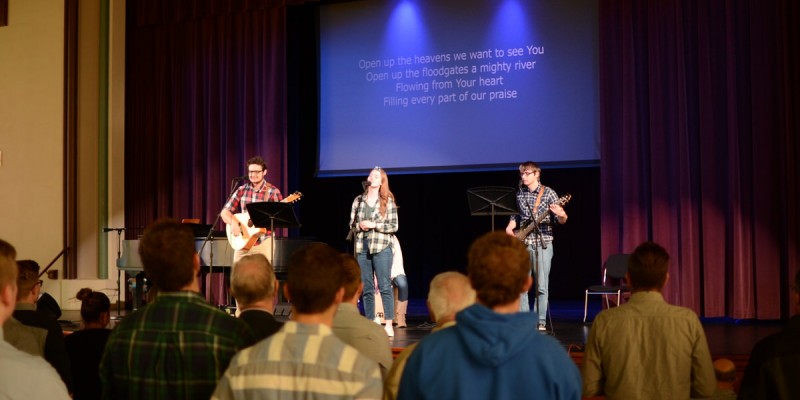 A time for the community to gather for worship, prayer and to explore what it means to be a follower of Jesus. Students, parents, faculty, staff, alumni, friends of the University and the Wichita community are invited to join us.
Thursdays, 11 to 11:50 a.m.
Alumni Auditorium, Davis Administration Building
If you are unable to make it in person, you can join a livestream during Chapel, by clicking here.
You can also see an archive of past Chapel videos here. There is also an archive of past chapel events.
Chapel Schedule
Jan. 13, 2022
Join us as we celebrate the life and legacy of Rev. Dr. Martin Luther King Jr.
Jan. 20, 2022
Mike Jaderston is the Director of Students at Eastminster Presbyterian Church, where he invests in middle and high school students through biblical teaching, leadership development and youth retreats. He recently graduated from the CSFL master's program at Friends.
Jan. 27, 2022
Andrew Root is the Carrie Olson Baalson Professor of Youth and Family Ministry at Luther Seminary, USA. He writes and researches in areas of theology, ministry, culture and younger generations.
Feb. 3, 2022
Guy Chmieleski
Vice President of Student Affairs and Dean of Campus Ministries
Feb. 10, 2022
Juliet Liu has served as pastor of Life on the Vine – a contemplative, liturgical, justice-oriented missional church in the northwest suburbs of Chicago since 2014. She is a graduate of Trinity Evangelical Divinity School and the University of Illinois in Urbana-Champaign. Juliet currently serves as Chair of the Board for Missio Alliance. She also offers spiritual direction for women and people of color and enjoys speaking and writing about spirituality that is both contemplative and justice-centered, the joy of men and women fully partnering together for the kingdom, and the gospel and racial justice.
Feb. 17, 2022
Join us as we celebrate the legacy and work of God through the life of the Black Church, and the ways that God has used it to minister and shape the world.
Feb. 24, 2022
Mark Hoover is a straightforward communicator who is known for making the truth of God's Word understandable for everyone through compelling and creative teaching methods. He has served NewSpring Church in Wichita, Kansas for over 35 years as Senior Pastor, leading it during times of transition and explosive growth. Mark is also seen on NewSpring's weekly television broadcast which airs throughout the region.
March 3, 2022
Aaron and Michelle Reyes are co-church planters of Hope Community Church, a minority-led multicultural church in Austin, TX. Aaron is the lead pastor and Michelle serves as scholar in residence. In addition, Aaron (B.A. Wheaton, M.Div, TEDs) serves on the board of the Crete Collective and is the academic dean of Vida House, a theological training school in East Austin. Michelle (B.A., Wheaton; PhD University of Illinois at Chicago) is the vice president of the Asian American Christian Collaborative and the author of Becoming All Things: How Small Changes Lead to Lasting Connections Across Cultures. Aaron and Michelle have two amazing young kids, and when they're not working, they enjoy hiking, watching soccer, and playing board games as a family.
March 10, 2022
Spring Break
March 17, 2022
Dustin Galyon
Director of Golf and Men's Head Coach
March 24, 2022
Haley Blackwell
Associate Campus Pastor of Formation
March 31, 2022
Syeeda Echols
Director of Multicultural Engagement
April 7, 2022
As Scholar-in-Residence at Northwestern College, in St. Paul, Minnesota, Dr. Michael Wise's area of focus is ancient Judaism as a background to the rise of Christianity. Dr. Wise is ordained as a minister in the Evangelical Free Church and regularly teaches adult Sunday School classes. He recently completed a second Ph.D., in the field of Classics (ancient Greek and Latin literature) at the University of Minnesota.
April 14, 2022
Luke Stehr
Associate Campus Pastor of Outreach
April 21, 2022
Jesse Penna graduated from Friends University in 2006 with a bachelor's degree in music, in 2010 with a master's degree in Christian Ministry with an emphasis in spiritual formation, and completed the Apprentice Experience in 2016. Jesse is currently the Director of Student Ministries for EFC-MAYM, and Chairs the Youth Ministry Department at Barclay College.
April 14, 2022
Join us as we celebrate how God has been at work in the lives of our graduating seniors.