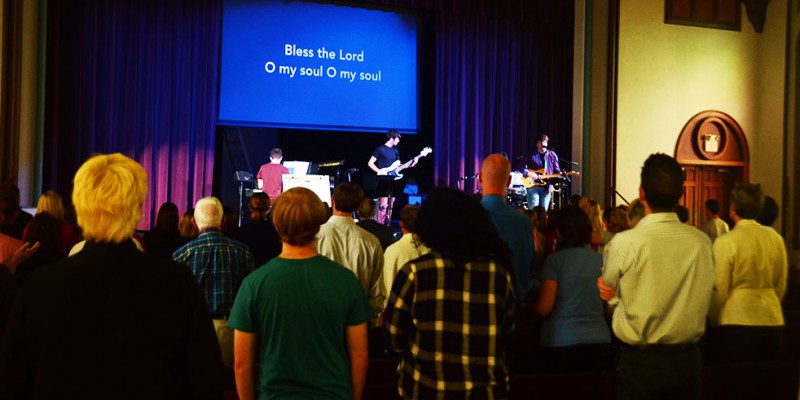 A time for the community to gather for worship, prayer and to explore what it means to be a follower of Jesus. Students, parents, faculty, staff, alumni, friends of the University and the Wichita community are invited to join us.
Thursdays, 11 to 11:50 a.m.
Alumni Auditorium, Davis Administration Building
If you are unable to make it in person, you can join a livestream during Chapel, by clicking here.
You can also see an archive of past Chapel videos here. There is also an archive of past chapel events.
Aug. 22, 2019
Opening Convocation
Dr. Amy Bragg Carey, President of Friends University
Aug. 29, 2019
Ephesians 2:10 – focal theme for the year
Dr. Guy Chmieleski, Vice President of Student Affairs and Dean of Campus Ministries at Friends University
Sept. 5, 2019
Student Testimonials
We will hear from a few students who experienced the goodness and faithfulness of God while spending their summer serving and loving others in a variety of capacities.
Sept. 12, 2019
MaryKate Morse
Professor and Lead Mentor for the D.Min. in Leadership and Spiritual Formation at Portland Seminary of George Fox University; Church Planter; Spiritual Director; Conference Speaker; Author
Sept. 19, 2019
Jacob Cooke
Visiting Assistant Professor of Religion and Apprentice Institute Coordinator at Friends University
Sept. 26, 2019
Homecoming
Mary Hendershott
Founder and Chairperson of Leadership LINKS Inc.; Diversity and Mentoring Coach; International Speaker; Author; Previous Marine Corps Officer; Previous Employee at the Department of Homeland Security
Oct. 3, 2019
Jacob Cooke
Arts consultant for Wycliffe Bible Translators
Oct. 10, 2019
Fall Break
No Chapel
Oct. 17, 2019
Neal Plantinga
Senior Research Fellow at the Calvin Institute of Christian Worship; President Emeritus of Calvin Theological Seminary; Author; Preacher; Speaker
Oct. 24, 2019
Keas Keasler
Assistant Professor and Program Director of Christian Spiritual Formation at Friends University
Oct. 31, 2019
Faculty Panel
We will get a chance to hear from a panel of faculty about their spiritual journey and how they have seen God's handiwork in their lives, from college until now. You'll find plenty of wisdom and insight that God may just want to use to grow and challenge you in your own faith journey!
Nov. 7, 2019
Friends University Ballet
A faithful performance from members of the Friends University ballet program.
Nov. 14, 2019
Haley Alloway
Associate Campus Pastor of Outreach at Friends University
Nov. 21, 2019
Faculty/Staff/Student Testimonies
In the spirit of Thanksgiving, we will have a chance to hear testimonies from a faculty, staff, and student from the Friends University community, of how God has blessed their lives over the past year. This will be a special chapel service, so don't miss out!
Nov. 28, 2019
Thanksgiving
No Chapel
Dec. 5, 2019
Christmas
Singing Quakers
Come join us for one of the best chapels of the year! With an eye on Christmas, and the end of the fall term, we will be treated to a service of music and stories from members of the Singing Quakers. This is a great way to finish out the year and prepare our hearts and minds for the Christmas season.