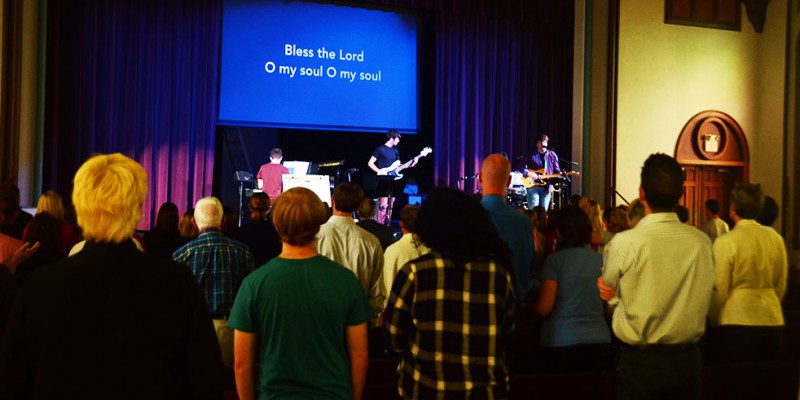 A time for the community to gather for worship, prayer and to explore what it means to be a follower of Jesus. Students, parents, faculty, staff, alumni, friends of the University and the Wichita community are invited to join us.
Thursdays, 11 to 11:50 a.m.
Alumni  Auditorium, Davis Administration Building
If you are unable to make it in person, you can join a livestream during Chapel, by clicking here.
You can also see an archive of past Chapel videos here.
Aug. 24, 2017
Opening Convocation
President Amy Carey
Aug. 31, 2017
"Emmanuel, God With Us!"
Guy Chmieleski
Guy is the Campus Pastor and Dean of Campus Ministries at Friends University. He is a happy husband and proud father of five beautiful kids. Guy has spent his entire career serving students and campus communities through various campus ministry roles. Guy has also authored three books: Noise.Hurry.Crowds. On Creating Space for God Amidst the Chaos of Campus and Culture (Seedbed, '15), CAMPUS gODS: Exposing the Idols That Can Derail Your Present and Destroy Your Future (Seedbed, '13), and Shaping Their Future: Mentoring Students Through Their Formative College Years (Seedbed, '13).
Sept. 7, 2017
Jim Smith
Jim is the Executive Director of the Apprentice Institute at Friends University where he is currently a theology professor. With a Master of Divinity from Yale University Divinity School and a Doctorate of Ministry from Fuller Seminary, he is an ordained elder in the United Methodist Church. He is the author of eight books, most notably The Apprentice Series (InterVarsity Press), which continue to shape the work of the Apprentice Institute. Dr. Smith's other titles include Devotional Classics (with Richard J. Foster), Embracing the Love of God, Room of Marvels, and Hidden in Christ. His newest trilogy (first book released in fall 2017) is entitled The Magnificent Story and is a look at beauty, goodness and truth through the lens of the gospels.
Sept. 14, 2017
Amena Brown
Amena is a poet, speaker, author and event host. Her debut book, Breaking Old Rhythms: Answering the Call of a Creative God, explores how experiences such as deejaying, learning to dance, having a broken heart, and practicing the rules of improv can teach us about our life's rhythm and how we can better tune our ears and lives to the rhythm of God. Amena and her husband, Matt, also known as DJ Opdiggy, travel and perform a presentation of poetry, monologue and deejaying. They also host a regular open mic in Atlanta every fifth Thursday at Urban Grind Coffee.
Sept. 21, 2017
Andrew McPeak
Andrew is a millennial speaker and content developer with Growing Leaders. His experiences as both a presenter and curriculum designer have led him to become well versed in communicating to and about the next generation. In his role as Program Excellence Manager, he works closely with schools, universities, companies and sports teams on implementing Habitudes as a tool to teach life and leadership skills. This experience enables him to help leaders understand how to craft their message in a way that best connects with today's student. Most notably Andrew is a co-author alongside Dr. Tim Elmore on their latest book – Marching Off The Map. Marching Off The Map presents information on the world's newest generation of students (Generation Z) and helps educators understand how to best connect with and lead them in the classroom.
Sept. 28, 2017
Angela Reed // Apprentice G.
Dr. Angela Reed is Associate Professor of Practical Theology and Director of Spiritual Formation at Baylor University's Truett Seminary. She teaches and writes about spiritual formation and prayer in community, with a special focus on spiritual guidance relationships. She is the author of Quest for Spiritual Community: Reclaiming Spiritual Guidance for Contemporary Congregations and co-author of Spiritual Companioning: A Guide to Protestant Theology and Practice which received the Dallas Willard Center book award for 2016. Dr. Reed's passion for spiritual formation and church life extends to the practical. She worked in youth and young adult ministry for several years and continues to serve as a spiritual director for individuals and small groups.
Oct. 5, 2017
Homecoming Chapel/One Million Miracles Project
Scot Pierce & Azure Winter
Oct. 12, 2017
Fall Break
No Chapel
Oct. 19, 2017
Tahni Cullen
Tahni Cullen worked in ministry for 13 years at a large, multi-campus church in the Twin Cities, MN, first as a communications and marketing director and then as a ministry director and pastor. When her son Josiah was diagnosed with autism, she blogged through the ups and downs of their early journey at www.hopingnotcoping.wordpress.com and she and her husband, Joe, produced an award-winning documentary called "Surprised By Autism." Drama and speaking are passions of hers, and she has helped script and perform two hour-long women's ministry variety shows. She also led the launch of special needs ministry assistance for kids within her church. Recently leaving her job to invest in her son's typed communication, and to write and speak, Tahni is passionate about sharing God's hope and healing. You can follow her son's writings on Facebook at Josiah's Fire.
Oct. 26, 2017
Jason Parr
Jason Parr is in his first year as the head Cross Country Coach, and assistant Track and Field coach at Friends University. Jason graduated from Evangel University with a Bachelors degree in recreation and Northwest Missouri State with at Masters of Educational Leadership. Jason has taught physical education in public schools, and previously coached both cross country and track and field. Jason has also been very active in sharing the love of Jesus with athletes through his leadership in Fellowship of Christian Athletes (FCA). Aside from coaching at Friends, Jason is also helping to launch a new college ministry at Central Community Church. Jason is married, has two kids, and is competitive in Ironman events.
Nov. 2, 2017
Shane Claiborne
Shane Claiborne is a prominent speaker, activist, and best-selling author.  Shane worked with Mother Teresa in Calcutta, and founded The Simple Way in Philadelphia.  He heads up Red Letter Christians, a movement of folks who are committed to living "as if Jesus meant the things he said." Shane is a champion for grace which has led him to jail advocating for the homeless, and to places like Iraq and Afghanistan to stand against war. And now grace fuels his passion to end the death penalty. Shane's books include Jesus for President; Red Letter Revolution; Common Prayer; Follow Me to Freedom; Jesus, Bombs and Ice Cream; Becoming the Answer to Our Prayers; his classic The Irresistible Revolution and his newest book; Executing Grace. He has been featured in a number of films including "Another World Is Possible" and "Ordinary Radicals." His books have been translated into more than a dozen languages. Shane speaks over one hundred times a year, nationally and internationally. His work has appeared in Esquire, SPIN, Christianity Today and The Wall Street Journal, and he has been on everything from Fox News and Al Jazeera to CNN and NPR. He's given academic lectures at Harvard, Princeton, Liberty, Duke and Notre Dame. Shane speaks regularly at denominational gatherings, festivals and conferences around the globe.
Nov. 9, 2017
Don Davis
Rev. Dr. Don Davis, an ordained minister and native of Wichita, Kansas, is the Founder and Director of World Impact's Urban Ministry Institute, a research and training center dedicated to equipping leadership and empowering movements for the urban church, especially among the poor, to advance the Kingdom of God in the city. Dr. Don Davis attended Wheaton College and Wheaton Graduate School and graduated summa cum laude in both his B.A. (1988) and M.A. (1989) degrees, in Biblical Studies and Systematic Theology respectively. He earned his Ph.D. in Religion (Theology and Ethics) from the University of Iowa School of Religion (2000). Don and his wife Beth joined the staff in the fall of 1975, serving as community minister, Director of World Impact Wichita, and as Vice President of Education. He has also served in pastoral ministries, as church planter, as associate pastor and lead pastor. In addition to his current duties as the Institute's Director and as professor in its Hope School of Ministry, Dr. Davis also serves as World Impact's Senior Vice President of Church and Leadership Development. As such, he oversees the training of urban missionaries, church planters and city pastors, and facilitates training opportunities for urban Christian workers in evangelism, church growth and pioneer missions. He also leads the Institute's extensive distance learning programs and facilitates leadership development efforts for organizations and denominations like Prison Fellowship, the Evangelical Free Church of America and the Church of God in Christ. A recipient of numerous teaching and academic awards, Don has served as professor and faculty at a number of fine academic institutions, having lectured and taught courses in religion, theology, philosophy and biblical studies at schools such as Wheaton College, St. Ambrose University, the Houston Graduate School of Theology, the University of Iowa School of Religion and the Robert E. Webber Institute of Worship Studies. He has authored a number of books, curricula and study materials to equip urban leaders, including the Capstone Curriculum, TUMI's premiere 16 module distance education seminary instruction. One of his latest books, Sacred Roots: A Primer On Retrieving the Great Tradition, focuses on how urban churches can be renewed through a rediscovery of the historic orthodox faith. Dr. Davis has participated in academic lectureships such as the Staley Lecture series, renewal conferences like the Promise Keepers rallies and theological consortiums like the University of Virginia Lived Theology Project Series. Don received the Distinguished Alumni Fellow Award from the University of Iowa College of Liberal Arts and Sciences in 2009. He is also a member of the Society of Biblical Literature and the American Academy of Religion.
Nov. 16, 2017
Skylar and Mike Page
Skylar Page was born with Down Syndrome, Trisomy 21 – an extra 21st chromosome. Over time it became clear that his condition, a mystery of creation, has given him an ability to love others unconditionally. Skylar has a special connection to Friends University, as a part of the Friendship Fields program. Friendship Fields is a program associated with Friends University that allows college-age adults with disabilities to experience college life while also offering Friends University students the opportunity to work with special needs students. Students enroll in Friendship Fields because they want to go to college and Friends University truly believes lifelong learning and social interaction is important for everyone.
Nov. 23, 2017
Thanksgiving
No Chapel
Nov. 30, 2017
Guy Chmieleski
Guy is the Campus Pastor and Dean of Campus Ministries at Friends University. He is a happy husband and proud father of five beautiful kids. Guy has spent his entire career serving students and campus communities through various campus ministry roles. Guy has also authored three books: Noise.Hurry.Crowds. On Creating Space for God Amidst the Chaos of Campus and Culture (Seedbed, '15), CAMPUS gODS: Exposing the Idols That Can Derail Your Present and Destroy Your Future (Seedbed, '13), and Shaping Their Future: Mentoring Students Through Their Formative College Years (Seedbed, '13).
Dec. 7, 2017
The Singing Quakers
This select vocal organization has gained an enviable reputation for high musical standards. Each year the choir prepares three formal programs, along with appearances and broadcasts in Wichita and the surrounding area. In addition, this ensemble conducts annual concert tours to both domestic and international locations. The Singing Quakers ensemble is open to all Friends University students by audition.