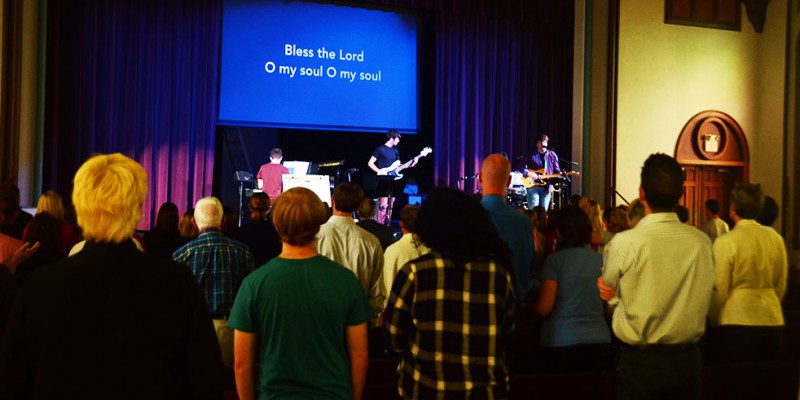 A time for the community to gather for worship, prayer and to explore what it means to be a follower of Jesus. Students, parents, faculty, staff, alumni, friends of the University and the Wichita community are invited to join us.
Thursdays, 9:30 to 10:20 a.m.
Alumni  Auditorium, Davis Administration Building
Jan. 19, 2017
MLK Jr. Celebration – The King's Dream
Justin Smallwood, Chad Irvin, Deion Burton, Guy Chmieleski
Join with the students, staff and faculty as we come together to honor and celebrate the life, commitment and message of Dr. Martin Luther King Jr. and draw inspiration on living a life of doing justice, loving kindness and walking humbly with our God.
Jan. 26, 2017
Rebelions Are Built On Hope
Guy Chmieleski, Dean of Campus Ministries
Guy is the Campus Pastor and Dean of Campus Ministries at Friends University. He is a happy husband and proud father of five beautiful kids. Guy has spent his entire career serving students and campus communities through various campus ministry roles. Guy has also authored three books: Noise.Hurry.Crowds. On Creating Space for God Amidst the Chaos of Campus and Culture (Seedbed, '15), CAMPUS gODS: Exposing the Idols That Can Derail Your Present and Destroy Your Future (Seedbed, '13), and Shaping Their Future: Mentoring Students Through Their Formative College Years (Seedbed, '13).
Feb. 2, 2017
On Visions and Virtues that Matter for a Good Life and a Good Society
Steve Garber
Dr. Steven Garber is a teacher of many people in many places. In his work with The Washington Institute he focuses on the meaning of vocation for the common good. For many years on the faculty of the American Studies Program in Washington, DC, and for several years as the scholar-in-residence for the Council of Christian Colleges and Universities, he has studied the relationship of belief to behavior for much of his life. A consultant to businesses, foundations and educational institutions including: the Murdock Trust; the Praxis Labs; the Wedgwood Circle and the Blood:Water Mission; the Pittsburgh Leadership Foundation; the Made to Flourish Network; and Mars, Incorporated; his most recent book is Visions of Vocation: Common Grace for the Common Good. A native of the great valleys of Colorado and California, he is married to Meg and they live in Virginia.
Feb. 9, 2017
True Justice and Mercy Spring from a Humble Heart
Charity Sandstrom
Charity Sandstrom is celebrating 10 years of service as pastor to the First Friends Church in Emporia Kansas (EFC MAYM). A mother of a teen, a tween and a preschooler keeps her schedule full and her heart overflowing. Charity's life and ministry are fueled by a love for people, a call from God, and lots and lots of coffee. If Charity could tell you two things they'd be that God loves you without measure, and God's presence is closer than you can imagine. For more pieces of her mind, check out refreshinglifeblog.wordpress.com
Feb. 16, 2017
When Hope Doesn't Make Sense
David Kirika
Driven to empower the next generation with leadership and entrepreneurial skills, David Kirika most recently served as the Youth Pastor at Christ is the Answer Ministries in Nairobi, Kenya. He is passionate about young people and believes they can be positive influences within the culture if equipped with the right motivation, tools and environment.
When David was nine years old, his school teacher recommended him for Compassion's child development program. His sponsorship made an immediate significant impact: he was given shoes, which meant that for the first time in over two years he no longer had to walk barefoot. He also received nutritious food, medical attention and schooling.
David's sponsors' belief in him caused him to start believing in himself, giving him the confidence he needed to pursue his God-given passions. He joined Compassion's Leadership Development Program and in 2013, graduated with honors from Pan Africa Christian University with his bachelor's degree in business leadership.
David lives in Colorado Springs, Colorado, where he is participating in Compassion's Alumni Fellowship. As part of this one-year work internship, he serves in the college marketing department and speaks on behalf of Compassion. An enthusiastic and humorous communicator, David enjoys candidly sharing his story and speaking on the power of hope, Christian leadership, youth development, Godly mentorship, and walking in God's plan for your life.
Feb. 23, 2017
They'll know you by your love
Keas Keasler
Keas Keasler is a professor of theology and the program director of Christian Spiritual Formation at Friends University in Wichita, Kansas. Keas was most recently the teaching pastor of Rhythm Church in Miami, Florida, a non-denominational church he co-founded in 2010. He has his B.A. from Baylor University, M.Div. from Princeton Theological Seminary, and is pursuing a Ph.D. from the Free University of Amsterdam. His dissertation topic is on the role of a communal Rule of Life in forming congregations as witnesses in the world in the 21st century. Keas has done extension work in the areas of spiritual formation and missiology, presented at various conferences around the country, and serves on the board of the Ecclesia Network, a missional network of churches and leaders in North America. He also has a deep love for the global church, having traveled and done mission work in over 40 countries and taught on six continents.
March 2, 2017
Challenging the System
Scot McKnight
Scot McKnight is a recognized authority on the New Testament, early Christianity and the historical Jesus. McKnight, author or editor of more than fifty books, is the Julius R. Mantey Professor of New Testament at Northern Seminary in Lombard, IL.  Dr. McKnight has given interviews on radio stations across the nation, has appeared on television and regularly speaks at local churches, conferences, colleges and seminaries in the USA and abroad. Dr. McKnight obtained his Ph.D. at the University of Nottingham (1986) and has been a professor for more than three decades. Scot McKnight is a member of the Society of Biblical Literature and the Society for New Testament Studies. He is the author of  the award-winning The Jesus Creed: Loving God, Loving Others (Paraclete, 2004), which won the Christianity Today book of the year for Christian Living. His books include Embracing Grace: A Gospel for All of Us (Paraclete, 2005); The Story of the Christ (Baker, 2006); Praying with the Church (Paraclete, 2006); The Real Mary: Why Evangelical Christians Can Embrace the Mother of Jesus (Paraclete, 2007); and A Community called Atonement(Abingdon, 2007). He broadened his Jesus Creed project in writing a daily devotional: 40 Days Living the Jesus Creed (Paraclete, 2008). His studies in conversion were expanded with his newest book, Finding Faith, Losing Faith (Baylor, 2008), a book he co-authored with his former student Hauna Ondrey. Other books are The Blue Parakeet: Rethinking How You Read the Bible (Zondervan, 2008) and Fasting(Thomas Nelson, 2009), as well as A Fellowship of Differents (Zondervan, 2014) and Kingdom Conspiracy (Baker, 2015).
March 9, 2017
Seek Justice, Love Mercy: A Community Response to Human Trafficking
Jennifer White
Jennifer White is the Founder and Executive Director of ICT S.O.S., a volunteer-driven community action group created to fight domestic minor sex trafficking in the Wichita area. Since 2011, ICT S.O.S. has partnered with local social service agencies and law enforcement in a support role to provide donations, volunteers and to create community awareness. ICT S.O.S. also provides prevention education for middle and high school students through the Tell Your Friends curriculum. Jennifer is also the Race Director for the annual Race 4 Freedom 5K, a project of ICT S.O.S. which benefits a local direct service agency each year with 100% of the proceeds. Jennifer and her husband Chris spent two years as house parents in an independent living program for at-risk young women, and continue to mentor many of the young women they served. Jennifer and Chris have two daughters who are her inspiration to create a safer community.
March 16, 2017
What is Mission?
Haley Alloway
Haley Alloway is the Associate Campus Pastor and Director of Outreach at Friends University. From Coffeyville, Kansas, Haley earned a B.A. in Religion and Philosophy, emphasis in Christian Spiritual Formation from Friends University in 2012 before going on to pursue a M.Div, focusing on Collegiate Ministry and Spiritual Formation at Truett Seminary. Her hobbies and passions include: softball; chips and queso; baking and decorating cakes and cupcakes; interior decorating; board and card games; playing and cuddling with her dog, Scout.
March 23, 2017
Spring Break – No Chapel
March 30, 2017
Spring Break Testimonies
Join us for a time of hearing stories of how God worked in Omaha and Dallas as Friends University students return from Spring Break and their time of service and education in those communities.
April 6, 2017
Michael Wise
As Scholar-in-Residence at Northwestern College, in St. Paul, Minnesota, Dr. Wise's area of focus is ancient Judaism as a background to the rise of Christianity. He has studied the Semitic languages in order to immerse himself in rabbinic texts and in the Dead Sea Scrolls; he uses over twenty languages in his research.
Today Dr. Wise is an internationally recognized expert on the Dead Sea Scrolls. He frequently lectures on the Dead Sea Scrolls from coast to coast. Dr. Wise and his work have been profiled in Time magazine; Vanity Fair; National Geographic; the New York Times; Chicago Tribune and the Times of London, and on the old MacNeil/Lehrer News Hour, the BBC, A&E's ""Mysteries of the Bible,"" and in many other media in the United States and abroad. His The Dead Sea Scrolls Uncovered (1992) was an international bestseller, translated into seven foreign languages (German, Italian, Danish, French, Portuguese, Swedish and Dutch). Another work intended for general audiences, The Dead Sea Scrolls: A New Translation, appeared in 1996 and has likewise been translated into numerous foreign languages.
Dr. Wise is ordained as a minister in the Evangelical Free Church and regularly teaches adult Sunday School classes. He recently completed a second Ph.D., in the field of Classics (ancient Greek and Latin literature) at the University of Minnesota.
April 13, 2017
Maundy Thursday
Stan Harstine
Dr. Stan Harstine is currently Professor of Religion at Friends University in Wichita, Kansas. He holds a Ph.D. in Biblical Studies from Baylor University where he studied under Drs. R. Alan Culpepper, Mikeal Parsons and Charles H. Talbert in New Testament and Dr. William Bellinger in Old Testament. A mathematics major at Kansas State University, Stan incorporates the logical and analytical components of that training into his study of the biblical text, particularly the Gospel of John. In addition to the Fourth Gospel, Stan regularly teaches courses on Romans; Galatians and Thessalonians; Ephesians and Philippians; the Pentateuch; Psalms; and the Book of the Twelve, in addition to New Testament Greek in alternate years. With the development of the Apprentice Institute and a concentration in Christian Spiritual Formation, Stan has developed a course on the Bible and Christian Spiritual Formation to support the goals of that program. He is particularly interested at this point (2015) in examining the manner by which followers of Jesus interpret and apply Scripture in their faith adventure. Originally from Kansas, Stan has also lived in Salzburg, Austria and in the Waco, Texas area. Stan enjoys grilling, inventing new barbecue recipes and learning new computer software programs.
April 20, 2017
Southerly Inspiration
Friends University Concert Choir, Rolaine Hetherington, Conductor
April 27, 2017
Learning to Love and Live… Differently
Guy Chmieleski, Dean of Campus Ministries
Guy is the Campus Pastor and Dean of Campus Ministries at Friends University. He is a happy husband and proud father of five beautiful kids. Guy has spent his entire career serving students and campus communities through various campus ministry roles. Guy has also authored three books: Noise.Hurry.Crowds. On Creating Space for God Amidst the Chaos of Campus and Culture (Seedbed, '15), CAMPUS gODS: Exposing the Idols That Can Derail Your Present and Destroy Your Future (Seedbed, '13) and Shaping Their Future: Mentoring Students Through Their Formative College Years (Seedbed, '13).
May 4, 2017
Senior Chapel
Senior Celebration Chapel
Join us for a time of hearing stories from graduating seniors about how they have seen God move and work in their lives over the course of their time at Friends University. This is sure to be a time of great celebration and meaningful reflection.
To view an archive of past events, visit the Chapel Archive page.