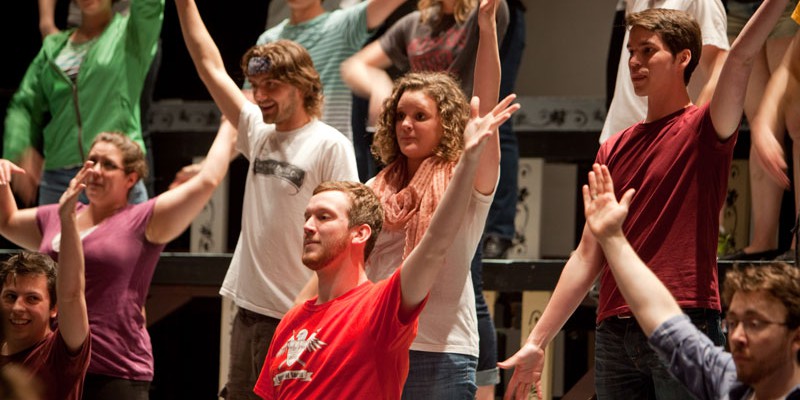 Fine Arts Showcase | Junior Day | Hoops Hysteria | Dual Credit Day
---
Fine Arts Showcase
High school seniors and transfer students are invited to audition for scholarships, have your art portfolio reviewed, attend classes, observe rehearsals and talk with current students and faculty. Students are encouraged to bring their high school transcript and ACT/SAT scores and will have an opportunity to apply for admission to Friends University.
The Fine Arts Showcase program is offered on the following dates:
October 18, 2019
November 11, 2019 (Veteran's Day)
December 6, 2019
January 24, 2020
February 17, 2020 (President's Day)
March 27, 2020
Register for the showcase event by clicking the button below.
If you cannot attend any of these showcase dates, or live too far away to come to campus, please select "to be arranged" on the form above. A professor will contact you about sending your materials electronically or scheduling an individual visit.
---
Junior Day
Calling all high school juniors! With only your senior year left to go before you head to college, you'll want to take full advantage of this college visit opportunity.
At Friends University, Junior Day is one of the most popular visit days, and for good reason. Designed primarily for high school juniors, this program will help you start or continue your college search in a fun way. During your day, you can:
Tour the beautiful Friends University campus
Sit in on a panel of current Friends University students and ask them the burning questions that are on your mind
Parents in attendance will hear from a panel of faculty members
Eat lunch on the lawn and participate in outdoor games with current Friends students
Meet other high school juniors and have fun!
Junior Day takes place May 6, 2019, and check-in begins at 8:45 a.m. The event officially ends after lunch, but you may want to stick around to listen to our jazz groups perform, continue to have friendly competition with games on the lawn, or participate in other activities with current students.
RSVP by using the form below or by calling the office of admissions at 316-295-5103.
---
Hoops Hysteria
Saturday, Jan. 26, 2019
5:45 p.m.
Take your shot at free tuition!
Join the Hysteria during a home Falcon's basketball game!
Be entered in a drawing for a chance to win FREE TUITION for a year to Friends during halftime contests.*
Free pizza for you and your guests.
Cheer on women's and men's teams.
Talk with the admissions team about scholarships and the college search process.
RSVP by completing the form below or by calling the office of admissions at 316-295-5103.
*The chance for FREE tuition will only be available to prospective students. Current Friends University students will be able to participate in other halftime contests.
---
Dual Credit Day
Friday, Feb. 18 – Presidents Day
9:30 a.m. – 1 p.m.
Davis Administration Building
Join us for a visit day just for high school seniors taking dual credits at Friends! Students will have the opportunity to:
Tour our beautiful campus.
Meet with a professor and admissions.
Enjoy a free lunch.
Please RSVP by Feb. 14.
RSVP by completing the form below or by calling the office of admissions at 316-295-5103.
---