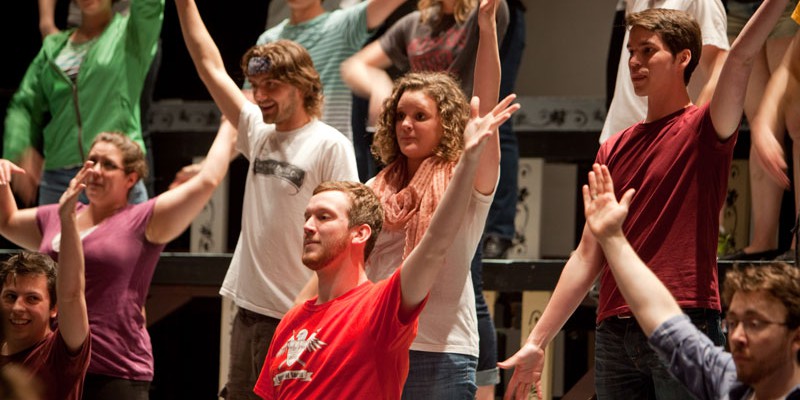 Friday with Friends | Fine Arts Scholarship Audition & Portfolio Review Day | Junior Day
Friday with Friends
When? Check back for dates in 2021
9:45 a.m. check-in | 10 a.m. event begins
Highlights:
Take a virtual tour of our campus
Meet in breakout rooms with teachers/coaches
Meet other students interested in the same degree programs as you
Friends University is here to help you navigate the path to college. Join us for our Friday with Friends visit day. We think you'll want to hear what we have to share—like how 100 percent of our full-time-traditional students receive scholarships! Our Friday with Friends event is a great opportunity for you to tour our beautiful campus, meet with a professor, sit in on a lecture and talk with our admission team about academic programs, scholarships and anything else you want to know. Planning on being a student-athlete? You'll get the chance to meet with coaches, too! You can tour our top-of-the-line facilities and decide if Friends is where you'll play next.
Fine Arts Scholarship Audition & Portfolio Review Day
When you visit campus on a Scholarship Audition & Portfolio Review Day, you will have the opportunity to attend classes, sit in on rehearsals, take a master lesson, audition for scholarships, visit with current students and enjoy a free lunch. Register for any of the following dates by filling out the Fine Arts Scholarship Application below.   Dates for 2021, TBD  
If you prefer to stay at home, a virtual participation option is available. Don't worry! Both on-campus and virtual auditions and portfolio reviews are receiving generous scholarships. Sign up for an audition or portfolio review by filling out the Scholarship Application.
Fine Arts Scholarship Application
---
Junior Day
One of our most popular events is Junior Day, for high school juniors and other college-bound high school students. The day begins at 9 a.m. on May 3, 2021 with a welcome and tour of the beautiful campus. You will sit in on a panel where current Friends University Students can answer any of your questions and parents will hear from the faculty panel. Other activities will also take place. The official event ends after lunch but you may want to stick around listen to the jazz groups perform as well as play games and participate in activities with the current students. Sign up and come prepared and dressed for a fun, exciting day!