Quick Links: Active Duty Military Education Benefits | Repayment of Title IV Funds | Contact Resources for Military Learners

Active Duty Military Education Benefits for classes in the College of Graduate and Professional Studies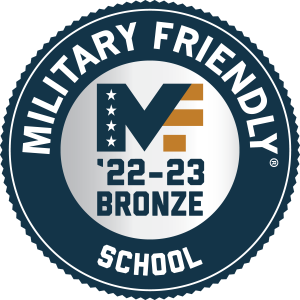 Friends University's dedicated and experienced staff understands the many challenges facing today's military members and their families. Whether you are preparing for a civilian career, seeking to advance your military rank or professional development, we offer several degree programs that are needed for most occupational specialties. All active duty military, members of the National Guard and Reserve and their spouses qualify for a discounted military tuition rate of $250 per credit hour (classes in the College of Graduate and Professional Studies only).
Transfer your Community College of the Air Force (CCAF) Degree
Submit an official copy of your Community College of the Air Force (CCAF) transcript for evaluation of credit and we'll apply this towards your bachelor's degree.
DSSTs/DANTES Subject Standardized Tests
Friends University wants to give you credit for knowledge you have learned outside the traditional classroom. DSST/DANTES test scores will be evaluated by our Registrar's Office and we will post any credits as transfer work. Please contact the Registrar at 316-295-5400.
No Application Fee
To show our appreciation of your service, Friends University is pleased to waive the application fee for all active-duty military service members and veterans.
10% Tuition Discount
Friends University is pleased to support our veterans by offering a 10% tuition discount to all current, retired and honorably discharged military and the Kansas Army and Air National Guard as a thank you for your service. To learn more, please call 316-295-5300. (Not available to students receiving the TA Cyber Security discount.)
DoD Tuition Assistance
Friends University is pleased to participate in the Department of Defense (DoD) Tuition Assistance (TA) program and we have signed the MOU conveying the commitments and agreements made with the DoD so that active duty, guard and reserve members may use TA funds to pay for tuition at our university. Currently, TA is only available for our adult cyber security bachelor's degree program.
All military students who are using the Tuition Assistance program must apply for tuition assistance through their specific branch of the service prior to the first day of the class. If you have not applied for MTA prior to the first day of class, you may be denied Tuition Assistance by your branch of service. If you do not have your Tuition Assistance form submitted by the last day of add/drop for each term, you may be held liable for all tuition and fees. Please note:
Each branch of service has different systems for applying for TA. Please check with your Education Office prior to the start of the term to ensure you have complied with their requirements.
You must be enrolled in a Friends University course through our online enrollment system before you apply for TA.
Select your branch to learn more and get started:
Friends University returns TA funds in compliance with the Federal student aid rules for return of unearned student aid as outlined below in the Repayment of Title IV Funds section.
---
Repayment of Title IV Funds
For ALL students, if the student has received funding from Student Federal Assistance (Stafford Loans, PLUS loans, Perkins loans, SEOG or Pell Grant) and withdraws during a period of enrollment or payment period, the amount that has been earned up to that point is determined on a pro-rata basis. If you received less assistance than the amount that you earned, you may be able to receive those additional funds. If you received more assistance than you earned, the excess funds must be returned.
The amount of assistance you earned is determined on a pro-rata basis (days completed divided by total days in the period of enrollment). If you completed 30 percent of your period of enrollment, you earn 30 percent of the assistance you were originally scheduled to receive. Once you have completed more than 60 percent of the period of enrollment, you earn all of your assistance.
If you received excess funds that must be returned, Friends University must return a portion of the excess equal to the lesser of:
your institutional charges multiplied by the unearned percentage of your funds, or
the entire amount of the excess funds.
If Friends University is not required to return all of the excess funds, you must return the remaining amount. Any loan funds that you must return, you (or your parent for a PLUS loan) can repay in accordance with the terms of the promissory note. (That is, you make scheduled payments to the holder of the loan during a period of time.)
If you are responsible for returning grant funds, you do not have to return the full amount. The law provides that you are not required to return 50 percent of the grant assistance that you received that is your responsibility to repay. Any amount that you do have to return is a grant overpayment, and you must make arrangements with Friends University or the Department of Education to return the funds.
Friends University must return the unearned aid for which the school is responsible by repaying funds to the following sources, in the following order, up to the total net amount disbursed from each source: Unsubsidized Stafford Loan, Subsidized Stafford Loan, Perkins Loan, PLUS Loan, Pell Grant, FSEOG and other Title IV programs. Friends University will also verify the regulations for the return with each specific agency.
This Repayment Policy does not apply to institutional, state or other non-federal funding sources. Institutional, state or other non-federal funding sources will follow the Friends University Refund Policy. Once the refund calculation for non-federal funds has been calculated, funds will be returned to the following programs and/if necessary to the student in the following order: Unsubsidized Federal Stafford Loan, Subsidized Federal Stafford Loan, Federal Perkins Loan, Federal PLUS Loan, Federal Pell Grant, Federal SEOG Grant, other Title IV program, state, Friends University and the student.
Loan (Stafford or Perkins) and TEACH Grant recipients who withdraw are required to have an exit interview before leaving Friends University and should contact the Financial Aid Office.
Examples of refund calculations as detailed in this policy are available to students upon request made to the Financial Aid Office.
VETERANS AND OTHER CHAPTERS 31 AND 33 MILITARY AID RECIPIENTS: As this institution abides by Section 103 of the Veterans Benefits and Transition Act of 2018, students receiving Chapter 31 or Chapter 33 military financial aid will not receive late fees on amounts that remain unpaid due to the delayed disbursement of a payment by the U.S. Department of Veterans Affairs. This does not include amounts owed by the student or amounts remaining unpaid by the student after disbursement.

---
Contact Resources for Military Learners
Academic Advising – College of Business, Arts, Sciences and Education – CBASE Dean's Office – 316-295-5567
https://friends.edu/academics/resources-support/academic-advising/
Academic Advising – College of Adult and Professional Studies and the Graduate School – 316-295-5682
https://friends.edu/academics/resources-support/success-coaches/
Financial Advising – Financial Aid Office – 316-295-5200, www.friends.edu/admissions/costs-financial-aid/financial-aid/
TA fund questions – Student Account Services – 316-295-5630 or
https://friends.edu/student-account-services/
Title IV fund questions – Director of Financial Aid – Financial Aid Office
316-295-5200, financialaid@friends.edu
Disability Counseling – Academic Resource Center – 1-800-794-6945 ext. 5204 or 316-295-5204
https://friends.edu/student-life/facilities-campus/ada-services/
Job Search Activities – Career Services Office – 1-800-794-6945 ext. 5885 or 316-295-5885
https://friends.edu/students/career-services/